"Chang Can Dunk"
star Bloom Li talked with NextShark about how his feature-length movie debut has personally resonated with him as an Asian American actor. 
The
feature film
from Disney Plus centers on a marginalized Asian American teen and basketball fan who makes a bet with his school's all-star basketball player in order to impress his crush and gain the respect of his peers. The bet? Bernard Chang, a 5 '8"-tall 16-year-old, will make a slam dunk. 
When the character embarks on a rigorous 12-week training program to learn how to dunk, he soon reexamines himself and learns more about his friends and family in the process. The coming-of-age film tackles family dynamics, friendships, self-discovery and the definition of success. 
Li, who was born to Chinese immigrants, mainly grew up in communities of color, such as in Chinatown and Brooklyn in New York. He graduated from the University of California, Los Angeles before going on to star in numerous short films that have gone on to be screened at prominent film festivals.
Although it was easy for Li to make friends in school, he noted that Chang's struggle with communicating with his mother was very familiar to him. Growing up, Li was challenged by his parents when he decided that he wanted to pursue a career in acting. 
My biggest and emotional strife to pursue this career has been dealing and working with my parents. They've worked in a garment factory my entire life. So growing up, they really prioritized education for me because they saw that it was the way of upward mobility because being a garment maker, there's a ceiling of how much you can actually do. So when I told them I was going to be an actor, it was incomprehensible to them. The first reaction that they had was fear, anger and rejection.
While missing his parents' support, Li learned how to become more resilient. 
I've learned a lot because I know where their care comes from. It comes from a place of love. Them coming to America and not knowing English, that's a scary world. When I first started, I was kind of mad because they wouldn't support me. After I've matured a bit, I started to realize there's a lot more to this. I'm really grateful that they've challenged me so much. I think if they had supported me, I wouldn't have built up a lot of resilience. I think that has really prepared me to handle the pressure. 
Chang also notes the importance of realizing the "love that is already in your life even though it doesn't feel like it."
While it was a slow process, Li's family is now supportive of his acting career. He recalls the moment his parents entered his room asking how to like the "Chang Can Dunk" movie trailer on YouTube.
Subscribe to
NextShark's Newsletter
A daily dose of Asian America's essential stories, in under 5 minutes.
Get our collection of Asian America's most essential stories to your inbox daily for free.
Unsure? Check out our Newsletter Archive.
"It's kinda cute that at separate times throughout the day, they came up and tried to like the video. For me, that gesture means a lot," Li says.
Li notes that working with film director Jingyi Shao and his co-stars, which include Zoe Renee, Chase Liefeld and Dexter Darden, was by far "the best experience" of his life.
There were times when Li would forget the intimidating scale of production as his castmates radiated positive and fun energy on set. 
Prior to filming, the actor also went through a month of training to practice technique and get into proper basketball shape. Although he admits that he still can't dunk in real life, he expresses appreciation for the training.
I love basketball. That's my favorite sport. I played basketball my entire life. It was how I bonded with my friends growing up. I love Kobe. I think growing up on the East Coast though, I liked more of the East Coast players like Derrick Rose and Dwayne Wade.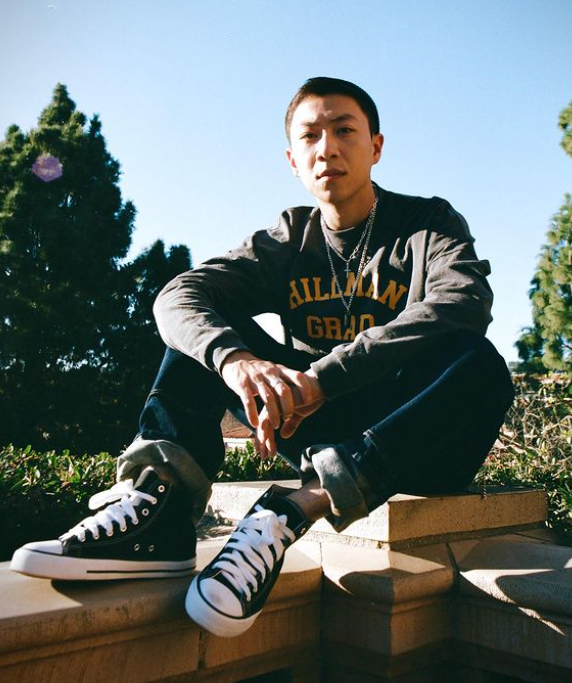 While "Chang Can Dunk" was directed by Shao and stars Asian actors like Li and Ben Wang, some NextShark readers have said that they feel the main character's name comes off as racist or insensitive. 
Li says he understands the backlash and discussed the history behind why some individuals may feel triggered by the common Asian surname. 
I understand the feeling that it is racist because I think being Asian in America you get called names that are not your names or just random general Asian names. You get called sounds that sound like Asian languages that aren't Asian languages. A lot of us have grown up with that and are triggered by that. I completely understand why there is that response from some people. 
Although he initially had mixed feelings about the character's name, Li did not feel it was racist, noting that Chang is simply a last name and that "there is nothing inherently racist" about the character.  
I saw a comment and it was like, "They should have just named him Jimmy," and I was like, "Alright, you want this movie to be called 'Jimmy Can Dunk'? That is a wack title." Why did this person want him to become Jimmy? It's because that way they are no longer described as Asian. They become more nondescript, and I think that kind of goes into the idea of whitewashing ourselves in a way or to become more conforming so the Asian name becomes more Americanized. 
Li believes that wanting a more "Western-sounding name" is akin to self-erasure of identity, which may develop in Asian Americans as a response to the racism they faced while growing up. 
I understand that. I think if COVID-19 has shown anything, it's that no matter how much we try to blend in and tell everybody how American we are just like everybody else, we can't hide our skin color. It's like who taught us to hate ourselves? For me, that is heartbreaking. I hope that anyone that thinks the name or the intentions behind the project is racist watches it and feels pride of who they are. I think Asians are amazing. I love us. 
Li hopes that viewers are able to relate and respond to "Chang Can Dunk."
The actor says "Chang Can Dunk" is a movie he would have loved to see while growing up. He hopes that the underdog story may become inspiring to viewers and for Asian American teens to know that they are seen. 
At the core, this movie is about a kid trying to be seen, trying to find love — not romantic love — just love. As a child of immigrants, it feels like no one sees you, like your parents or your family don't really see you because their experiences are so different from you. The country doesn't really see you because of who you are or your skin color. You're always trying to be seen and loved. 
While the actor wishes to venture into writing and directing in the future, he hopes to continue acting and bettering his craft. 
We act for people to respond to. We make films for people to respond to. I hope you respond. I hope something in it you can relate to or respond to or even hate on. It's OK, it's part of life. Even with this process, we continue to get better. We continue to inspire more.
See NextShark's full interview with Bloom Li below: