Allen Pan, a YouTuber and former contestant of "MythBusters: The Search," created a gun that can fire face mask straight onto a person's face.
The invention, which Pan featured in his YouTube channel, Sufficiently Advanced, was made using a spray paint pistol grip, a CO2 canister's solenoid valve, parts from a car's brake line for the launcher as well as bola weights to wrap the mask around the target's head, according to CNET.
"This is not a world of fact anymore," Pan said in his video. "This is a world of opinion and emotion. And if there's one thing that coronavirus protesters actually care about, it's the Second Amendment. Guns."
In addition to the bola weights, Pan also added double-sided tape on the mask to ensure it will stick to the person's face, Mashable reported.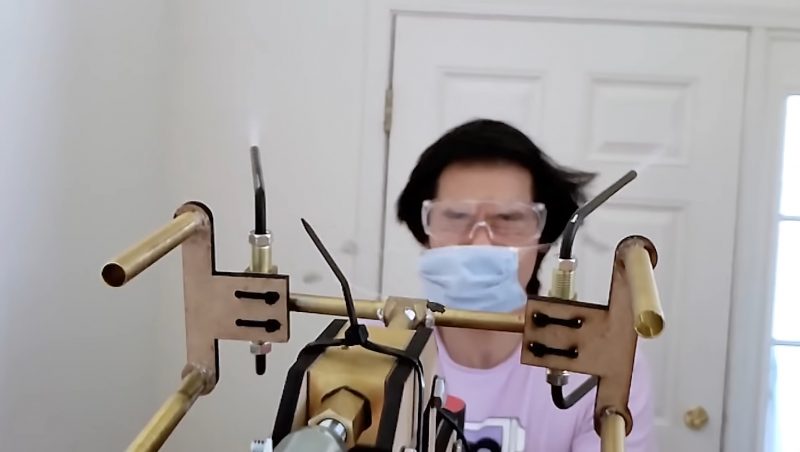 After testing the gun on a dummy and on himself inside his home, Pan took his face mask gun out for a spin in Huntington Beach, California where he expected to see a lot of people not wearing masks.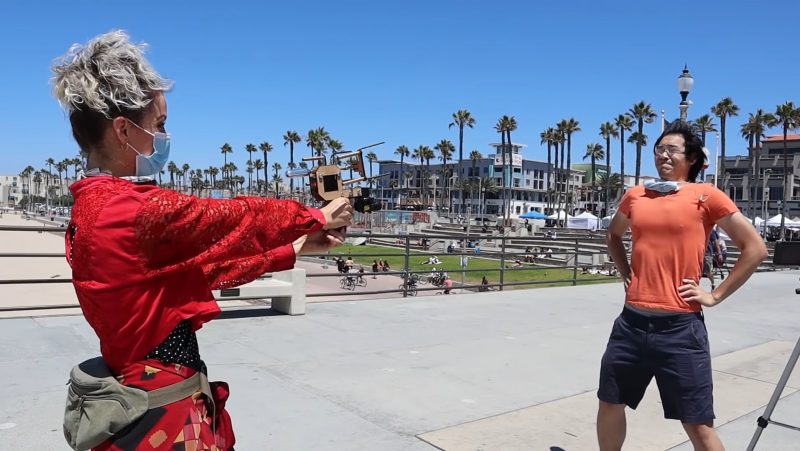 "I don't know if it was just the time of day and the percent of locals versus tourists or if maybe people are actually coming around to the idea of masks, but there's a ton of people wearing masks here," he said.
Since a lot of them were already wearing masks, he gathered a focus group and shot a dummy instead.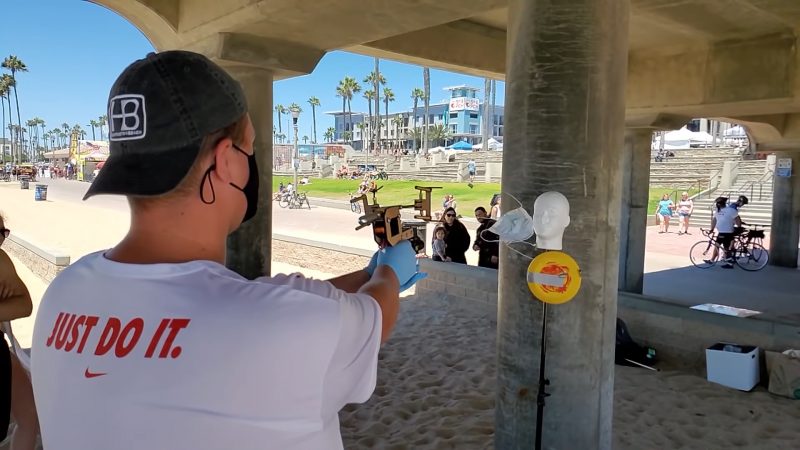 Pan graduated from the University of Southern California in 2012 where he got his Bachelor of Science in engineering, according to his Science Channel bio page.
American problems require American solutions! https://t.co/jsyjriBngJ

— Allen Pan (@AnyTechnology) August 15, 2020
Fans responded to his post on Twitter with praise, future suggestions, and memes.
…That is the most American phrase ever.

"We have a problem."

"I made a gun to fix it."

— Dillon Hounshell (@dhounshe1) August 16, 2020
Please design the face mask like this baby alien! pic.twitter.com/s61Brw5doL

— Wahyu Wibiyanto (@wahjoewebee) August 16, 2020
same energy. pic.twitter.com/Z9ObAybLPD

— Gétur Fránsson (@getur) August 15, 2020
They've been the solution to all our problems for centuries. pic.twitter.com/v9FH1dMLYS

— Ramba raider (@Orrlore1) August 16, 2020
Feature Image Screenshots via Allen Pan – Sufficiently Advanced