KevJumba, a pioneer of the YouTube vlogging scene, is now officially engaged.
The 31-year-old YouTuber and Twitch streamer, whose real name is Kevin Wu, shared the heartwarming moment in a proposal video that he posted on Instagram on Monday.
View this post on Instagram
The short clip shows Wu getting down on one knee to pop the question. "I did it," Wu exclaimed in his post's caption. "She said yes!!!"
The post also features a picture of the internet personality sharing a kiss with his fiancée, who can be seen holding a bouquet, as well as another video showing the aftermath of the proposal.
Wu has reportedly kept the identity of his girlfriend turned fiancée a secret, but HITC reported that her voice can be heard in some of his past videos. In a TikTok that Wu posted in July 2021, he referred to his girlfriend at the time as "Ginger," but it is unclear if this is her first name or just an online handle.
Many social media users and internet personalities extended their congratulations to Wu and his fiancée, including Philip Wang of Wong Fu Productions, Filipino American singer-songwriter AJ Rafael and Indonesian American actor Yoshi Sudarso.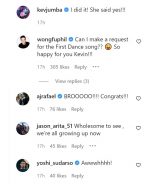 Wu was one of the pioneers of the YouTube vlogging scene during the early years of the video sharing platform. He reportedly began his YouTube career in 2007 after posting comedy skits on his channel KevJumba.
The YouTuber suddenly made his YouTube account private in 2013 and stopped posting videos without any explanation, NextShark previously reported. He then resurfaced in 2017, posting a video about what happened during his hiatus, including a near-fatal car accident which left him hospitalized for 45 days. 
Featured Image via @kevjumba