On Tuesday, YouTube finally broke their silence and made a formal announcement regarding the Logan Paul incident on their Twitter page.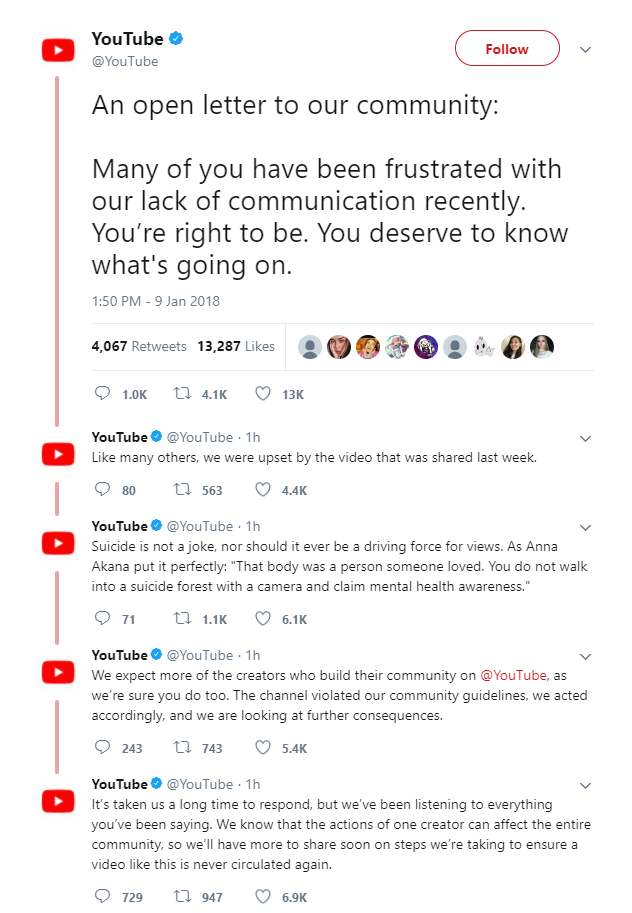 "An open letter to our community: Many of you have been frustrated with our lack of communication recently. You're right to be. You deserve to know what's going on.
"Like many others, we were upset by the video that was shared last week.
"Suicide is not a joke, nor should it ever be a driving force for views. As Anna Akana put it perfectly: 'That body was a person someone loved. You do not walk into a suicide forest with a camera and claim mental health awareness.'
"We expect more of the creators who build their community on YouTube, as we're sure you do too. The channel violated our community guidelines, we acted accordingly, and we are looking at further consequences.
"It's taken us a long time to respond, but we've been listening to everything you've been saying. We know that the actions of one creator can affect the entire community, so we'll have more to share soon on steps we're taking to ensure a video like this is never circulated again."
The response received over 13,000 likes and 4,000 retweets within two hours, with netizens mostly criticizing the post.






This response comes a week after their initial statement to YouTuber Philip DeFranco, which angered many netizens for its weak, vague wording.
I just received an official statement from a contact at @Youtube regarding the outrage and controversy around Logan Paul's (now self-removed) "We found a dead body" top trending Youtube video.

I'll save my personal comment for later. Just wanted to pass this along. pic.twitter.com/JNTQDMVvT4

— Philip DeVeryStableGenius (@PhillyD) January 2, 2018
DeFranco also criticized YouTube's most recent statement:
Dear @Youtube,

Are you lying or are you that detached from reality? pic.twitter.com/aVU5jmYQO9

— Philip DeVeryStableGenius (@PhillyD) January 9, 2018
It is unclear if YouTube and Paul have spoken with each other. Paul has yet to publicly acknowledge or respond to YouTube's tweet.
Featured Image via Twitter / YouTube