Asuka and Kairi Sane, the Japanese tag-team duo with the stereotypical-sounding name "Kabuki Warriors," recently saw action during the Women's Tag Team Title four-way on Raw.
View this post on Instagram
View this post on Instagram
The event, which pitted the pro-wrestling pair against three other teams of two, went fairly well except for one moment during their introduction when the producers misidentified one of the Kabuki Warriors. 
As many viewers would later point out on social media, the producers, or at least someone in the graphics team, listed another Japanese pro-wrestler's Twitter handle instead of Asuka's as the women were making their entrance.
Apparently @shirai_io part of the Kabuki warriors now pic.twitter.com/Rk3v5up413

— One Winged Angel (@Darthalmo) August 6, 2019
The error prompted many criticisms towards WWE and its CEO Vince McMahon over their apparent inability to tell Asian wrestlers apart: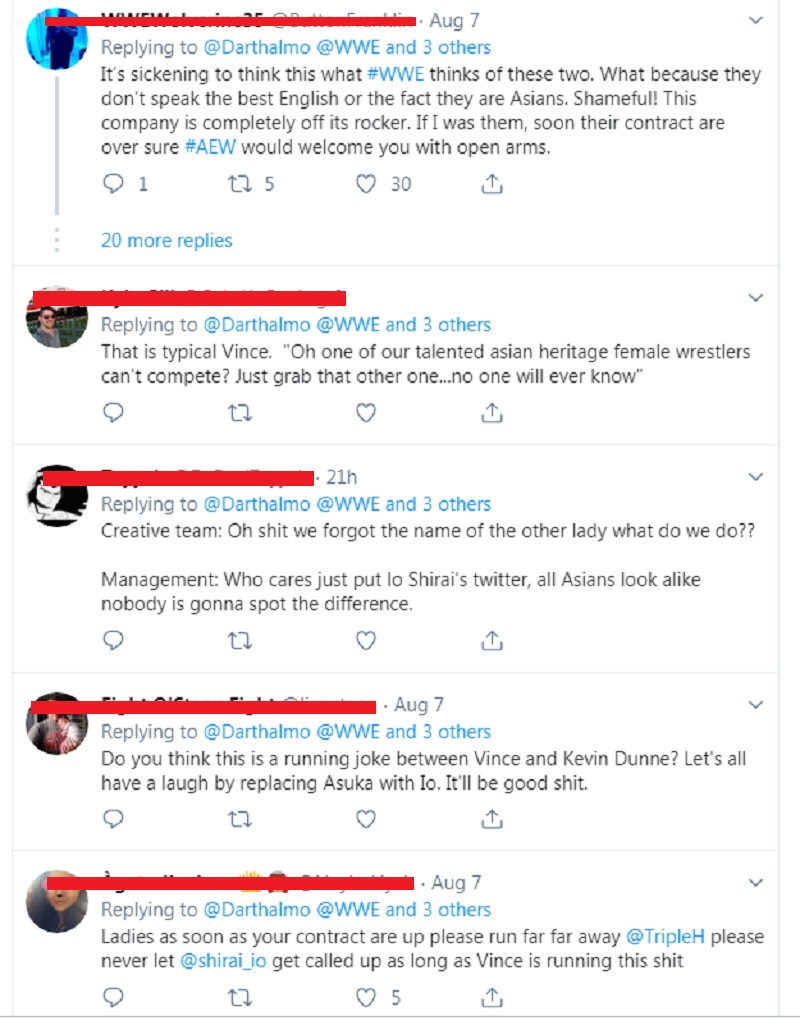 NXT star Io Shirai, the fighter tagged in the graphic, noticed the error herself and commented on it, writing what translates to "What? #WatchOutForMistakes."
は?

#間違い探し pic.twitter.com/RpSfXwlZLG

— 紫雷イオ、Io Shirai (@shirai_io) August 6, 2019
Retired pro-wrestler Gail Kim also commented on the mistake and urged WWE to "stop wasting" its talented Asian female wrestlers.
Wow….. so sad when they have the most talented asian female wrestlers on the planet. Wake up @wwe and stop wasting all of them. Utilize their talent! https://t.co/GYUSEac8on

— Gail Kim-Irvine (@gailkimITSME) August 6, 2019
In any case, the mislabeled Asian tag-team duo lost the match, resulting in Bliss & Cross winning as the new WWE Women's Tag Team Champions.
Featured image via (left) Instagram/@wwe_Asuka and (right) via Twitter/Darthalmo