Yahoo Entertainment released an article on the untimely death of Wu Yongning, a social media star known for his daring stunts on Chinese skyscrapers; unfortunately, they used a photo Wu Vanness, a Taiwanese drama star married to Singaporean heiress, Arissa Cheo.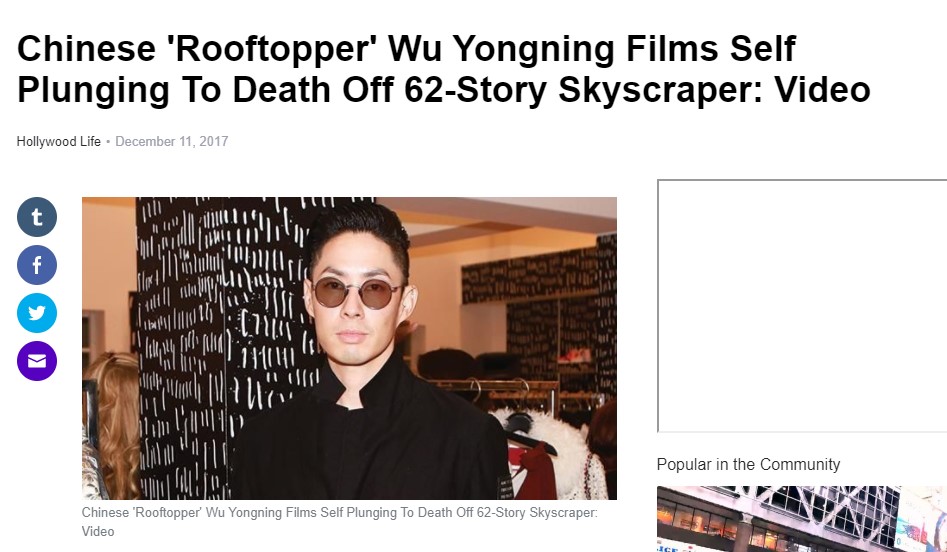 In an archived version of the article, Yahoo Entertainment, through syndicated website Hollywood Life, reported correctly on Wu Yongning's demise. The young man, who was only 26, plunged to his death from a failed stunt on November 8, as confirmed by his girlfriend on December 8. In an unfortunate mix-up, however, the publication featured an image of Wu Vanness instead of Wu Yongning, the former very much being alive and well.
Netizens were quick to point out Yahoo's error.
Why is @YahooNews using a photo of Chinese actor @VanNessVanWu as tragically deceased rooftopper Wu Yongning? No, guys. They DON'T all look alike. https://t.co/QhAQFZdWPL'rooftopper'-wu.html

— Daniel Knauf (@Daniel_Knauf) December 12, 2017
Check this out @angryasianman @originalspin @NextShark @EdwinPeng88 @reappropriate. Shame on @Yahoo @YahooEnt.@SuzyByrne @MandiBierly @KristenGBaldwin @MarcusErrico @dklaidman @realchriswilson I don't know which one of you we're supposed to contact, but you need to fix this.

— Mike Smith (@bladeoffire1) December 12, 2017
Even Wu himself noticed the mistake.
@yahoo do we really look the same??? pic.twitter.com/gRmxHpLSNU

— Van Ness Wu (@VanNessVanWu) December 11, 2017
Yahoo Entertainment quickly rectified their error.
Thank you for bringing the problem to our attention. The story, which was via one of Yahoo's syndication partners, has been deleted. Our apologies for the error.

— Yahoo Entertainment (@YahooEnt) December 12, 2017
What do you think? Totally forgivable or terrible journalism? Let us know in the comments!