A woman who
was sexually harassed by a male Lyft driver shared her chilling experience on social media, urging others to stay calm should they find themselves in a similar situation.
In a Facebook post, the woman recalled the incident on March 20, which took place while she rode a Lyft on her way home in San Francisco, California.
"I had a Lyft driver named Shivam sexually harass me while driving me home. I want to share this with all of you to avoid any rides with him on Uber/Lyft. He drives a black Honda Accord, license plate 7ZMP948."

According to the woman, she rode the Lyft with a friend at 10:18 p.m. Shivam started acting suspiciously after dropping her friend, making small talk as they got closer to her place.
"I have a problem. I have an erection,"
the woman quoted the driver as saying.
She asked him to repeat what he said and he did, adding,
"I don't know what to do about it."
The woman carefully took her keys and put them between her knuckles, preparing to fight back. Shivam repeated himself.
She then took off her heels to prepare herself to run and placed her hand on the lock and handle of the car's door.
"I'm freaking out internally, but remained calm. I said, 'I'm sorry, I can't help you with that. I need to go back home to my boyfriend who is a police officer. Can you please drive up?'"
A few blocks away, the woman then called her mother, telling her to come out with "everyone."
Subscribe to
NextShark's Newsletter
A daily dose of Asian America's essential stories, in under 5 minutes.
Get our collection of Asian America's most essential stories to your inbox daily for free.
Unsure? Check out our Newsletter Archive.
Shivam, who has since fell silent, dropped her off a few homes ahead. She ran home and had a friend call Lyft.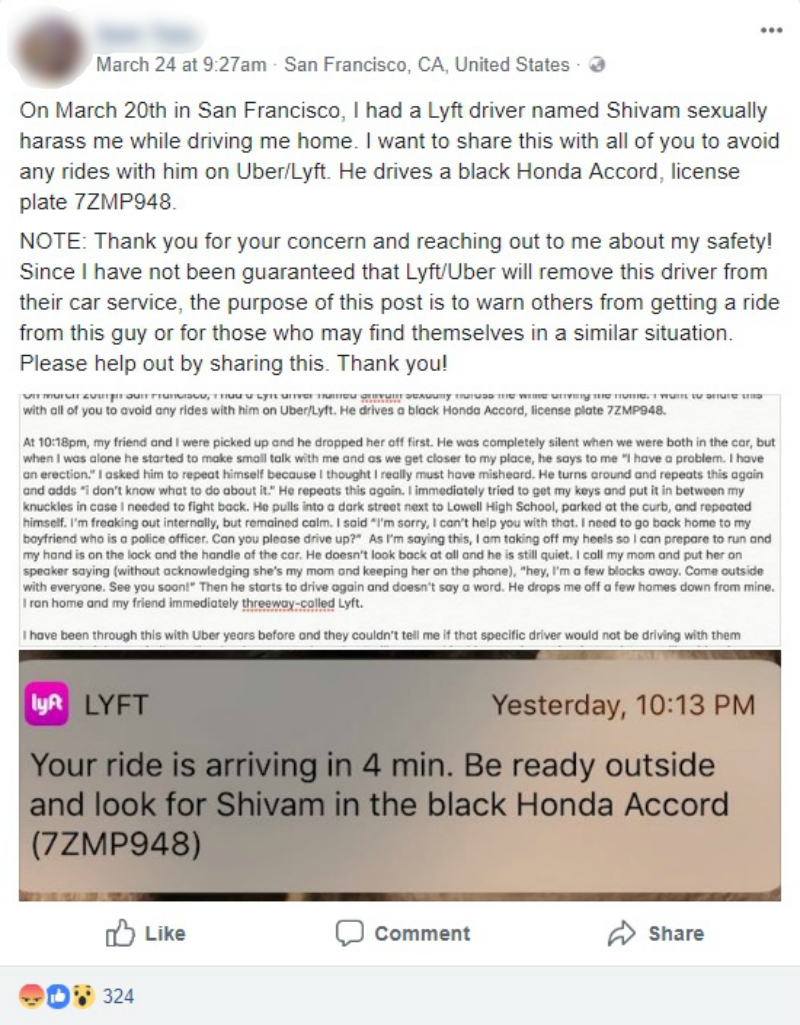 As it turned out, this was not the first time the woman experienced something similar.
"I have been through this with Uber years before and they couldn't tell me if that specific driver would not be driving with them anymore. Lyft has a similar policy, but has ensured me that I will not see this driver again moving forward."
"I am still waiting for a response from Lyft because this is not an adequate solution, since he may sexually harass and assault another passenger if he continues to drive with them."
The woman also filed a police report and sent Uber "all relevant information" to attach on the driver's account.
For now, she warned others to stay calm and know what to do if the same happens to them.
"This was a disgusting experience no one should have to go through, but this can happen to anyone. I shouldn't have felt 'lucky' that I got home safe and neither should anyone else."
"If anyone finds themselves in this kind of situation, please try to stay calm to think of all the possible courses of action/escape, call someone on speaker, and know how to defend yourself."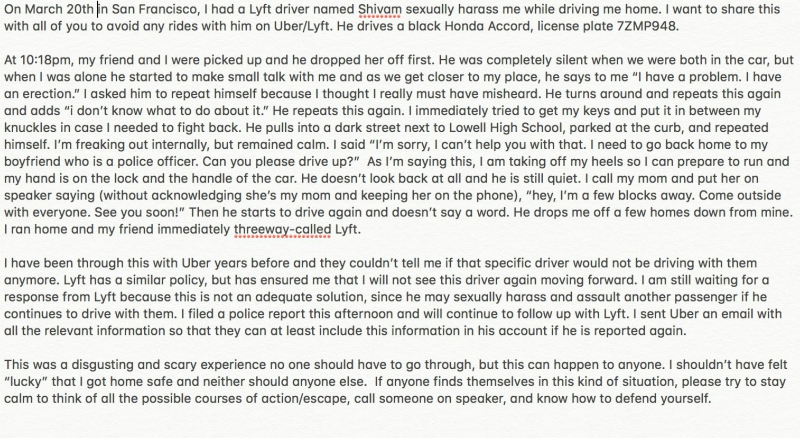 Facebook users expressed relief: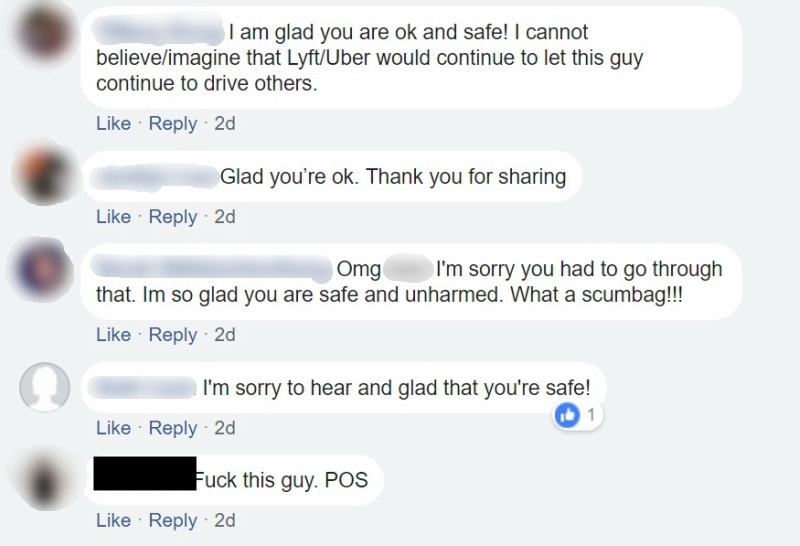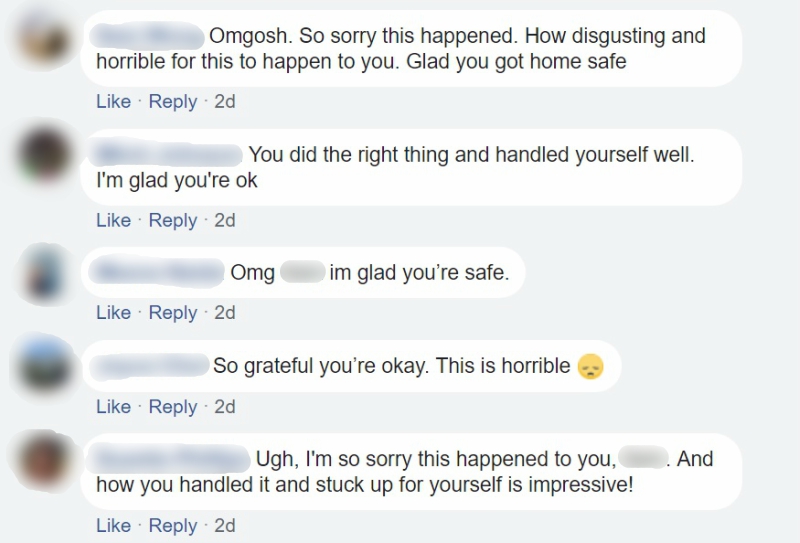 The woman reached out to Lyft with questions about her incident and a Trust & Safety Specialist responded.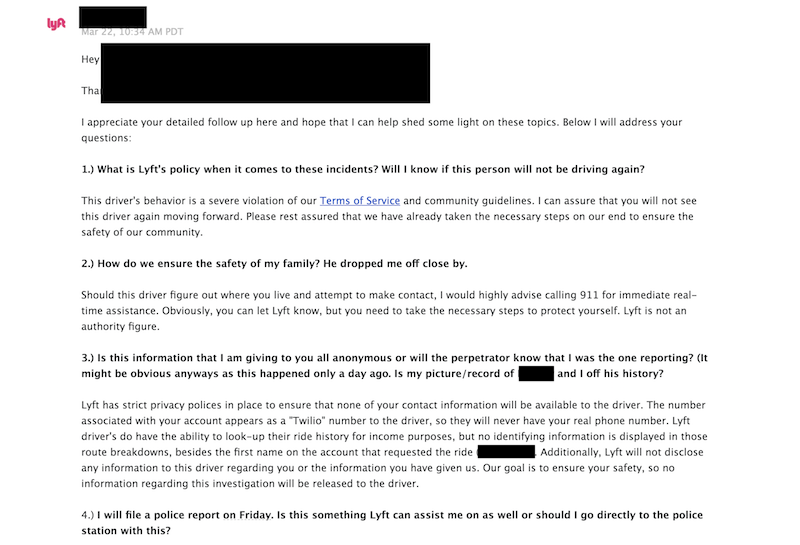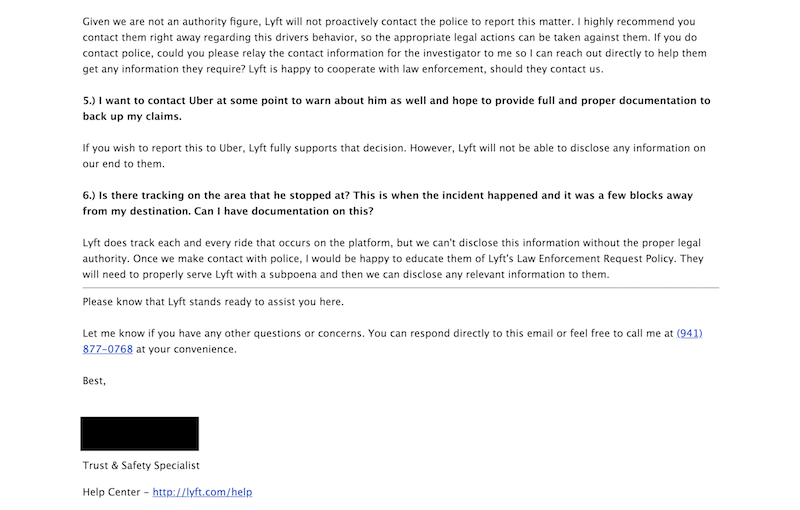 Lyft also ensured the victim over the phone that they will take appropriate action, but cannot tell her whether the driver will be removed from the platform due to privacy issues. In a separate that was sent today to the victim, a rep for Lyft wrote:
"Per our Privacy Policy we aren't able to disclose the details of Trust & Safety investigations. I can assure you though that the decision that we reached was made after serious consideration of all of the information at hand. This report was handled according to our standard procedure, and the actions taken with this driver reflect the severity of your report."
NextShark has reached out to Lyft for comment and will update accordingly.