After going viral last week for harassing Black customers at a bar in Atlanta, an Asian woman has been terminated from her job at Porsche.
Identified as Sonya Pate, the woman was caught on camera rudely interrupting a group of African-American party-goers who were celebrating a friend's birthday at the Overdrive Lounge in Solis Two Porsche Drive.
Pate and her White friends are seen in the viral videos taunting the group by sitting in their section uninvited.
The woman who harassed a group of Black patrons at the Overdrive Lounge in Solis Two Porsche Drive, Atlanta, Georgia last week, is named Sonya Pate. And she is actually an employee of @Porsche . No wonder the staff there ALLOWED this woman to racially harass customers pic.twitter.com/GFrEzKja3E

— Tariq Nasheed (@tariqnasheed) August 14, 2018
Kodili Okechukwu, who shared a video of the incident on August 10, said that when the group asked her to move, she shockingly responded to them with expletives.
"We were enjoying a nice birthday dinner at Solis Two Porsche Drive, a hotel located on the grounds of Porsche Experience Center Atlanta and then this random woman, obviously drunk, comes to sit down at our table," Okechukwu wrote on Facebook.
"We told her it was a private table and she proceeded to ask us where was the reserved sign. After continuously asking her to leave our table, she told all of us to 'shut the f*ck up' and that she wasn't gonna leave."
Porsche, which owns the property where the lounge is located, has responded to the public backlash after the video of the incident went viral.
Porsche Cars North America is saddened & sorry to learn about the incident at the Solis hotel- next door to Atlanta Experience Center. We are especially sorry it involved a woman associated with a Porsche dealer. Porsche does not tolerate racism or discrimination of any kind.

— Porsche (@Porsche) August 14, 2018
The announcement of her termination came two days later via this statement: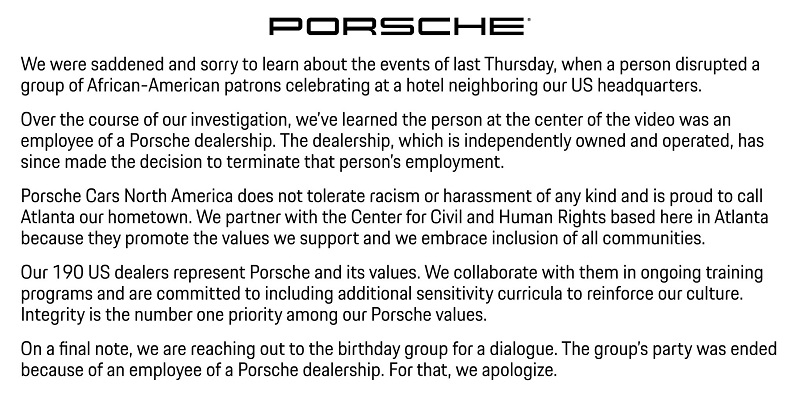 Netizens have also been calling for the firing of the manager at Overdrive Lounge for deciding to kick the group from the bar.
Apparently, @Solis2PorscheDr plans to release this statement. THIS IS ALL A LIE. We did in fact have a reservation that was made 2 MONTHS in advance. No one who was actually involved in the incident was called and apologized to. @Porsche pic.twitter.com/e0li5bOryK

— Kodili (@_Kodilichukwu) August 14, 2018
Meanwhile, an alleged recording of Pate "apologizing" to the customer she got kicked off the bar has emerged on YouTube and has been widely received as a poor attempt at damage control on her part.
Featured image via Facebook/Kodili Okechukwu