A skin whitening brand received universal backlash from the public after telling women in the Philippines with dark skin to fight discrimination by using their products.
Glutamax, which sells a variety of products that whiten the skin, released its ill-conceived promotional campaign on Saturday that many have found to be very offensive.
View this post on Instagram
Glutamax' "Your Fair Advantage" campaign ad is a more insulting play on the common marketing message of similar products in the Philippines which suggest that women with whiter skin are considered to be more attractive.
First, the ad highlighted the supposed unfair treatment a person with darker skin receives with the phrase "Just because she has whiter skin, she was given a bus seat."
Nakakainis ba 'pag may unfair treatment tuwing nag-cocommute?

'Wag magalit, mag-GlutaMAX. #YourFairAdvantage

— GlutaMAX (@MyGlutaMAXPH) April 13, 2019
Next, it cited an obscure survey that claimed: "3 out 5 Filipinos believe that people with fairer skin receive better treatment than others."
The ad then urges its audience to not get angry with such unfair treatment, and instead use GlutaMax.
Its blatant promotion of colorism irked many netizens, generating thousands of angry comments on multiple social media platforms.
TOXIC FILIPINO "COLORISM" AD! #GlutaMAX should be cancelled. pic.twitter.com/zcotFjfgiF

— ⒻⒽⒾⓁ (@flmrsalcedo) April 14, 2019
so there was this ad in edsa i saw last week and found interesting because i thought it was addressing colorism in the ph and the second picture is what it was replaced by. it was an ad for whitening products. fuck you glutamax pic.twitter.com/C3g408Mvby

— janana (@bukotart) April 13, 2019
So disappointing that instead of promoting "equality" regardless of skin color, they opted to point out na deserve nga talaga ng mapuputi ang better treatment. What a trashy logic we got here from GlutaMAX.

RESPECT TO A PERSON IS NEVER OF COLOR OR RACE!!!! pic.twitter.com/mhoB4Whtqj

— JAMES (@JamesMarion20) April 13, 2019
No, GlutaMax. Here's me raising my middle finger at you: I'm alright with my brown #KutisPinas and I'm still in the showbiz industry, you uneducated potato. pic.twitter.com/AgZ11PJOnX

— Chai Fonacier (@bansheerabidcat) April 13, 2019
I don't know what's more infuriating: the GlutaMAX ad or how they're defending their ad by claiming their product is a way to "empower women." pic.twitter.com/hesWmRy0D8

— Eleanor Pinugu (@lynnpinugu) April 13, 2019
A sample they showed me was this one with jinky oda. apparently, glutamax have always banked on the controversial, bordering offensive. pic.twitter.com/yDs3P64yJ7

— Rush-Yan Roulette (@pamzaragoza17) April 13, 2019
Many called out Glutamax for actively perpetuating a culture of discrimination, inequality, and shaming on the basis of skin color.
Glutamax spends millions for ads reinforcing colonial beauty.
Then blame society bec the beauty standards they helped create are unfair.
You buy from them bec of pressure.
They profit, spend millions for ads that reinforce the standards.
Their page calls it "empowering choices"

— Kip Oebanda (@kipoebanda) April 13, 2019
that ad from glutamax reminded me of my annoyance when I had problems buying foundations from local brands (ya im broke) because they were too light for my skin tone 😔

I'm simply annoyed at the belief of most filipinos that as long as you have a fair complexion,you're pretty 😒

— zar 🌺 (@zarenaaah) April 13, 2019
Apparently, Glutamax thinks that the solution to discrimation based on skin color is to whiten yourself??? WTH!!!? This forwards the disgusting narrative that the only standard for respecting people is if they're fair-skinned. Shame on your capitalistic attempt to be relevant. pic.twitter.com/11inDrcStK

— angelou (@putomayangelou) April 13, 2019
This is actually true coming from a woman who has been tagged as negra since birth.

But instead of pulling brown women down, GLUTAMAX why don't you promote skin confidence instead?!

Nakakadagdag kayo sa intellectual pollution eh https://t.co/lksPWO9amj

— Joie (@joiegirl_) April 13, 2019
Groundbreaking. So instead of correcting this discriminating treatment, Glutamax managed to blame it to those that were—UNFORTUNATELY—not snow white embodiments 🤢🤮 pic.twitter.com/eyjWk3GKeb

— Joshua (@joxuagarcia) April 13, 2019
Following the backlash, some of the ads have since been removed from the brand's social media accounts and have been replaced with a couple of official statements.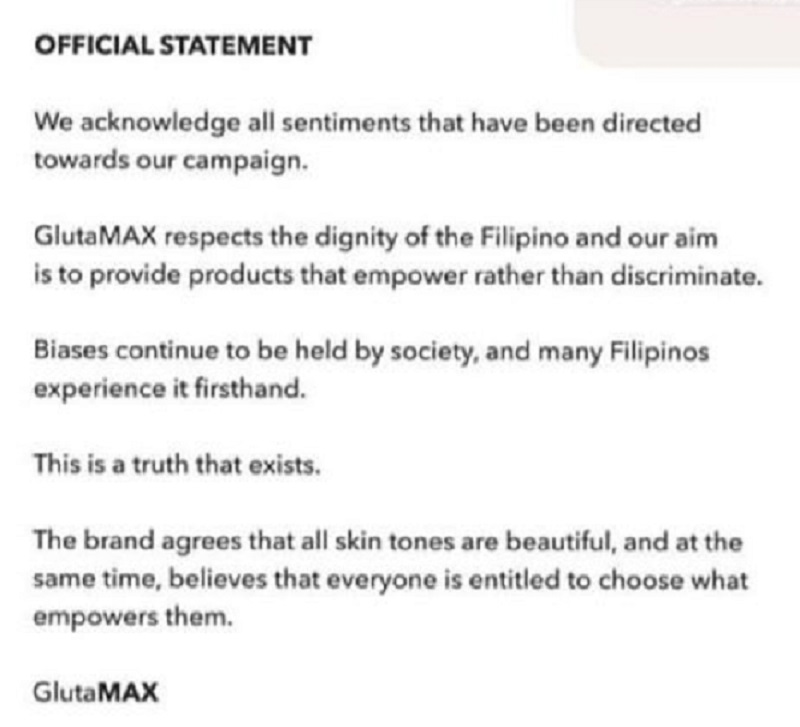 The first statement, which doubles down on the notion that using whitening products to subject oneself to colonial beauty standards is somehow empowering for women, only shows how the brand has completely missed the point of their critics.
When the statement received criticisms of its own, the brand then posted another statement with an apology included.
Meanwhile, the Ad Standards Council of the Philippines (ASC), which screens and regulates advertising materials across all media, released a statement on Monday that the controversial ads were not approved.
"ASC stands for responsible communications and abides by a strict code of ethics," the statement read.
"In connection with the recent GLUTAMAX skin care digital and outdoor ads, the materials posted and displayed were not approved by ASC.
"GlutaMAX's advertisment violated ASC's code of ethics, specifically Article IV Section 1 Item A:
Article IV Section 1 Item A. of the ASC Code of Ethics on DISPARAGEMENT states that: "Advertisements shall not directly or indirectly disparage, ridicule, criticize, or attack any natural or juridical person, groups of persons, or any sector of society, especially on the basis of gender, social or economic class, religion, ethnicity, race, or nationality.
"The posting of a disapproved material is in violation of the ASC Manual of Procedures. The matter will be dealt with in accordance with the rules and regulations as stated in said Manual," it added.
Featured image via Instagram/myglutamax