Justin Caldbeck, a venture capitalist who reportedly sexually harassed multiple Asian female founders, just keeps digging himself a deeper hole.
Niniane Wang, one of the women who came forward exposing Caldbeck, revealed today that she had received an email from Caldbeck three days after she had agreed to go on record to The Information, who originally broke the story.
The email below was shared with Sarah Lacey at Pando. Wang noted that Caldbeck had only contracted her once in the last two years.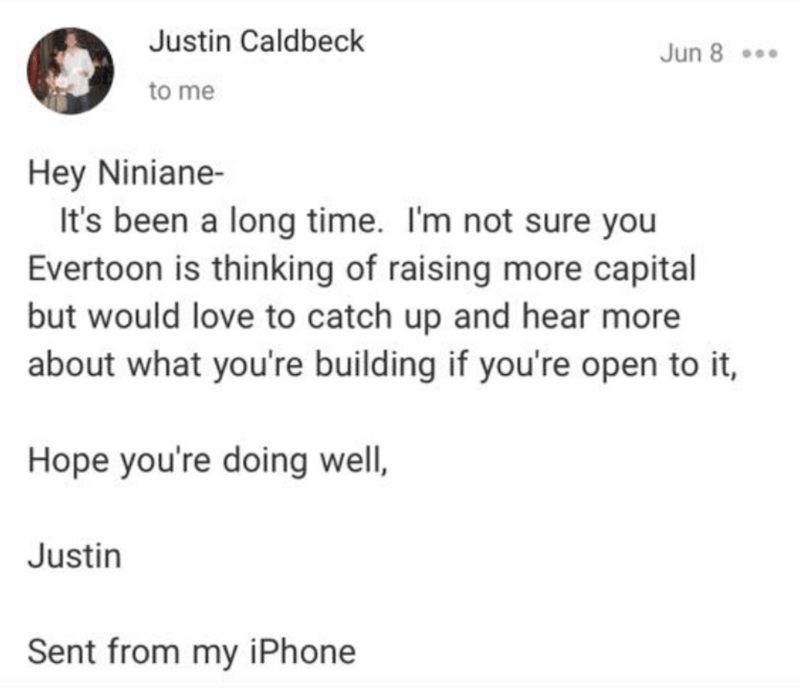 Wang told Pando that she saw this as an attempt by Calbeck to "trying to use funding to shut me up."
She also shared in a Facebook post that goes deeper in her experience with Calbeck.
In the post, she writes:
"Justin Caldbeck harassed me in 2010, when he was a financial backer of my organization. By 2012, I knew of two other (Asian founder) women who he had harassed. (They are not Susan Ho nor Leiti Hsu.) I wracked my brain trying to come up with some way to warn other women. I even asked the founder of Change.org for suggestions. But it was always unclear what I could do. Women would tell me with resignation that they have gone through worse: "Yes, he pressured you for sex while he was your investor, but you didn't give in, so it could have been worse. When you tell people, it'll be he-said she-said, and he'll keep on doing it. This happens to women all the time.
For 7 years, I watched helplessly as Justin seemed to face no consequences for continuing to harass women pitching him for investment. His VC fund got bigger and bigger, and Justin seemed to get bolder and bolder.
When I was approached last month to be in an article exposing Justin's harassment along with five other women, I was initially told that I could be anonymous. I gave my story. Then I was told that due in part to Justin's threats toward the reporter and the publication, the article would be killed unless women agreed to speak on the record. Some friends warned me that if I use my name, I would be taking a gamble with the career that I've spent 20 years on. They said: "Is this really worth risking the reputation you've built over 20 years?" I thought about it and decided: if not now, then when? If I'm not going to bet my reputation on protecting other women, then what would I be hoarding it for?
When I decided to go on the record, friends told me to expect that Justin would still continue to get deal flow and try to harass women, but they said the article could serve to warn women. I thought that if the article appeared high enough in his search results, women who googled his name might see it and decide to meet him in a public location where it'd be harder for him to grope them. Or that if they did get harassed, they could google him afterwards and at least feel that they weren't the only ones, and that they didn't "ask for it" in some way. My only hope was pinned on getting one article high enough in his Google results.
I had trouble sleeping the night before the article. When it first came out, there wasn't much buzz. After 8 hours, it was only aggregated on one site, PandoDaily. I started to wonder if our efforts were in vain, and if in fact Justin would become emboldened. Then VCs started to speak up on Twitter. My investor John Lilly of Greylock Partners wrote messages in public and to me privately. Reid Hoffman published a powerful call-to-action on LinkedIn. Ellen Pao kept re-tweeting for hours every VC who spoke up. Dozens of other VCs tweeted. Everyone who spoke up created awareness, and then actual change.
I think Justin's leave of absence is a good first step. It is vindicating to see his statement: "It is outrageous and unethical for any person to leverage a position of power in exchange for sexual gain, it is clear to me now that that is exactly what I've done."
However, to those who are saying Justin's apology is heartfelt and hoping he learns a lesson: Please read the first line of the apology. It says "Attributable to Justin Caldbeck". It was written by a PR firm.
We collectively have more to do. I would like to ask the industry to support Reid Hoffman's #DecencyPledge. He outlined 3 actions that can be taken to create a safer environment for female founders. To use Jeff Bezos's line, we are still in Day 1 of gender equality in Silicon Valley.
I'm so proud of Susan Ho and Leiti Hsu, who also agreed to go on the record in the article. They're based in NYC and have fewer connections in Silicon Valley, and they still boldly took the risk. Also the reporter Reed Albergotti persisted despite being threatened multiple times by Justin over months, including yesterday. Thanks Sarah Lacy for being the only media outlet who was willing to post about the news during the first 8 hours. We all did this to protect women. We are not suing. We have nothing to gain. We just want to make life a little bit easier for female founders.
Please spread #DecencyPledge."