A restaurant in Chicago has angered many Hawaiians after claiming the word "Aloha" as its own and sending cease and desist letters to other restaurants using it.
Chicago-based poke chain Aloha Poke reportedly forced a poke shop in Fairhaven, Washington to change its name in response to a cease and desist letter it received, Eater Chicago reported back in August last year. Examples of the more recent cease and desist letters show the company has issue with other companies, many of which are owned by Native Hawaiians, using the words "Aloha" and "Aloha Poke" in their company services.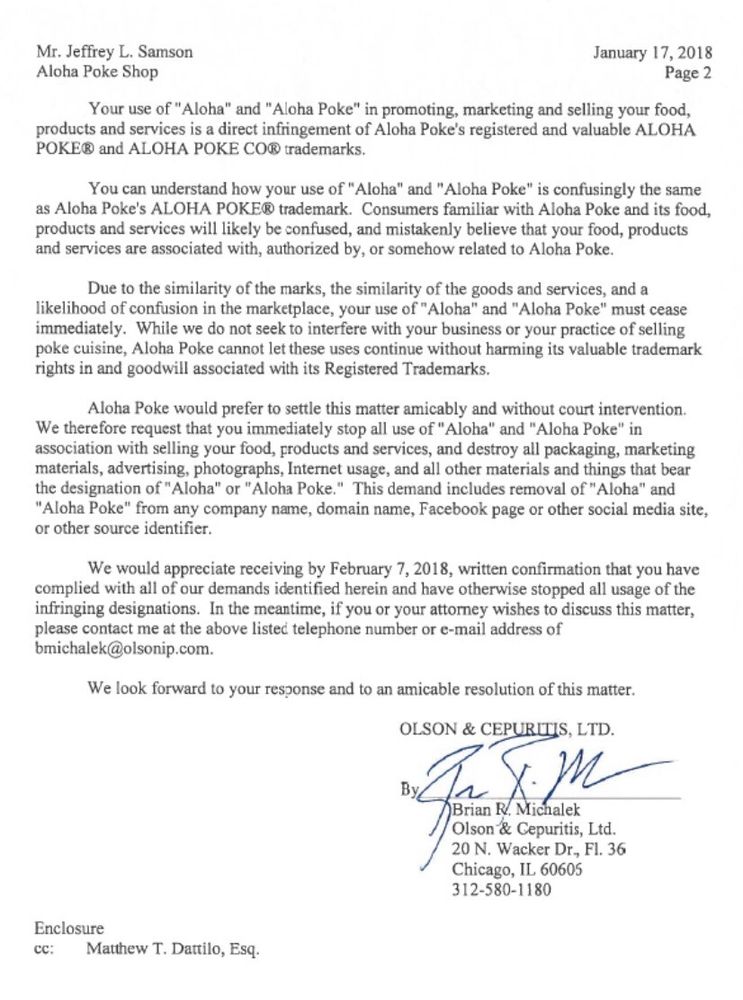 Aloha Poke has expanded to a dozen locations in the United States two years after starting its operations in Chicago's French Market in 2016.
The company, which is run by non-Hawaiian Caucasian owners, was heavily criticized online for allegedly trying to take ownership of a term with a deep cultural and spiritual significance to Native Hawaiians.
Aloha Poke's legal threats recently became a widely discussed topic on social media after Hawaiian activist Kalama O Ka Aina Niheu wrote about it on Facebook:  
"Hawaiian culture is probably one of the most commodified cultures on the planet," Niheu said. "This is something that is far from new, and we're very, extremely familiar with the devastation it can cause."
Niheu, who is known for being an advocate for Kanaka Maoli (Native Hawaiian) families, said she has heard complaints from local business owners who had received legal threats from Aloha Poke.
She pointed out that Native Hawaiian communities are "not rich" and that their businesses are both labors of love and a means of survival.
"Trademarks [trumping] culture is an incredibly privileged thing to happen," Niheu said. "And I think part of the reason why it's resonated so much is that people know … if that type of law, that type of bullying, if that type of thing is acceptable, then we know that one day we're going to look for kindness and we'll only find corporations."

Netizens have since flooded the poke shop's Yelp and Facebook pages with negative reviews.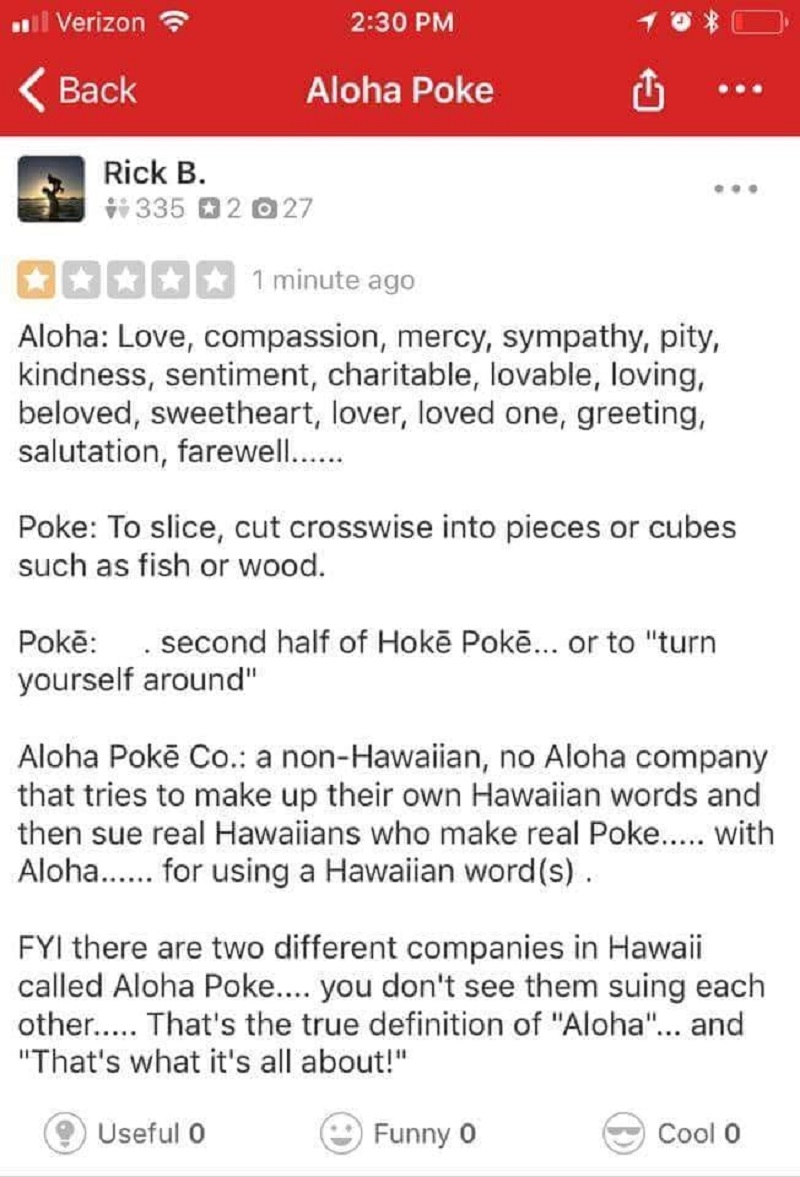 Niheu has now called upon Aloha Poke to change its name via a petition on Change.org.
"Not only are they capitalizing on an Indigenous traditional dish that they have no rights to, but they also have the gall to try and bar our own people from using a word in our language that has deep cultural meaning and symbolism," she wrote. "A language that up until 1987 was illegal in schools in Hawaii."
"The root base of aloha are the words ALO and HA. Alo means presence, or as some kupuna have described it, recognition," Niheu wrote in her petition. "HA means the breath of life. Therefore when we as Kanaka Maoli say 'Aloha' we are recognizing being in the presence of another person's breath of life. To threaten suit to Kanaka Maoli families who are simply trying to practice their generations-old culture and feed the community? So that you can profit off of a culture and a people that are not yours to sell?"
Hawaii State Rep. Kaniela Ing, took to Twitter on Sunday to post a video pointing out that threatening native Hawaiian families with legal action over the word "aloha" is an insult to the very word.
A poke bowl shop owner in the Midwest thinks he owns the word "Aloha." He's even suing Native Hawaiians. Here's my response:

Please 'Share' + boycott. #NoAlohaPokeCo #FightForAloha pic.twitter.com/hYsclmSIkz

— Kaniela Ing (@KanielaIng) July 29, 2018
"It's bad enough that the word has been used and commodified over time, but this is the next level," Ing said. "To think that you have legal ownership over one of the most profound Hawaiian values is just something else."
Rep. Ing added that the Hawaiian poke shops should be the ones suing Aloha Poke, but they likely wouldn't — because that's not very "aloha."
"All we ask that if you're making so much money off our words, our values, our food, our culture, that you at least hear us," he said.
Aloha Poke founder Zach Friedlander, who stepped down as CEO of Aloha Poke in the spring, posted a Facebook statement on Monday claiming that there has recently been "an incredible amount of misinformation shared."
"I am truly sorry that anyone, especially native Hawaiians, have been offended by this situation. I want them to know I have nothing but love and respect for them," Friedlander wrote.
Aloha Poke Co has since issued an apology on Facebook that has widely been criticized in the comments for being insincere as well as denying the company's claim on the term "Aloha," contrary to what the company's infringement notification letter states.
Featured image (left) via Facebook/kalama.okaaina (right) via Instagram/alohapokeco