A traveling couple with more than 80,000 followers on Instagram has been accused of racism and xenophobia after "joking" that Asians in their recent flight had coronavirus disease 2019 (COVID-19).
"We're flying with team coronavirus," the couple's account, @wherethekidsroam, captioned a photo in their Instagram Stories, along with a flushed face and a face with medical mask emoji.
The caption immediately sparked outrage among viewers. For one, beauty entrepreneur Tina Craig (@bagsnob) called the attention of Abercrombie & Kent UK, which reportedly sponsors the couple.
"As a mother I find this heartbreaking. As a human I find this despicable," Craig wrote.
Do not be fooled by this supposedly cultured traveling family @wherethekidsroam IG account. They are just as racist. Sharing from @BagSnob story. @NextShark #coronavirus #racism pic.twitter.com/pLiqUBeenB

— rosy (@lilrosy85) February 18, 2020
Meanwhile, Twitter user @lilrosy85 warned: "Do not be fooled by this supposedly cultured traveling family @wherethekidsroam IG account. They are just as racist."
Instagram user @laubaby17 wrote: "Casual racism and xenophobia from the likes of you is everything wrong with the world. The fact you are parents teaching this to your kids is even more disgusting!"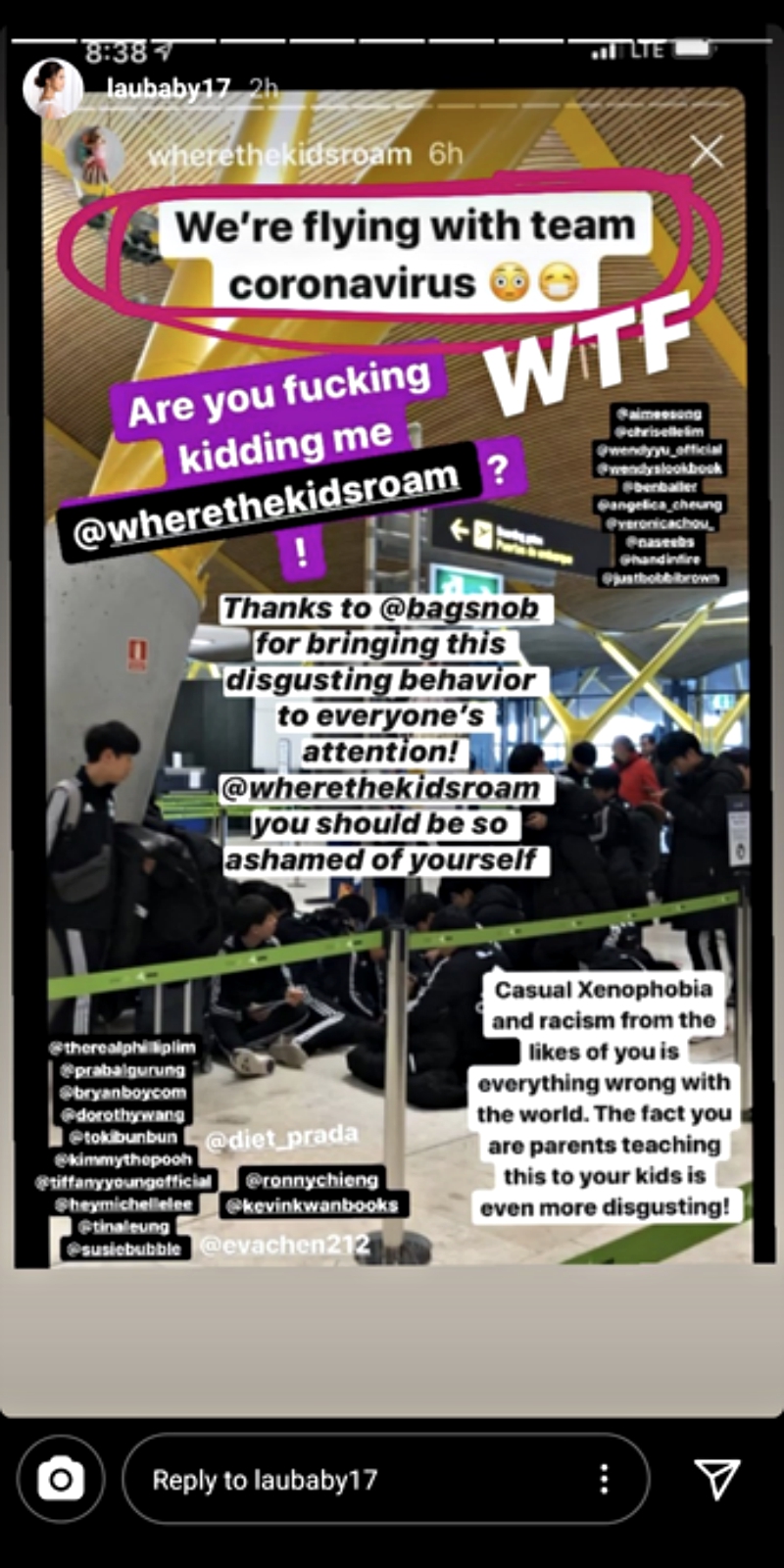 The page in question has since been set to private, while its bio now claims to be "one of NatGeo's Top 10 IGs to block in 2020."
The couple added: "Our passion is attempting to make our lives look better than yours."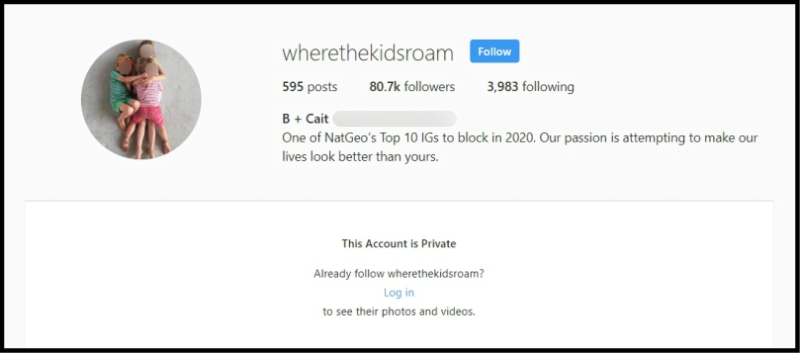 While their Instagram account is no longer accessible to the public, some shared their official blog, which is also titled "Where the Kids Roam."
According to their "about" page, they are law school graduates Brandon and Caitlin.
2
The couple's blog features travel adventures with their children in various locations across Asia, Europe and Central America.
"Caitlin and I met through a shared point of view – she loved me and I did too. She continuously stalked me in law school and one day, after a particularly bad waterboarding session, I relented. We've been inseparable ever since," Brandon wrote.
3
The couple has since apologized in a follow-up Instagram Story, but it's unclear who exactly had posted the coronavirus "joke."
"I 100% apologize to anyone and everyone I offended with one of my stories. Definitely not my intention. I'm all about sarcasm and humor, but I certainly never, ever mean to offend," the responsible party wrote.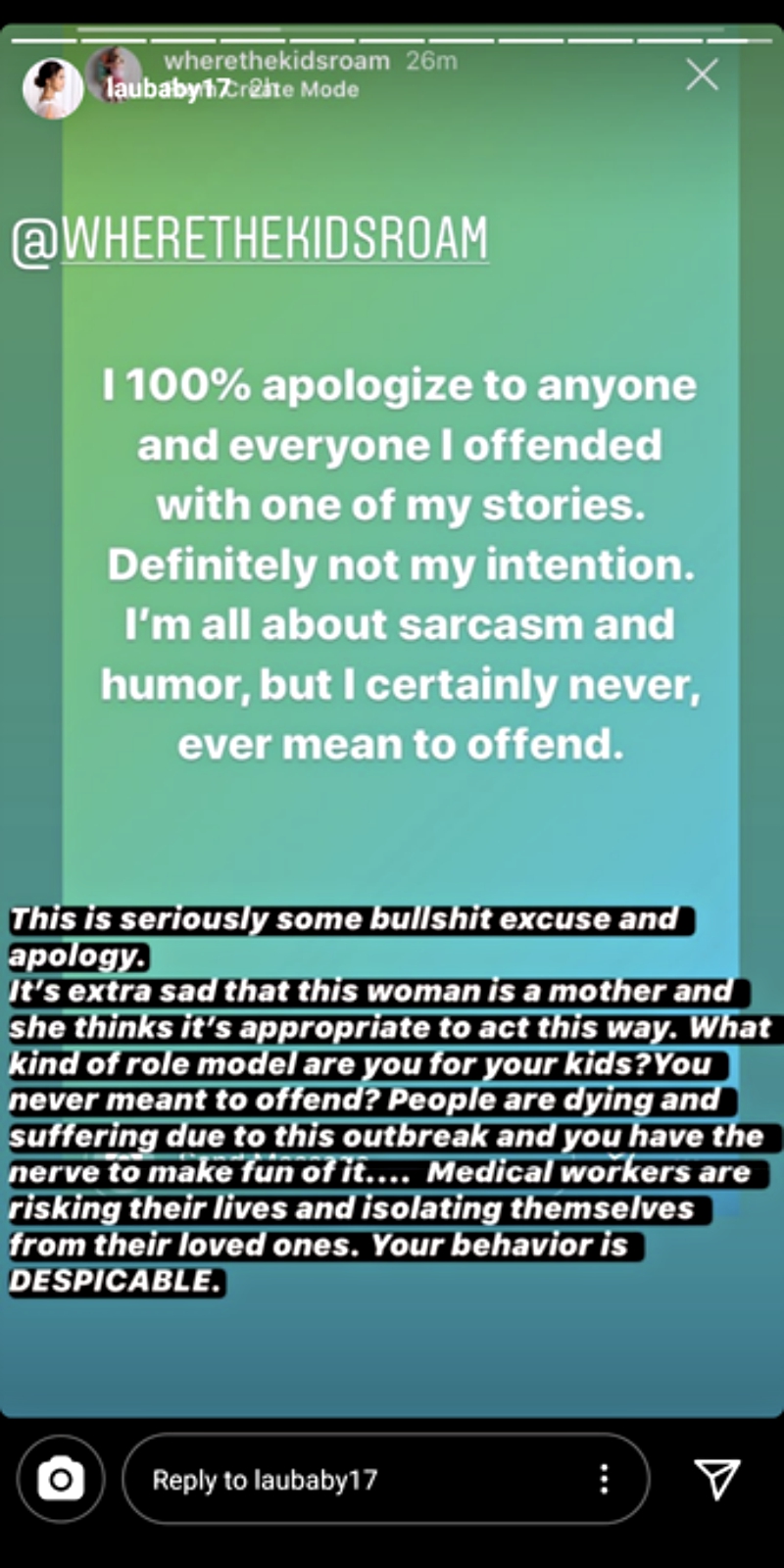 The apology failed to convince some people, however, including user @laubaby17 who called it "seriously some bull***t excuse."
"What kind of role model are you for your kids? You never meant to offend? People are dying and suffering due to this outbreak and you have the nerve to make fun of it," @laubaby17 wrote. "Medical workers are risking their lives and isolating themselves from their loved ones. Your behavior is DESPICABLE."