Despite President Donald Trump's efforts to ban WeChat — as well as TikTok and other Chinese-made apps — a growing number of Chinese immigrants and Chinese Americans are reportedly using the platform to campaign for his re-election.
The app, with some 19 million users in the U.S., is popular among first-generation and recent Chinese immigrants, many of whom back the incumbent president.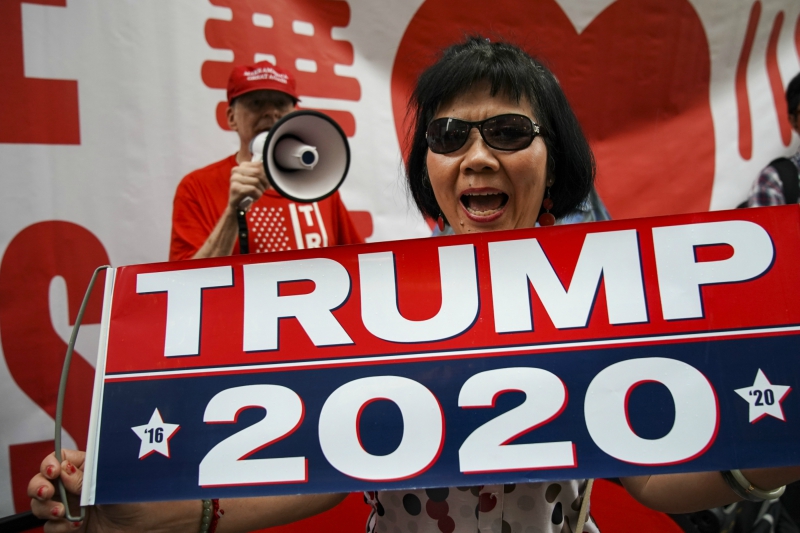 "U.S. conservative culture is very similar to the culture of our fathers and grandparents,"
a Missouri-based engineer awaiting his green card told the
Financial Times
.
"People value family, promote hard work and oppose many modern ideas, such as homosexuality and sexual freedom."
In a three-point partisanship
survey
, only 16% of Chinese Americans identified as Republican, but 40% called themselves independent. This growth is attributed to stronger immigration from mainland China, while many of the previous immigrants came from Hong Kong or Taiwan.
"The new Chinese immigrants from China, their viewpoint and understanding of Asian American history and how they view issues differ from the Chinese Americans who have been here longer,"
Christine Chen, executive director of APIAVote, a nonpartisan engagement group, told the
Los Angeles Times
last month.
Chen said that independent Chinese Americans are "not necessarily" likely to vote for Trump, particularly due to his anti-China rhetoric amid the COVID-19 crisis — but current activities on WeChat tell a different story.
The vocal Trump supporters are currently mobilizing on the platform, shaping a space isolated from mainstream social media platforms which Trump has repeatedly accused of censoring his campaign.
Subscribe to
NextShark's Newsletter
A daily dose of Asian America's essential stories, in under 5 minutes.
Get our collection of Asian America's most essential stories to your inbox daily for free.
Unsure? Check out our Newsletter Archive.
This isolation allows supporters to air their views "without concerns about one's neighbors or colleagues finding out," according to Christina Wu from Hofstra University in New York. Mo Fan, an Oregon-based data analyst, is forced to use an alias on Instagram and TikTok because he has "seen some examples of Trump supporters posting, and leftist groups finding out where they work and putting pressure on their employer."
Trump supporters on WeChat carefully draw the line between Chinese people and the Chinese government. The latter, they say, is the true target of Trump's policies — and some of them are pleased to see Beijing take a hit.
While Trump routinely refers to COVID-19 as the "Chinese Virus," "China Virus" and "Kung Flu," he reiterates that such remarks are directed to the Chinese government, not to Asian Americans.
"It is very important that we totally protect our Asian American community in the United States, and all around the world,"
Trump
tweeted
in March.
"They are amazing people, and the spreading of the Virus … is NOT their fault in any way, shape, or form. They are working closely with us to get rid of it. WE WILL PREVAIL TOGETHER!"
The president echoed his remarks at a news conference:
"It seems that there could be a little bit of nasty language toward the Asian-Americans in our country and I don't like that at all … so I just wanted to make that point, because they're blaming China, and they are making statements to great American citizens that happened to be of Asian heritage, and I'm not gonna let that happen,"
Trump said, according to
Reuters
.
For these reasons, Chinese American supporters are beginning to accept the WeChat ban, despite the fact that they also use the service to communicate with loved ones back home.
"I'll support it, even though the ban will hurt me," Ming Dao, 57, told the Financial Times. "In the U.S., WeChat should obey U.S. laws. If you're in the U.S., and they use Chinese laws to censor you, that's not OK."
Aside from Chinese Americans, Trump enjoys support from other Asian American ethnic groups, mainly the Vietnamese.
In a recent
article
for MercatorNet, researcher William Huang, who describes himself as a product of China's one-child policy, offers insight on why Asian Americans are warming up to Trump despite his COVID-19 rhetoric.
"What mainstream media and Twitter activists do not understand is that, when Trump tweets out 'China Virus' or shouts 'China must pay a price for what it has done' at his campaign rallies, these comments are not anti-Asian. In fact, many, many Asians love it. They relish it when Trump attacks China," Huang noted.
"Not only are his 'anti-Asian' comments making him more popular among traditional Asian demographics that lean red, he is also gaining from other Asian American groups with his blunt rhetoric and action towards Communist China."
Feature Image via Getty