An Asian American woman recently took to Facebook to share a harrowing experience she had during a business trip to Guadalajara, Mexico on Valentine's Day.
In her post, Facebook user Tori Vo recounted how some staff members of Volaris Airlines made her feel discriminated against. 
"This Valentine's Day I was heartbroken. It wasn't because of my husband, but I was deeply hurt regardless. It took me a few days to decide sharing this with my friends and family, but I think sharing is necessary because I know so many others were mistreated the same way, before, on Valentine's Day of this year, and every single day after amid this Coronavirus outbreak."
Mrs. Vo revealed that she frequently travels to Guadalajara for work and enjoyed her trips for the most part taking the Alaska Airline round-trip. 
"I traveled so much in 2019 ( 10 times) on the same route ( San Jose-Guadalajara) that some of the flight attendants remembered me, and aside from work purpose, I enjoyed every part of the business experience because of the people I got to work with, and the people that I got to fly with."
However, a change in plans forced her to take another carrier and experienced a different kind of treatment.
"Instead of flying with Alaska Airline round-trip, I opted for an early morning flight with Volaris in hope that I would be able to get back to the Bay Area and head straight to work."
Being of Asian descent, she expected the additional questions not asked to every passenger.
"I had to check-in at the counter, and as expected, a Volaris representative asked if I've been to China the past 30 days, to which I responded : ' No, I have never been to China'. I did not appreciate how she turned to her coworker, whispered and giggled, but it's alright as some people might find me funny-looking."
Aside from the unwarranted giggles, she also had to shrug off the extra time the staff poured into checking her passport. 
"She then proceeded to flipping through EVERY single page of my passport, but though it took a long time ( I had additional pages), I did not mind as people should exert extra caution during this volatile time with the Coronavirus outbreak. Aside from a wounded vanity, all was good: my seat was confirmed, and I passed through security with no problem, no questions asked."
Even after passing through security, her boarding still got held up by one employee who decided she needed more checking.
"I waited my turn, like everyone else, but the operator ( I'm not sure if he was a Volaris employee or GDL airport operator) pointed me to a table, saying I needed to be checked. I went thinking it was not a big deal since I almost always needed to have my passport verified at the gate, but even after the lady said I was clear, the man refused to let me board. Upon me asking why that was, he curtly said : 'NO, NO, go there you need to be checked'. They checked my body, every compartment in my backpack and carry-on luggage, and once that was done, the man yanked the ticket from my hand, and I was one of the last to board the plane."
Once she got inside the plane, her experience only got worse.
"I stepped through the door with a cold, silent greeting from a flight attendant, and found that my seat was taken by another passenger, the first three rows completely occupied. I turned and asked the attendant if there was a mistake, showed her my ticket, and she said: ' Can you take seat 12A? Still priority.' I was going to ask if the man needed to sit close with his family, but she cut me short, saying : ' You can't sit in seat 12? I don't have anywhere else to put him….' ( I looked up to at least 4 empty rows and empty seats all over the plane)…then continued with her monologue '….but ok if you want to sit in seat 1A, I can ask him.' I did not know what she started to tell the passengers as it was in Spanish, but seeing the confused look on the passengers' faces, I quickly realized that I was the only foreigner on the plane and that most people did not know what was going on let alone what had happened before boarding."
As she made her way to her seat and struggled to put her luggage up into the overhead bin, not one attendant assisted her. 
"The attendants only stared at me, one swerved past me, no one helped. I was by myself, more leg room for sure, but I felt so isolated, discriminated against and was brimming with tears."
She noted that she had to endure the four-hour flight being ignored and treated as she was carrying a disease. 
"I must have been invisible because they accidentally skipped my row when the cart came for food and beverages. I asked for a glass of water, so the same attendant took out a bottle and dropped it onto the seat next to me without saying a word or turning her head."
"When they were handing out custom forms, I had to ask if I could also get one, and they said they did not have any English form. Luckily I know some Spanish, but halfway through filling out the form, I saw them handing out an English form to someone two rows in-front of me.
"Was I nothing more than an incubus of viral plague?????? How can these people represent an airline? How can these behaviors be acceptable?"
According to Vo, she has never felt such mistreatment before in her 14 years living in the United States.
"It is heart-breaking and sickening that the people who were racist against me were not the white supremacists, but people of color. It is human nature to fear the unknown, but discriminating against Asians doesn't mean you'll be immune from the virus." 
She lamented that instead of treating Asian people with disrespect and discrimination, people should "focus on taking protective measures against the novel coronavirus instead."
"Discriminating against Asians is not one of those measures against Coronavirus. It only fuels the biggest epidemic of all: Racism."
Vo thanked the immigration officer at the San Jose Airport for cheering her up when she arrived. 
"(He) noticed my swollen face, asked if I was ok, and comforted with me with : ' Hey, good thing you're safe now. Welcome home!' If it weren't for him, I would have lost it completely."
In the end, Vo advised her fellow Asian travelers to at least "keep traveling to a minimum" temporarily just "to avoid very unpleasant situations like this."
"I've heard stories of how people were mistreated much worse, and trust me, it scars you for life. I'll have to resume business traveling at some point, but I will never ever fly with Volaris again, and wholeheartedly advise everyone against flying with them if you are of Asian descent. Volaris Airlines, you truly mis-represented your beautiful country."
Vo's post, which has so far generated thousands of reactions and shares, received numerous comments expressing their support and sympathy to Vo for having to go through such an ordeal.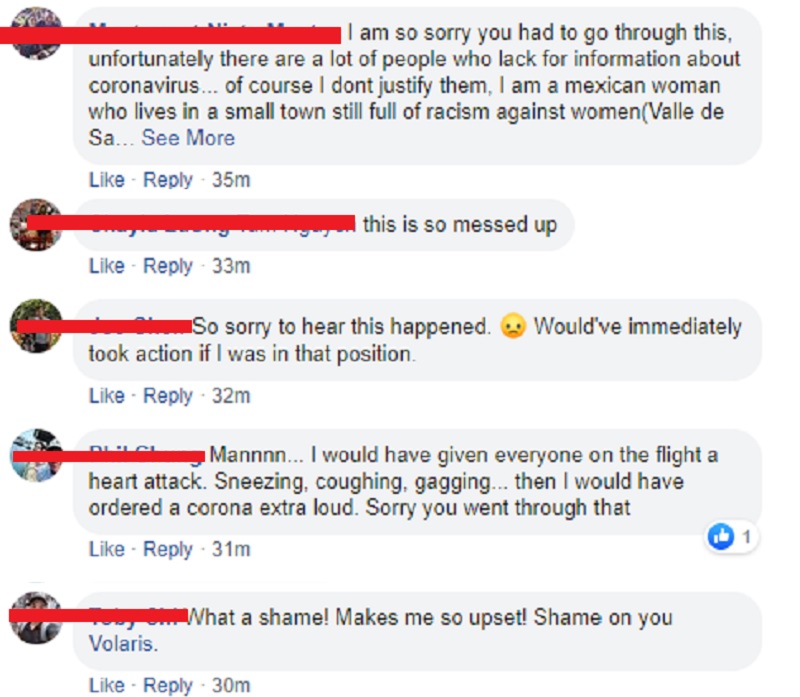 Feature Image (left) via Tori Vo, (right) via Tomás Del Coro (CC BY-SA 2.0)