Vietnamese President Tran Dai Quang passed away on Friday after battling a serious i‌lln‌e‌ss, the local state media revealed.
Quang died at the National Military Hospital 108 in Hanoi, a day after falling into a deep coma on Thursday afternoon, Associated Press reports. He was 61.
Former health minister Nguyen Quoc Trieu, who was in charge of leaders' health before he died, revealed that Quang had reportedly traveled to Japan six times for treatment of an unspecified "rare, toxic" virus which he contracted last year.
"Japanese professors and doctors treated him and helped consolidate the president's health for about a year," Trieu was quoted as saying.
"However, there are no medicines in the world that can cure the illness completely, instead it only could prevent and push it back for some time."
Quang, who earlier served as minister of public security, was appointed as Vietnam's president in April 2016. As president, he was ranked second in the Politburo hierarchy after General Secretary Nguyễn Phú Trọng.
Born to a small farming community south of Hanoi, Quang advanced through party ranks to become a police general and eventually a member of Vietnam's highly influential Politburo.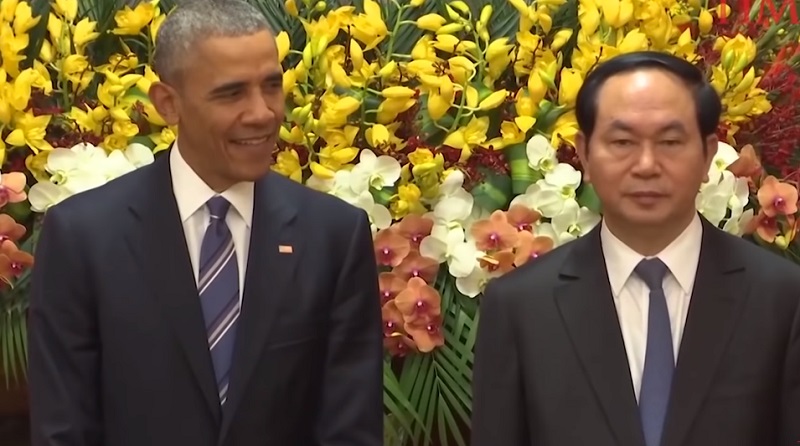 Quang's illness had been the subject of rumors spreading on social media in recent months. While he made no public appearance during a one-month period in 2017, it was never confirmed whether the absence was related to any health problems. 
Many have noticed that Quang appeared to be unwell during a visit by Indonesian President Joko Widodo to Hanoi earlier this month. He looked weak and stumbled while trying to inspect a guard of honor on a platform.
Quang also hosted President Donald Trump during his first state visit to Vietnam when Trump attended a summit of Pacific Rim leaders in November 2017.
Upon Quang's death, former Vice President Dang Thi Ngoc Thinh began serving as the acting president of Vietnam, becoming the first woman in Vietnamese history to take on the role.
Her post, however, is temporary as the National Assembly is expected to elect a new president when it convenes a session next month.
Featured Image via YouTube / TIME