Filipino actor and Muay Thai fighter Vanessa Campos starred as one of the fighters in Sony Pictures' 2021 film "Never Back Down: Revolt." 
Never Back Down: Revolt
The fourth martial arts film of Sony Pictures' "Never Back Down" film series follows the story of amateur fighter Anya, played by Olivia Popica, who is kidnapped and forced to fight other trafficked women fighters in elite underground fights by her captor.
Mali, who is portrayed by Campos in the film, is a skilled fighter who was also lured into the trafficking scheme due to her martial arts skills. Together with Anya and the rest of the kidnapped women, they try to fight their way back to freedom.
"Never Back Down: Revolt" was directed by Kellie Madison and written by Audrey Arkins. It was released digitally and on DVD on Nov. 16, 2021.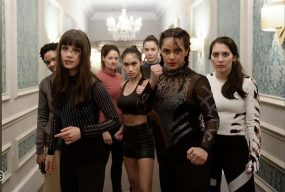 The Filipino Muay Thai fighter
Campos, a 28-year-old Filipino fighter, was born in Cebu, Philippines. She immigrated to Canada and graduated from the University of Toronto before moving to England. While residing in London, Campos pursued her love for martial arts and became a Muay Thai fighter. While training to become a mixed martial arts (MMA) fighter, she became an MMA presenter and commentator before landing her role as Mali. 
"I am a Muay Thai fighter that happened to accidentally become an actress," Campos told NextShark. "I trained Muay Thai under the team of UFC champion Conor McGregor in Straight Blast Gym Ireland." 
A fighter and an actor all-in-one
Fighting may not be new to the athlete, but her role in "Never Back Down: Revolt" marks her acting debut. Being an actual MMA fighter has its differences from being an actor, and becoming an action star comes with a unique set of struggles, according to Campos. 
"I definitely struggled with learning how to act on screen as it was my first time doing so," Campos shared. "I definitely found it hard to slow down my martial arts movement for the camera since I'm so speedy in real life. I'm a fighter already so training is already innate in my discipline as an athlete."
Campos was the only professional fighter in the film's cast. However, after getting injured on set due to an accident during stunt training, she ended up acting more than she expected.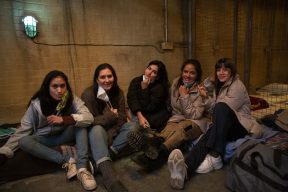 "What I really had to train hard with is learning the script and learning how to work on camera," she explained. Campos expressed her gratitude to the film's director and her cast members as they were all helpful in teaching her how to act in front of a camera.
The Muay Thai fighter also revealed that she considers herself to be the opposite of her character Mali. "I'm very different from Mali, as I am quite bubbly and charismatic, whereas Mali is very tamed and moody. I don't blame her, because she's trapped in a dungeon," she laughed. "But I love that she is fearless and can hold her ground in any situation." 
After making it through her first acting gig, Campos says she is willing to take part in more acting roles in the future. 
"I have been asked to read for a variety of different roles, from romance to comedy. At this stage, I'm open to a really exciting film project," she shared. "I would love to portray more badass female roles to showcase my martial arts background on screen."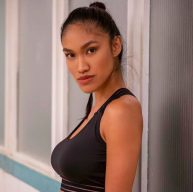 Filipino role models and representation
Campos looks up to many women fighters and actors, including Lucy Liu, Michelle Yeoh, Liu Yifei and MMA fighters Joanna Jedrzejcyk and Rose Namajunas. She is also a huge Marvel fan – she admires the ​​fight choreography of "Shang-Chi and the Legend of the Ten Rings" and was inspired by Simu Liu's performance. 
While Campos' dream role involves starring as a Marvel superhero, she believes that landing the role of Mali in "Never Back Down: Revolt" is a big milestone for Filipino representation onscreen. Filipinos starring in Hollywood action films is rare, she explained.
"I want to pave the way for young Filipina girls who want to try martial arts. You can be feminine and at the same time kick ass!" Campos said. She also wishes for "the Western audience to know that [Filipinos] exist and that the Philippines has a rich culture with beautiful, talented people that needs to be seen on the big screen."
Campos hopes that her character Mali will inspire women, especially Filipino women, to reach for their dreams and be just as fearless. She also wants the Asian American community to stand together in working toward improving representation on screen.
"I hope that the Filipino community can take this as a stepping stone to know that representation matters, we should fight for those roles and correct appropriate representation on screen," she added. "I also hope that it brings the Filipino community some light and joy at this time to know that we are being seen – small steps at a time!"  
All Images courtesy of Vanessa Campos