A post found in a University of California Irvine FaceBook group has recently gone viral for its shockingly offensive nature, its racist rhetoric slamming an Asian male/White female couple.
The post was penned by someone under the name Will Harrison, a member of the UC Irvine (UCI) Class of 2020 FaceBook group, detailing an encounter he had where he witnessed an Asian male student making out with a White female student.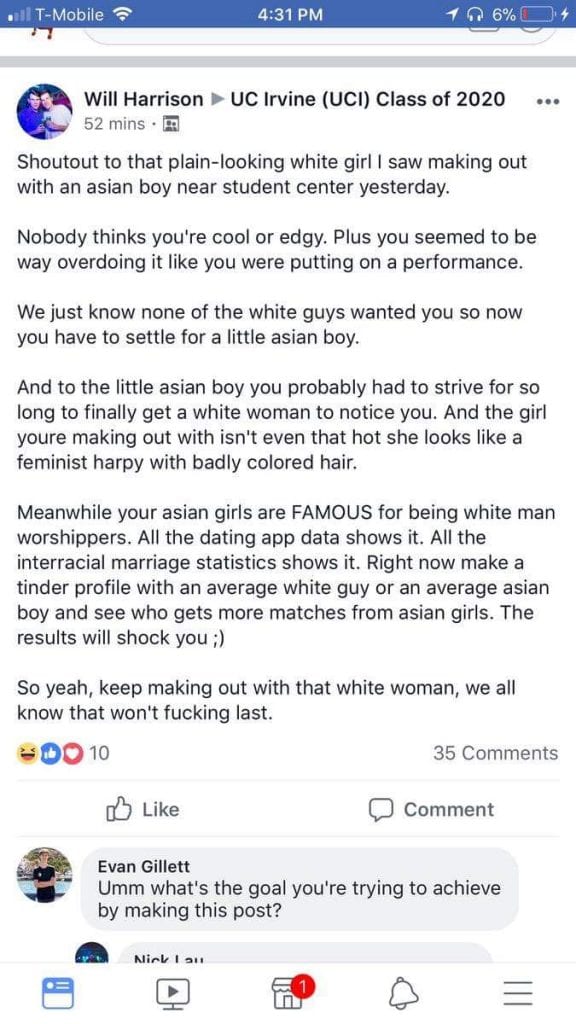 "Shoutout to that plain-looking White girl I saw making out with an Asian boy near student center yesterday.
"Nobody thinks you're cool or edgy. Plus you seemed to be way overdoing it like you were putting on a performance.
"We just know none of the White guys wanted you so now you have to settle for a little Asian boy.
"And to the little Asian boy, you probably had to strive for so long to finally get a White woman to notice you. And the girl you're making out with isn't even that hot, she looks like a feminist harpy with badly colored hair.
"Meanwhile, your Asian girls are FAMOUS for being White man worshippers. All the dating app data shows it. All the interracial marriage statistics shows it. Right now make a Tinder profile with an average White guy or an average Asian boy and see who gets more matches from Asian girls. The results will shock you 😉
"So yeah, keep making out with that White woman. We all know it won't fucking last."
The post was swiftly deleted by group admins, but not before someone took a screenshot and shared it on their social media accounts.
Lmao people like this exist pic.twitter.com/kOUAihfeeM

— No one (@DOGE_whale) January 24, 2018
i found this on fb and i'm in actual tears bro lmaooo why is he so angry pic.twitter.com/6OhWivXdiB

— JEN (@jenhajcak) January 25, 2018
"white man worshippers" sheklwpwlslapap BYE hahahahaha

— JEN (@jenhajcak) January 25, 2018
me when i realized it was over the fact he saw a white girl KISSING an asian man like omg i bet he real quiet when he kissin his cousin

— JEN (@jenhajcak) January 25, 2018
Clearly he fancied the "plain-looking" white girl who "isn't even that hot".

Or the Asian boy. Probably the asian boy now that I think of it.

— Beer & Reason (@Beerandreason) January 25, 2018
I hope someone commented to offer sympathy about his dick.

— A113 🏳️‍🌈 (@shyeahright) January 25, 2018
The issues with this line of thinking are many; for one, this person had a very strong opinion on a relationship that didn't involve him in any way, shape, or form and was doing him no harm. The audacity to think that two people in a relationship needed his opinion on their union is appalling. Furthermore, he referred to the Asian male student as a "boy" repeatedly in an attempt to emasculate him, placing himself on a higher level.
Additionally, women commonly receive insults from certain men after turning down romantic propositions, perhaps as a way for this type of man to retain his ego. Calling the White woman in question a "feminist harpy with badly colored hair" who "none of the White guys wanted" helps him to elevate his relative worth to her, deigning her unsuitable for his consumption.
Further still, he stated that all Asian women were "White man worshippers", alluding to — but not providing — dating app and interracial marriage statistics to support his claim. This reduces an Asian woman's autonomy to choose a partner, as if she must automatically be drawn to White men by default like some unthinking robot, made solely for the White man's desire.
This type of angry commentary is consistent with other incidents where White men find out a White woman is dating an Asian man; in one particularly nasty exchange, a German-Canadian student received a string of verbally abusive texts from one extremely disgruntled White male student when he learned she had an Asian boyfriend.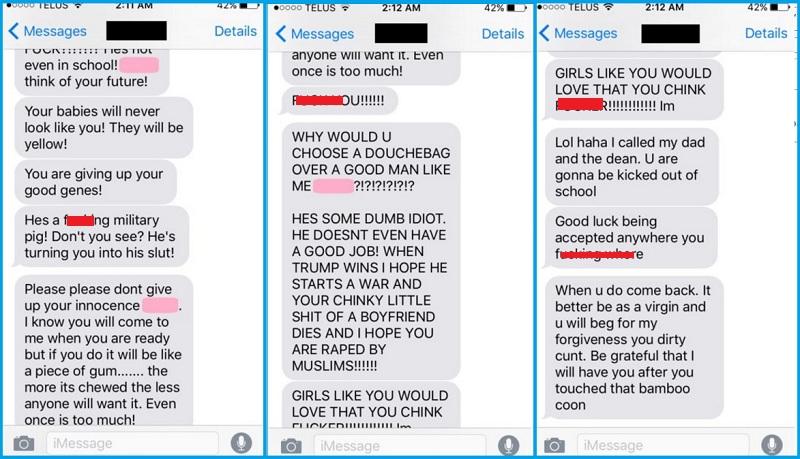 The school intervened, and any further contact the male student tried to instigate would result in suspension.
Nextshark reached out to UC Irvine for their opinion on the matter:
"Thank you to all of our community members who reported a recent Facebook post on the 'UCI Class of 2020' Group page. UCI takes matters of racial bias and insensitivity very seriously and any such behavior and/or messaging stands in sharp contrast to the values and virtues of diversity and inclusive excellence we represent. We are looking into this matter further, but our preliminary findings suggest that this message may not be a legitimate post. However, we are continuing to investigate."
What do you think? Let us know in the comments!
Featured Image via Instagram / lisapeachy