The American embassy in Phnom Penh stopped issuing certain visas on Wednesday as Cambodia fails to take back its citizens being deported from the U.S.
The discontinued visas include B1, B2 and B1/B2 for employees of the Cambodian Ministry of Foreign Affairs, above the rank of director general and their families, with "limited exceptions."
The restrictions apply under Section 243(d) of the Immigration and Nationality Act, which says that "due to a particular country's refusal to accept or unreasonably delay the return of its nationals, the Secretary of State must order consular officers to suspend issuing visas until informed by the Secretary of Homeland Security that the country in question has accepted the individuals," as per the embassy's official notice.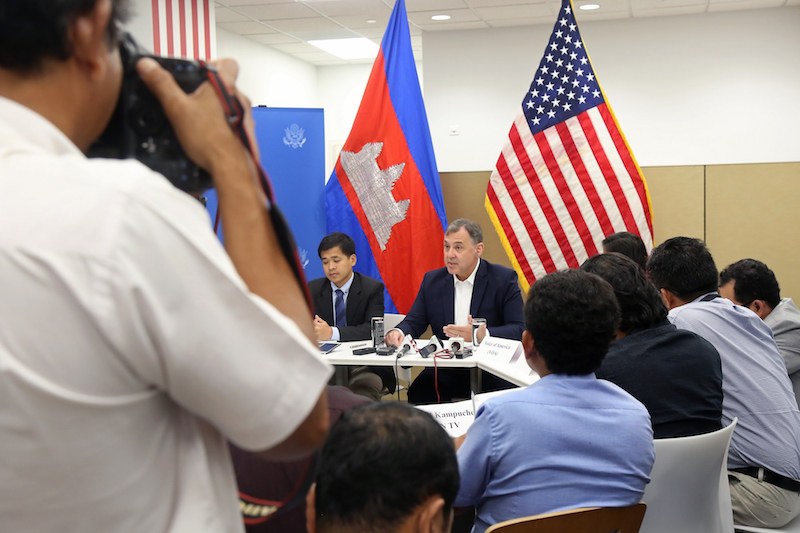 The policy comes as the Trump administration cracks down on illegal aliens residing in the U.S. Other than Cambodia, Eritrea, Guinea and Sierra Leone are also affected by visa restrictions for the same reason of not taking back deportees.
According to Reuters, Cambodia stopped accepting deported Cambodians earlier this year with the proposal of renegotiation based on human rights grounds. The deportees were convicted of crimes in the U.S.
As such, Phay Siphan, spokesperson of the Cambodian government, reacted negatively, "Cambodia still cooperates with the US. But while the US. tells the world that it respects human rights, in reality they don't. They just drop bombs to kill people."
The embassy also issued a security warning to U.S. citizens in Cambodia on Wednesday in connection with the arrest of opposition leader Kem Sokha, the expulsion of an American NGO and anti-American rhetoric by Cambodian officials, according to Channel NewsAsia.
"Although the Embassy has no specific information regarding any planned demonstrations or security issues at this time, we urge all US citizens to exercise caution," it said, urging citizens to stay away from large crowds. "Even demonstrations or events intended to be peaceful can turn confrontational and possibly escalate into violence without warning."