An ad for a private tutor matching service has sparked accusations of racism for its alleged demeaning portrayal of an Asian woman. 
Tutoroo, a French-owned startup that connects people with private language tutors, released an ad called "Getting the Phone Number of a Chinese Girl" on Facebook last year.
A British guy asks a Chinese girl for her number, here is how she answers.

Teach your mother tongue anywhere with TUTOROO now: https://t.co/rz0eZ4UDp9. #6663629 #learnEnglish #Englishtutor #learnChinese #Chineseteacher pic.twitter.com/HE2dQqXmJH

— TUTOROO (@ContactTutoroo) January 22, 2020
In the video, a British guy is shown asking the number of a Chinese woman who had trouble with her English pronunciation. Instead of saying the numbers "666-3629" correctly, she says: "Sex, sex, sex. Free sex. Tonight."
The ad has since received over 2,000 reactions and hundreds of comments on Facebook.

When the startup re-uploaded the clip last month on Twitter, it gained more traction but also attracted commenters who found the use of the Chinese woman offensive.
This is beyond awful. I think you should take it down, apologize and send whoever came up with it and whoever approved it on some diversity training.

— Vanessa Nolan (@essix_girl) February 20, 2020
Wow, new levels. That I'm seeing advertising sink to.

Just curious how many of yr co are white men or ppl who've bought into white supremacist ideas? Amazingly, taking piss out of many langs does not give you a pass to put out toxic sexist, fetishising Sinophobic content.

— 譚巧瑜 Hau-Yu 🌹😷🖐️☝️ (@tamhauyu) February 21, 2020
Because this is a sick racist and sexist imagining. It reinforces the stereotype that Chinese women are easy and that they can't speak English well…

— yuting (@gab_5y) February 21, 2020
Oh, please. You're not just telling people they can teach their mother tongue anywhere. Your ad says come to Asia where beautiful women are waiting to be laughed at and patronised… and they'll even go on a date with you! Misogyny and racism aren't funny. Do better.

— Lianain Films (@LianainFilms) February 21, 2020
Disgraceful

— Waylon Luke Ma (@waylonwaylonma) February 20, 2020
This is why Chinese girls like yingying zhang get murdered.

— 力rich🍜🧢 (@PeteStopTire) February 21, 2020
This is absolutely vile.

— cara (@cara_kormea) February 21, 2020
1. sexist
2. racist
3. stereotype
How ignorant of this advertisement & I'd love to point out that many Asians are fluent at speaking English. You're now wrapping up lots of us can't speak English well.

— Bruce😷 (@BruceWayne852) February 21, 2020
In response to the criticism, a French entrepreneur and Tutoroo founder Nicolas Vanhove denied the video was racist, stating that he believes it is funny to make fun of any accent.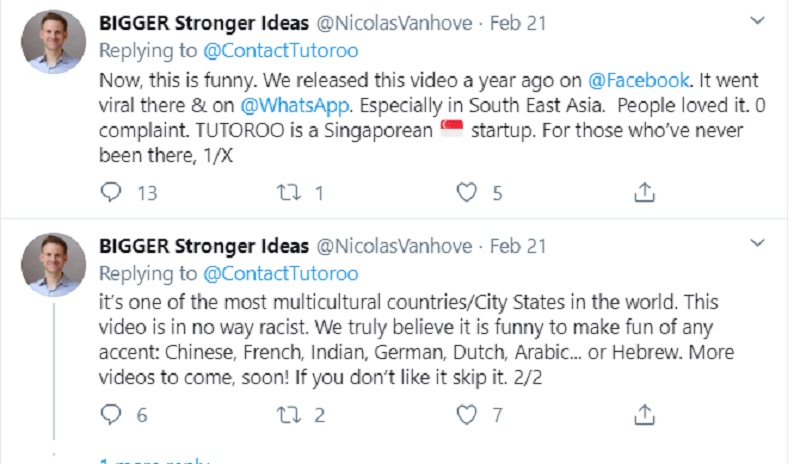 The startup's Twitter account also berated its critics with insults and memes.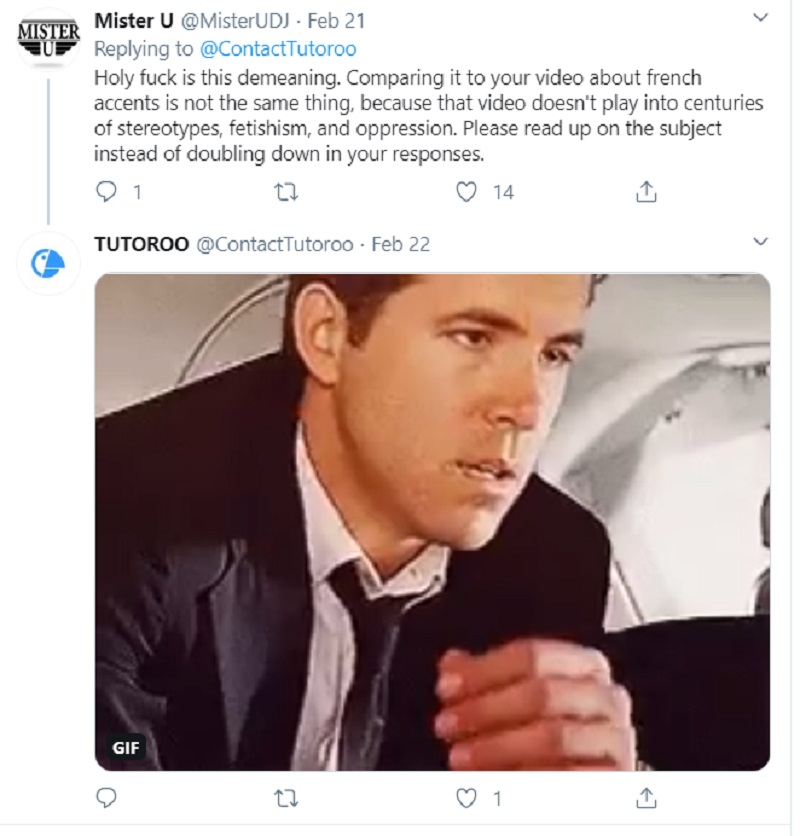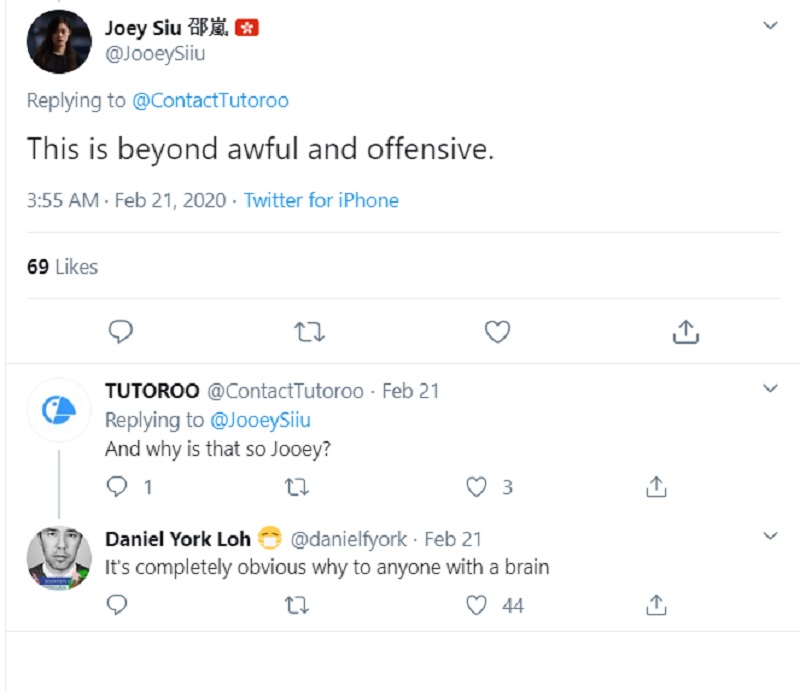 Feature Image via Tutoroo