When Corky Lee studied American History at Queens College in New York, the young Chinese American saw a photograph in a book that featured workers celebrating the completion of the transcontinental railroad at Promontory Summit in Utah. Lee was surprised to read that there were more than 12,000 workers from southern China who were employed by the Central Pacific Railroad, a U.S. railway company founded in the 1860s. ​Despite using the best magnifying glass he could find at Woolworth's to study the black-and-white photo closely, Lee could not find a single Chinese person. 
"History — at least photographically — says that the Chinese were not present," Lee told NPR in 2014.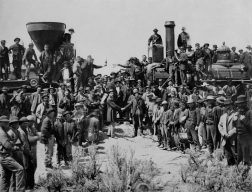 Years later, the young student taught himself photography and became one of the most influential photographers in the Asian American community. He aimed to make Asian Americans more represented in mainstream media. 
In response to the misrepresentative Promontory Summit photo, Lee staged a recreation of the famous shot in 2014, gathering Chinese American photographers and some of the descendants of the Chinese railroad workers in the same location where the original image was taken.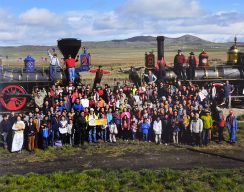 Throughout his life, Lee took photographs that recorded the continuing challenges members of the AAPI community face: anti-Asian hate crimes, systemic discrimination and stereotyping. To honor the legendary Asian American photographer, who died of COVID-19 last year at the age of 73, the photo exhibition "Photographic Justice – A Tribute to Corky Lee," opened at the Charles P. Sifton Gallery in the Brooklyn Courthouse on May 20. 
In addition to Lee's work, the exhibition features images taken by Asian American photographers who all knew Lee and worked with him. The public display aims to highlight the many ways Asian Americans have contributed to the development of the United States while also showcasing their achievements.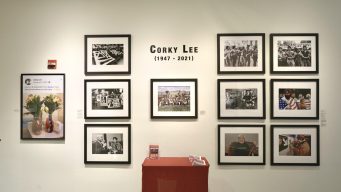 For decades, Lee chronicled the Asian American experience. In late 2020, he told AsAmNews that he calls his camera "a sword to combat indifference, injustice and discrimination."
Reporter Ti-Hua Chang, the emcee of the exhibition's preview on May 19, said, "I'm sure Corky would be so happy, so pleased to see not just old folks but several generations of people here tonight to celebrate his life and to continue fighting for Asian Americans."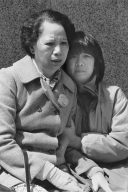 Visitors of the exhibition can find Lee's presence in the other photographers' images. Featured photographer Alan Chin, who worked alongside Lee several times, shared that Lee's work has influenced him since he was 12 years old.
"As a young Chinese American boy growing up in New York City's Chinatown, I was really moved by his photographs because we didn't have a lot of Asian American photographers documenting our own communities back then," said Chin. "Corky led the way and made it possible for all of us. We all kind of walk in his footsteps."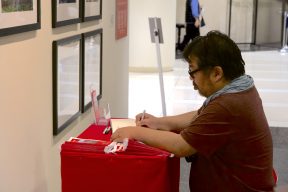 Corky Lee's brother, John, said during the exhibition preview that it is "uniquely fitting that Corky's lifelong quest for justice came to grace the halls of an edifice, dedicated to the pursuit of justice."
"But Corky's work is not done," he continued. "Corky sought to build a better union by including the excluded, and creating a history that truly and accurately reflects the contribution of the many and not just of a few."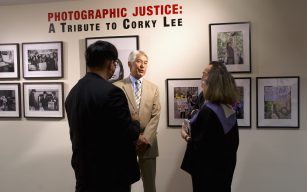 The exhibition is the second iteration of the show "Corky Lee on My Mind: A Photographic Tribute," which was curated by Chee Wang Ng, Joanne Kwong and Karen Zhou and installed at the Pearl River Mart last year.
Ng, a longtime friend of Lee, commented on the exhibition, saying, "Rarely ever has there been a platform for our marginalized communities to express the many Asian American issues. The hope of this exhibition is to bring positive social changes. The humanism of photography not only imparts empathy and understanding, but also makes evidence that real healing comes when we are working together."
Daily viewing hours are from 9 a.m. to 5 p.m., Monday through Friday. The exhibition will run through November 2022.
Author Bio: Xintian Wang is a freelance journalist covering cultural politics in a transnational context, including gender & sexuality, film & TV, arts & fashion, and LGBTQ+ community. Xintian's work aims to shed light on cultural minority groups whose voices are buried in mainstream discourses. Her twitter can be found at @Tina_WangXT.