Travel Instagrammer @mindbodycolleen is under fire for saying many Indian people don't have an iPhone and that they wouldn't know how to use the latest iPhone X model.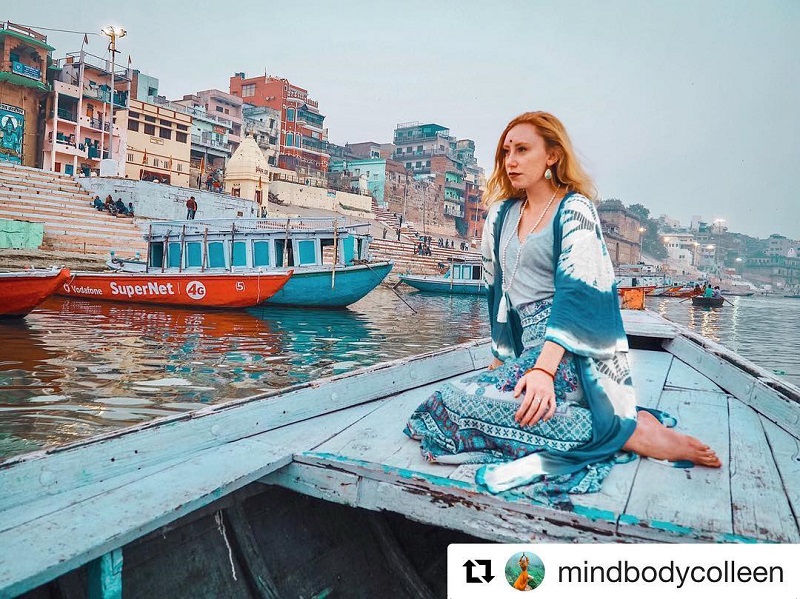 The account is run by Colleen Grady, a model from Indianapolis, Indiana. The now-deleted post which has been
widely shared on Facebook
shows @mindbodycolleen, who lost her
"sleek, expensive, 5-month-old iPhone X"
on the streets of Jaipur, the capital of Rajasthan, India.
"Yep, I lost it in the poorest most overcrowded country I have ever visited and one of the most scammy tourist cities in all of India," she wrote.
"I dropped it putting it into my purse. I think I subtly knew the moment I did but consciously did not realize it for about 10 minutes after. Frantically we raced back to the place we were when I slipped it in my bad. We had no luck."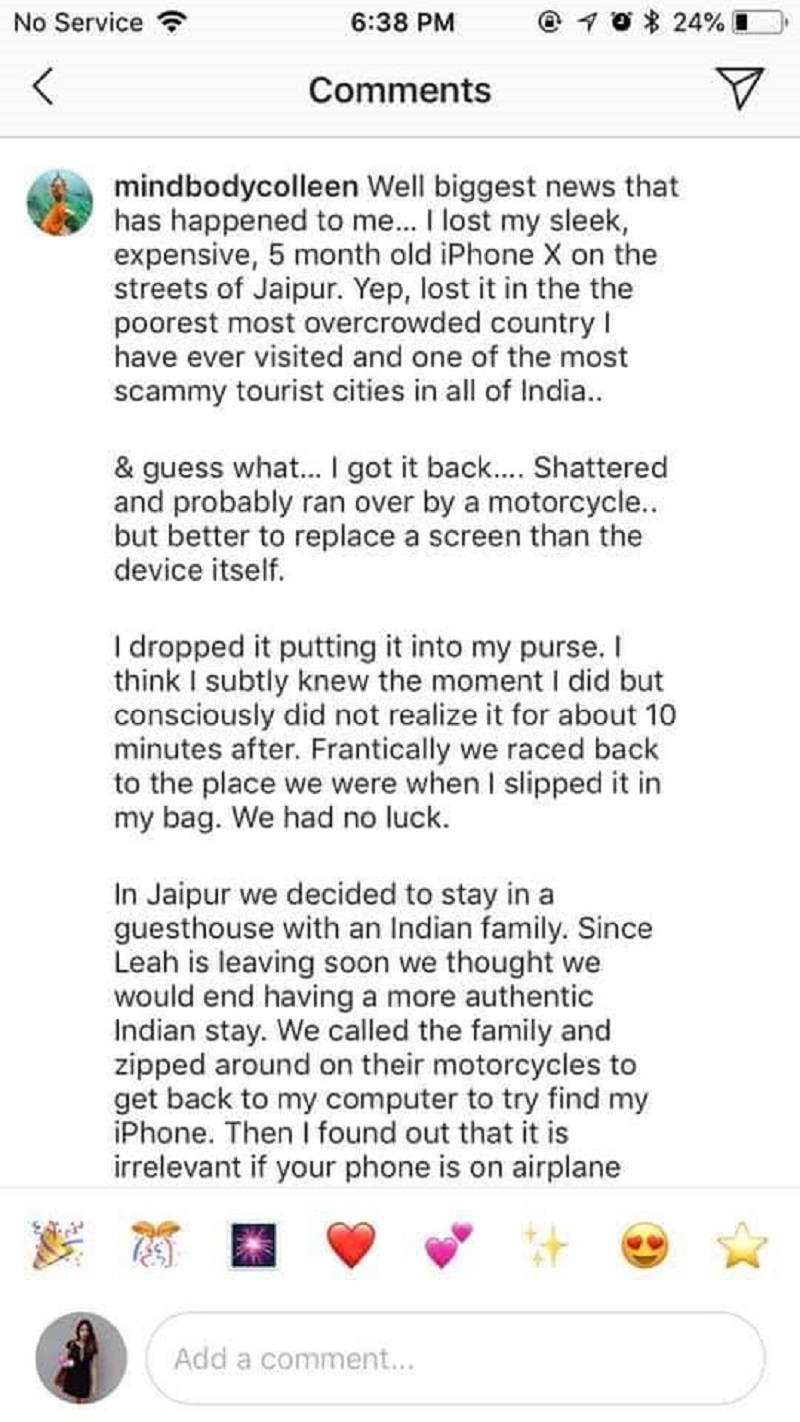 The 24-year-old model went on to describe how she was "frozen in shock" by what happened. The owner of the guesthouse they were staying in helped the woman by leaving messages in Hindi on Grady's phone just in case anyone finds it.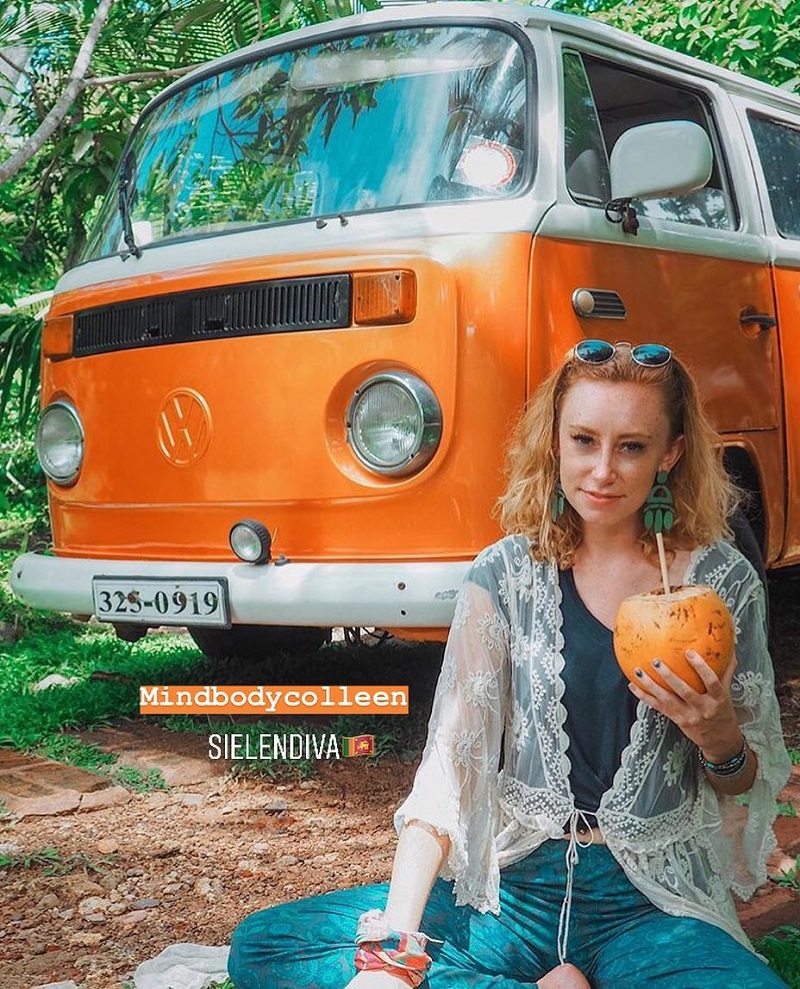 Subscribe to
NextShark's Newsletter
A daily dose of Asian America's essential stories, in under 5 minutes.
Get our collection of Asian America's most essential stories to your inbox daily for free.
Unsure? Check out our Newsletter Archive.
"I felt kind of hopeless. That cellphone is worth more money than some people in this country will have their whole lifetime," she wrote. "The phone was locked and iPhone X's are really complicated to work if you haven't had one. So even if someone found it I they probably would not even know what do with it, how to get service, or how to even work the screen."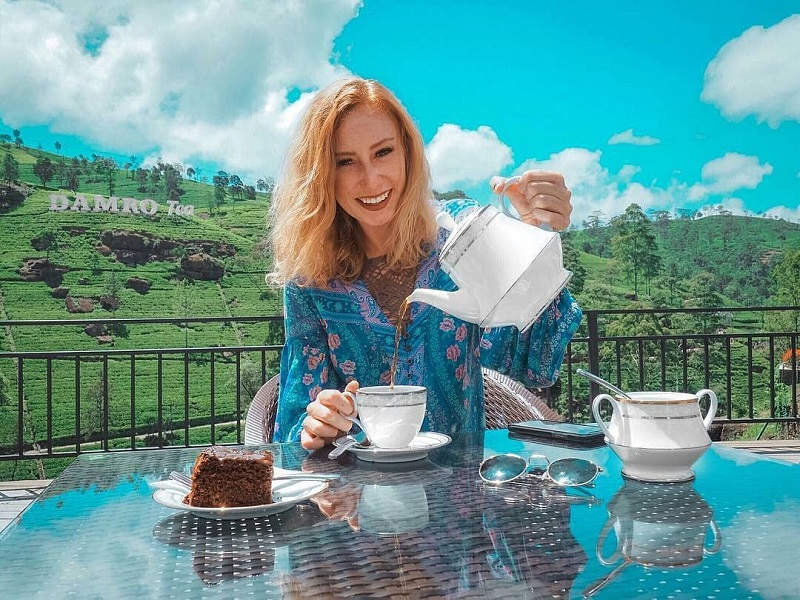 Later that same day, a person called her back using her phone and informed her that the device was found.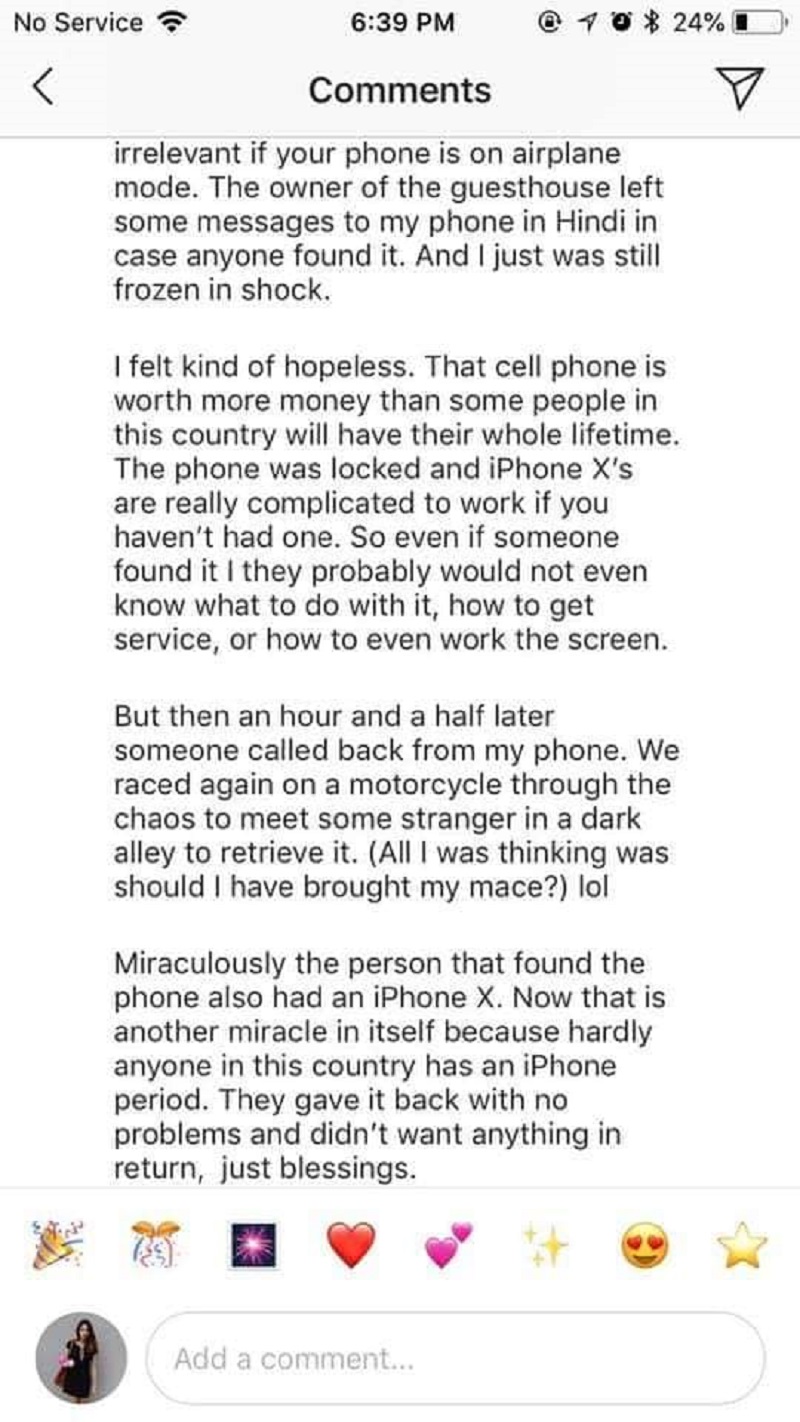 In a condescending tone, Grady said that it was a miracle that the person who found her iPhone X also owns the same model.
"Now that is another miracle in itself because hardly anyone in this country has an iPhone period. They gave it back with no problems and didn't want anything in return, just blessings."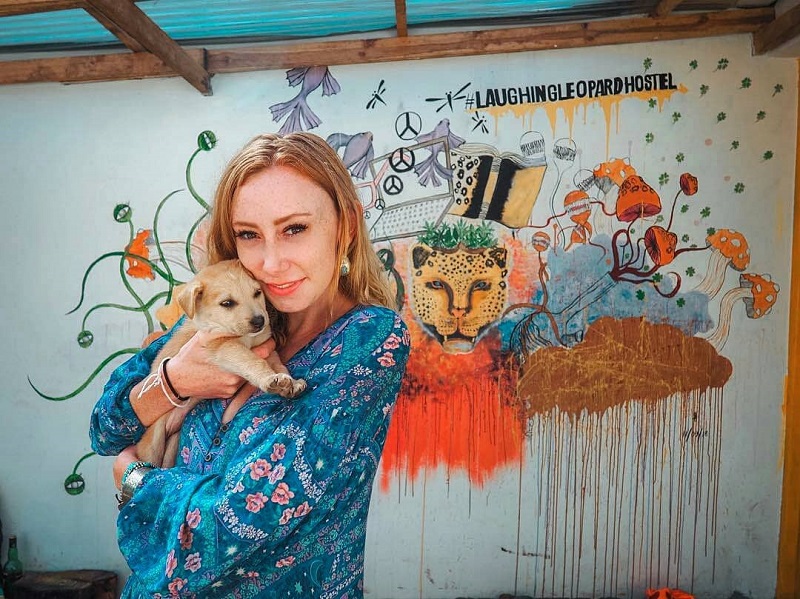 After her post went viral on social media and was called out on Instagram, Grady immediately deactivated her Instagram account and publicly apologized for what happened in
her own blog
.
"I am sorry that my words did not give clarity to the intentions in sharing my story. I had no intentions to belittle the Indian culture. The moral of the story was the blessings and gratitude I had for the Indian people who helped me in a moment of panic when losing my phone in a foreign country. I apologize the most for the amount of pure hate that this has pulled out of so many people's hearts and spread around the world," Grady wrote.
"Ask yourself – If you found a smart phone device on the street locked, out of service, broken, no buttons, and the software is not in your native language: would it be easy for you to find the owner and return it? For me, the answer is no. I think most of us would agree the answer is no. This has nothing to do with race, ethnicity, class, education, etc," she continued.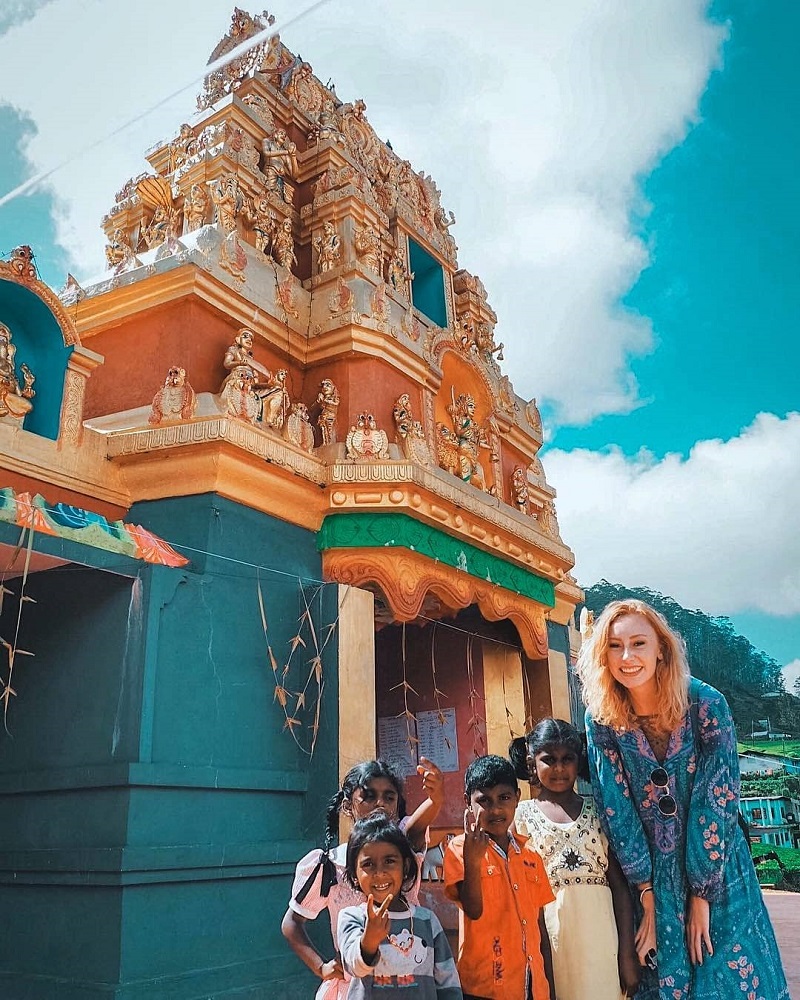 Grady's assertion that Indians can't read or speak English is preposterous, as India is the second-largest English-speaking country next to the United States. About 10% of its population (around 125 million people) can speak the language, according to
BBC
.
"My biggest dream for the last 10 years has been to come to India. I just spent 300 hours studying ancient Indian Vedic traditions and yoga. I have been in India for many months now. I have lived in an ashram. I have volunteered at a remote jungle school. I have lived with a host family. I have spent time in not only the palaces, but also the places of extreme poverty. There is more context behind this one post. People have taken this post, and more so mere words out of my sentences, and pieced together and created an opinion and experience that I have in India," Grady continued in her apology post.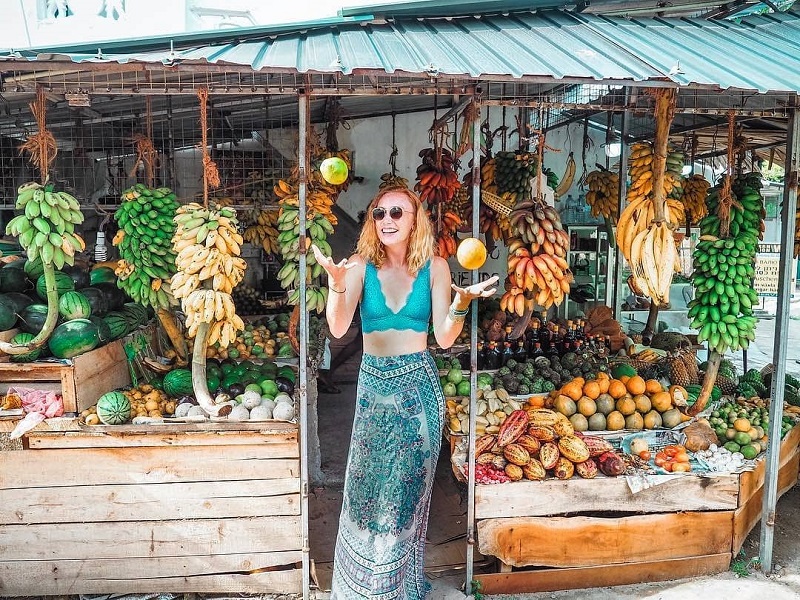 "I'm sorry my words were perceived in a way that were so far from my true feelings about this country and the people in it. In the future, I will be more aware of my language and how my words are perceived."