Finding love, let alone dating after battling a toxic past is never easy, to say the least.
Carrying emotional baggage is crushing and can weigh some people down to a point where finding a healthy relationship is nearly impossible. Fortunately for Facebook user Sarah Grace, she didn't come looking for love. Love found her. 
In a heartwarming post on Facebook group Subtle Asian Traits, Sarah shared about how her current relationship came and flourished despite having gone through a difficult past with toxic partners as well as a harsh upbringing. 
"I don't come from the best background," Sarah opened. "Lots of toxic, failed relationships with family and men. I was raised in an Asian household to be 'perfect', but never felt like I could reach that mark, and I also have dated incredibly critical and toxic partners.
As she grew up to be an adult, Sarah placed her focus more on healing, her work and mentoring other people. The idea of being in a new relationship subconsciously took a backseat for Sarah, who then felt she wasn't ready to share her baggage with another person.
Then, Sarah got to know Gurinder.
"Gurinder was my co-worker for a long time, more than a year. I noticed that Gurinder was gentle, patient, and kind in all situations. Working near him always made me feel calm."
According to Sarah, they didn't get to speak to each other much for the most part of working with him. All that changed, however, when Gurinder finally got a chance to break the proverbial ice between them during a company event.
"One day, at a work event, he walked over to me and saw me adjusting and readjusting the coaster on the bar side into a neat corner. He asked me about the coaster I was adjusting and then introduced himself. He was 1/8 Mongolian and 7/8 North Indian, he said, but he was 'reeeeally like a Taiwanese person, like me,' because he grew up in Flushing, Queens, NY. I laughed."
With Gurinder's humor and the many things they share in common they immediately hit it off. After a night of talking for hours, they began seeing each other every day.
"Our days consisted of all the familiar Asian childhood things, Gong Cha bubble tea, Fay Da Bakery pork buns, Beef Noodle Soup, hand made dumplings, and Tonkotsu ramen, Avatar, the Last Airbender, Hayao Miyazaki movies. All the normal aspects of an Asian relationship. I was generally pretty happy with our relationship. I didn't bring my baggage into the picture, and I was hoping I wouldn't have to."
But while she was already comfortable with what they shared, one incident revealed why she might have found something special in Gurinder. When dealing with anxiety and fear from what previous partners may have done in a certain situation, Gurinder calmed Sarah down.
"I was leaving the apartment with Gurinder and accidentally forgot to bring the keys. We were locked out of our apartment in the middle of the night, and I got incredibly anxious. I was afraid he was going to get angry or yell at me, because many of my ex boyfriends would yell at me when I was dating them. But when I forgot the apartment keys, Gurinder just smiled, kissed me on the forehead, and said 'It's okay babe! We will figure it out!'"
"He saw my anxiety, and just hugged me and reassured me. He was really patient and loving as we worked together to fix the problem. The key phrase here is 'work together.' I had never known what that was like in a relationship before. I had only known control, fear, anxiety, and blame. I didn't know that someone could see you in your imperfection and love you."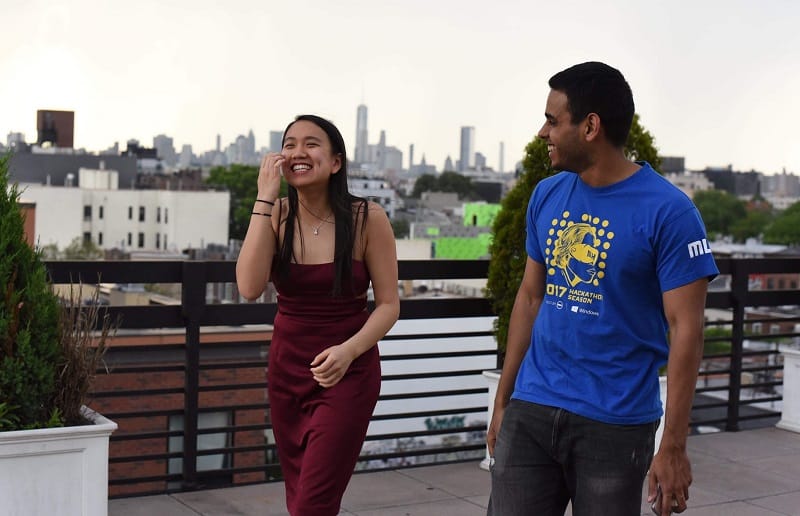 The incident was an eye-opener for Sarah, who said Gurinder made her feel something she had never experienced before. She has come to know Gurinder as the "kind of boyfriend who made the best out of every situation and even helped me with my relationship with my family."
"I looked at Gurinder, and knew that I was learning what love was through him. With him, I'm the best version of myself. I've learned how to be healthy and whole, reconcile it with my Asian upbringing and identity, and be in love, all at the same time. I've heard the saying that love is about seeing an imperfect person, perfectly. I think I am finally learning what it means to be loved that way, and to love that way."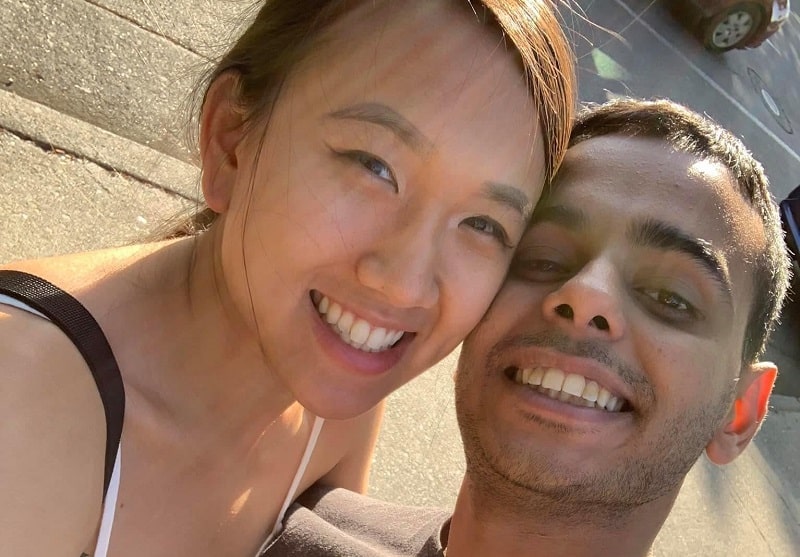 Sarah's post resonated with many and the couple received numerous messages of support. When Gurinder read the post himself, something truly unexpected happened after.
"He was reading it as we were on the train and he looked at me, laughing at how many people were liking and supporting the post and he said I should be a storyteller," Sarah tells NextShark.
"Then he said 'Babe what you wrote about us is too beautiful. And it's true. We have come so far together. I love you.' He asked me what my ring size was, and I playfully slapped him and said 'Silly.' Then he looked at me and said, 'Sarah, will you marry me? We can figure the rest out later. We always do.'"
Sarah accepted Gurinder's proposal with an enthusiastic "Yes!" and now the couple are preparing for engagement photos soon. The couple recently moved from New York City to the Bay Area. Gurinder is currently a software engineer at Google, while Sarah is a senior architect at Udacity.
Sarah has received many messages about her experiences and is always happy to help or listen.
"We invite people to reach out to us if they need any help! People can contact me at [email protected] if they need a friend to talk to!"
Featured image via Sarah Grace