The six-foot-tall, red-and-yellow
statue of a smiling bee has made its way to the heart of New York. 
On Aug. 18, shortly after being named the "
best chain fried chicken
" in the U.S. by Vox Media's food website Eater,
Filipino fast-food restaurant chain Jollibee opened a
flagship restaurant
in the heart of Times Square in New York City. 
Located at 1500 Broadway between West 43rd and 44th Streets, the 7,000-square-foot space introduces the brand to mainstream American customers with an exclusive menu.
"Times Square is an iconic place here in New York and in the world. It's described as the crossroad of the world for a reason, so it's a milestone for us. We aspired to be one of the top five restaurants in the world and this is a milestone in that journey," Luis Velasco, the senior vice president of marketing at Jollibee Group, tells NextShark.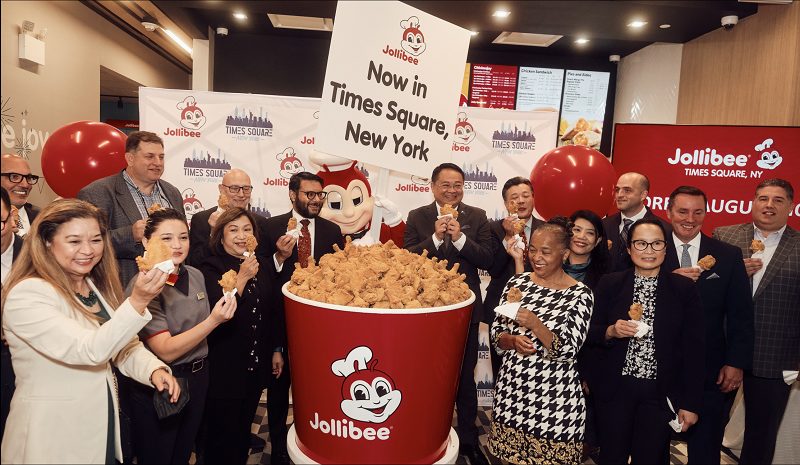 Jollibee, which is known for its Filipino sweet-style spaghetti and its crispy fried chicken, first made its way to the U.S. in June 1998 in Daly City, California. Its Times Square location marks the Jollibee Foods Corporation's (JFC) 60th store in the U.S. and its 84th in North America.
Jollibee claims to be the "largest and fastest-growing Asian restaurant company in the world." As part of the company's aggressive overseas expansion plans, the JFC has a goal of managing 500 stores across North America by 2028.
"We started in the U.S. originally for a different reason, and that was to be available and accessible to the Filipino American market," Velasco shares. "Over the years we've learned that people from different ethnicities and nationalities all over the world have come to love Jollibee. We always say great taste is universal wherever you are in the world. And that's what we've seen and observed."
As the Philippine-based company hopes to capture the hearts of New York locals and tourists, Velasco also views the location as a milestone that represents the best of Filipinos while competing with iconic brands all over the world.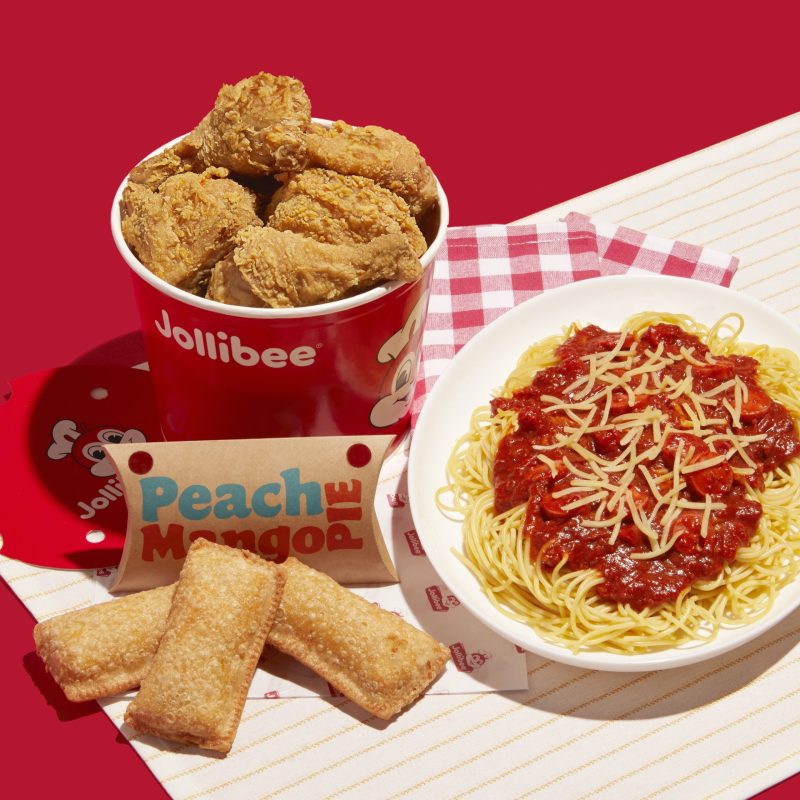 Exclusive menu
Besides serving its popular Chickenjoy, Jolly Spaghetti and Peach Mango Pie, the flagship restaurant has introduced a new lineup of beef burgers, salads and sides exclusive to its Times Square store. 
"We're constantly thinking about how to make Jollibee even better. Because we now have a broader consumer base that we appeal to… the idea was we wanted it to appeal to almost everyone," Velasco says. 
The exclusive burgers include a Double Cheeseburger and Double Deluxe Burger with their own signature sauces. Also joining the lineup are the Crispy Chicken Salad and the Mandarin Orange Crispy Chicken Salad, which include chicken tenders, mandarin orange slices and dried cranberries served with a choice of ranch, honey mustard or sesame dressing. Their very own Baked Cheddar Mac and Cheese and Biscuits also joins its lineup of pies and sides.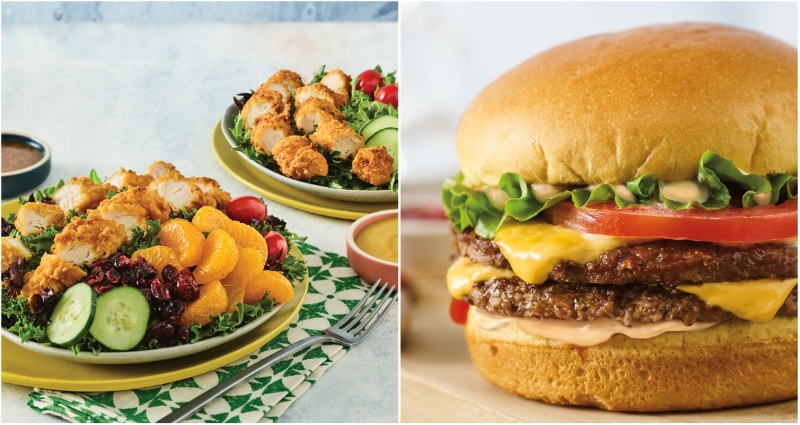 Subscribe to
NextShark's Newsletter
A daily dose of Asian America's essential stories, in under 5 minutes.
Get our collection of Asian America's most essential stories to your inbox daily for free.
Unsure? Check out our Newsletter Archive.
The evolution of Jollibee
Velasco admits that their motive behind the new menu items was primarily to cater to the palate of Americans. He says that JFC is aiming to appeal to what consumers crave in America by creating their own versions of classic menu items. Filipino or not, he expresses hope that customers will ultimately come to love the spins on their favorite typical fast-food dishes.
When asked if JFC was worried about losing touch with its Filipino roots, Velasco notes the importance of the brand's evolution. 
"Any brand goes through that in their history. The evolution will happen, but the culture and values don't change," Velasco says. "We know what Jollibee is about. We don't want to stray away from being as authentic as possible to what Jollibee has been about for the last 40-plus years. It's still about great food, great value and great service."
For many adults in the Philippines, Jollibee is often a nostalgic token reminiscent of childhood. The restaurant is known for its joyful service, which welcomes children and families to celebrate their life's milestones, such as birthday celebrations. 
Jollibee's restaurant ambiance focuses on radiating hospitality and family and fun, which were influenced by the Philippines' own culture and principles.  
"Our values are still the same. We're not suddenly some other brand overnight just because we're now in Times Square. We're still the Jollibee that people know," Velasco says. "Maybe the menu has changed a little bit, but our stores look like the Jollibee that you know, our service is still the same service that you've enjoyed in any Jollibee all over the world. We're proud to say that we know who we are and what we are about."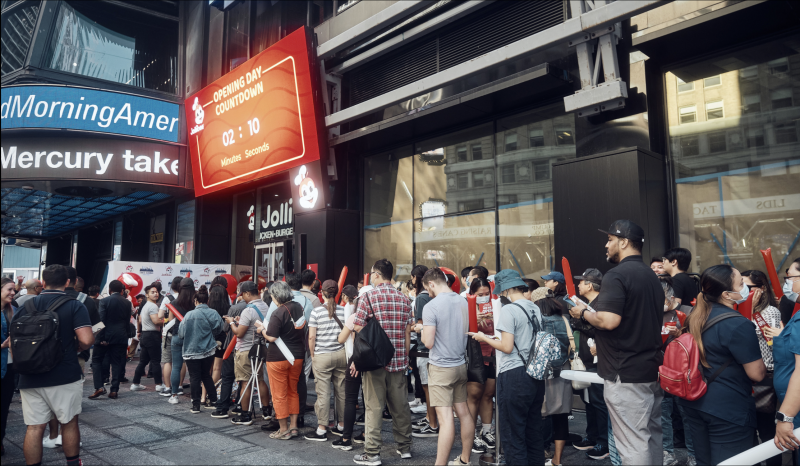 The opening of the flagship restaurant on Aug. 18 saw a long line of Jollibee fans and first-time customers. The crowd buzzed with excitement when the dancing Jollibee mascot was brought out to entertain customers. Filipino adults reminisced about their childhood and seized the opportunity to take photos with the familiar anthropomorphic bee. 
Jollibee was met with joyful Filipinos who came from multiple different states, including Filipino American Mavis Ibasco, a 22-year-old registered nurse. Ibasco, who is from California, visited the opening with her father. 
"The grand opening was really nice. I definitely feel like I'm back home in the Philippines," Ibasco tells NextShark.
The interior design of the restaurant, from its tables to its murals, are similar to what one would find in the same restaurant in the Philippines.
Ibasco plans on moving to New York and was overjoyed to have the Filipino restaurant waiting for her. At the Times Square opening, she ordered the Crispy Chicken salad with the sesame dressing. 
"I don't feel the Jollibee twist to it compared to the Jolly spaghetti, like that's staple Filipino food. This is a very Americanized version of Jollibee. It's not bad, but it doesn't take me back home," Ibasco says. 
Although customers mostly visit Jollibee for its chicken, Ibasco believes that Jollibee's new salad is good enough alone for her to come back. 
"Overall, I like that the restaurant is catering to the American palate. It's a nice way of introducing our culture to America," Ibasco says.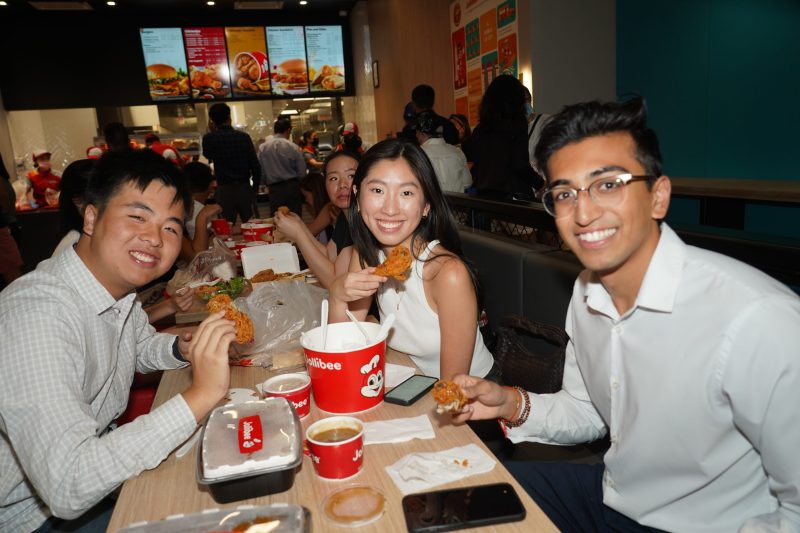 Jollibee as a symbol of Filipino culture and values
Velasco notes that Jollibee has never claimed to be authentically Filipino food; rather, the fast-food restaurant's menu was developed to cater to the Filipino palette. He believes that what truly makes Jollibee Filipino is the experience of dining at the restaurant.
"It's more of the experience that is Filipino about it because of the value and experience," Velasco says. "It's the connection either with friends or family. It's the togetherness. We like getting people together for a good meal. It's that connection that I think we are able to make which is what makes us Filipino."
Velasco believes Jollibee goes beyond what is served. It is the idea of gathering friends and family together, whether it is after a Sunday mass or to celebrate a birthday or graduation party, that makes Jollibee a favorite for many. 
"If you're a Filipino and you step into a Jollibee anywhere in the U.S., you feel like you've been transported back to the Philippines," Velasco shares. "But if you're not a Filipino, we'd also like to think that if you step into a Jollibee, you'll feel the happiness that we can provide, the hospitality, the friendly service where everyone greets everyone a jolly morning or afternoon. We're not losing that because that's who we are."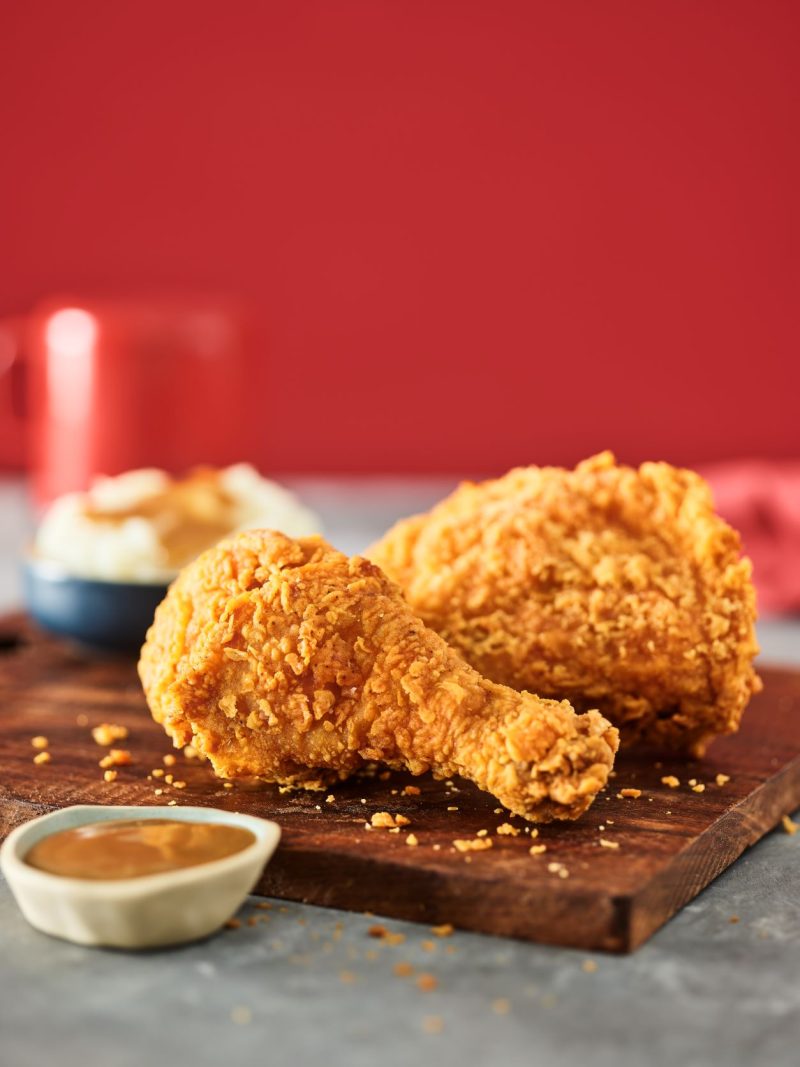 The best fried chicken
When asked what he believes makes Jollibee the best chain fried chicken for many, Velasco credits their culinary and operation team's consistency all over the world throughout the years. He says that a lot of effort goes into marinating and delicately hand-breading the Chickenjoy to make it the right amount of crispy and flavorful.     
"We're consistent. When you go to any Jollibee in the world, you'll get the same great tasting Chickenjoy everywhere. It's not going to be different," Velasco says. 
"It's one thing to develop a great recipe, but it's another thing to be able to execute that in the way we envision it to be in each restaurant," he adds. "You only get to taste what the restaurants are able to execute and that's important for us. No matter how great your recipe is, if you can't execute it, then customers won't taste whatever recipe you have. It's how you execute it in the restaurants. And that's something we take pride in because we work really hard in making sure that happens."
Velasco looks around the restaurant and notes the joyful atmosphere of customers eating together. The flagship opening was visited not only by Filipinos, but by people of various ethnicities. Seats were filled with groups of friends and families, and even individuals sharing tables with strangers. 
"It's something that we are very proud about. We've always said that our company brand has always been about superior taste," Velasco says. "Our mission is spreading the joy of eating through great-tasting food. We want to bring back joy when people eat. A lot of times eating can just be very functional when you're hungry, but you know through great tasting food, we think that we can bring back the joy that people experience in eating."