It appears The Hollywood Reporter is still unable to identify different Asian people. 
Barely two months after using a random Asian woman's face to depict Oscar-winning director Jessica Yu in an article, the media outlet has made the same glaring mistake. 
This time, THR featured a photo of comedian Joel Kim Booster in a tweet that supposedly highlights new Saturday Night Live cast member Bowen Yang.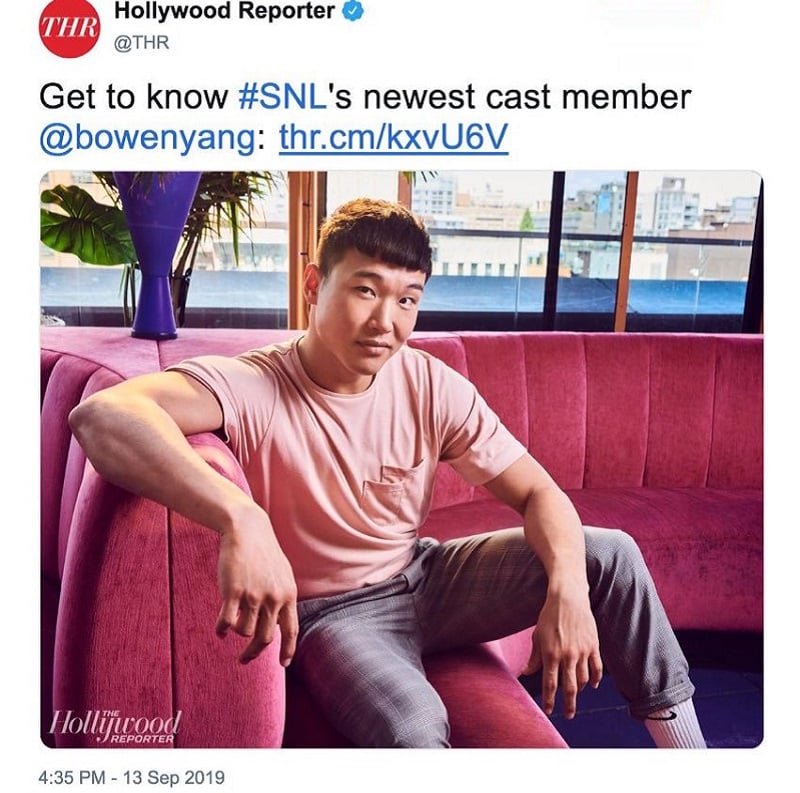 The tweet, which was posted on Friday, links an article from June 20 that contained photos of both comedians from a joint interview. Booster's individual photo appears ahead of Yang's in the article.
THR has since edited the tweet and updated it with the correct photo:
Get to know #SNL's newest cast member @bowenyang: https://t.co/hMvK8lrSA1 pic.twitter.com/zOnfExfWuv

— Hollywood Reporter (@THR) September 13, 2019
It then issued an apology, attributing the mistake to a "photo error."
A previous tweet by THR about new SNL cast member Bowen Yang contained an incorrect image due to a photo error. THR has deleted the tweet and apologizes for the mistake.

— Hollywood Reporter (@THR) September 14, 2019
However, screenshots of the unfortunate tweet were already making its rounds on Twitter.
WTF is a photo error?

— Chanida P. Potter (@chanidanoy) September 14, 2019
At the very least they should have accidentally used a picture of me pic.twitter.com/lCeTDYXVHJ

— Bryan Waller-Bridge-Yang (@bryanyang) September 14, 2019
In no time, Asians on Twitter were calling out the media platform for the mistake.
God DAMN IT. That's @ihatejoelkim not @bowenyang. This is worse than the Shane thing. https://t.co/NPoGxUdpRH

— Ronny Chieng (@ronnychieng) September 14, 2019
How I felt these two days…. pic.twitter.com/w6al2BcYBi

— Celia Au (@ItsCeliaAu) September 14, 2019
It got deleted, but screenshot.@BOWENYANG DID NOT MAKE AWARD WORTHY LIP SYNC VIDEOS FOR THIS TREATMENT.

That's @ihatejoelkim, FYI. He stars in NBC's new show "Sunnyside" coming out later this month.@angryasianman @its_willyu @originalspin #RepresentationMatters WOW. pic.twitter.com/wkdRzgUdFZ

— Cailin (@cailintweets) September 13, 2019
Omg just reflecting on how Bowen and Joel look ABSOLUTELY nothing alike. They even made it easy for you—one is wearing glasses and one is NOT

— ℕ (@jenkwok) September 14, 2019
Yang, who joined SNL last season as a writer, was recently announced as a new cast member of the comedy program's upcoming season.
Booster himself tweeted his congratulations to Yang soon after his SNL casting was announced.
Feature Image via Instagram / fayedunaway