A Thai model is exposing an ex-pat pick-up artist after he filmed their encounter without her permission to use on his YouTube and Patreon channels.
Sawitree "Sky" Paotadaeng, 29, is a pharmacist and freelance model who was shopping at the Terminal 21 shopping mall in Bangkok when a man who identifies himself as Nicholas Coakley, a balding British pick-up artist living in Asia, approached her attempting to hit on her and get her contact information.
Paotadaeng politely declined to tell Coakley where she was from, refused to shake his hand, and declined to tell him her LINE ID. She also told Coakley she had an American boyfriend, to which he replied, "He doesn't have to know." Eventually, she brushed him off and walked away.
It was only later that a stranger found Paotadaeng on Facebook and sent her a link to a video recording of her encounter with Coakley on YouTube under the title "Failed To Pick Up Black Girl In Bangkok | Asian Girl POV." The video was reportedly suspended for some time but appears to be back on Youtube under Coakley's Explorer Nick channel. Paotadeang also posted the video on Facebook after it was initially suspended to bring awareness to the matter.
Paotadaeng felt terrified that she was recorded without her permission, telling Coconuts Bangkok:
"When it happened, I didn't see any cameras. I think he might have had a hidden cam in his pocket. He was speaking loudly, and I was scared.
"First, I'm scared and I'm furious. How could he do this? He didn't ask for permission [to film me]. Second, he posted the video in a way that looks down on women, as if he could get any girl at the mall.
"I can't be the only woman who has been harassed by him.
"He treats women like objects. I didn't do anything wrong. I was simply being polite. Besides, he'd never get with me."
Coakley also runs a Patreon for his Explorer Nick profile, where fans pay up to hundreds of dollars for content. His YouTube account currently has 3,398 subscribers, while his Patreon only has 6 patrons. Coakley's Facebook, Instagram, and Twitter were deactivated following the backlash involving Paotadaeng.
Coakley is reportedly linked to infamous pick-up artist David Bond, who is known for traveling throughout Asia and filming his encounters with women in different countries. The two have reportedly made videos together, according to Coconuts Bangkok.
Paotadaeng is now seeking to file charges with Thai police against Coakley. According to Coconuts Bangkok, the model and pharmacist filed a report with Lumpini Police, who will pass the report off to immigration officials.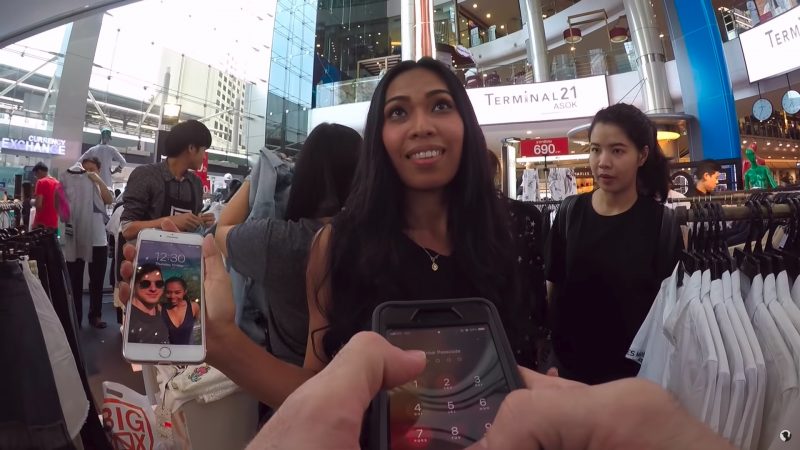 Officer Somchit Muannmee told Coconuts Bangkok that it may be possible to charge Coakley under Thailand's strict computer crime laws for posting content that exposes another person to humiliation on a public computer system, which is punishable by up to three years in prison and a fine of up to 200,000 Thai Baht ($6,200).
Paotadaeng also posted her meeting with Thai police to her Facebook:
Featured Image via YouTube / Explorer Nick