Guess that's one way to pay the bills.
Praiya Suriya, better known as her moniker Madame Praiya, has an impressive resume – in her dating career, that is. Praiya claims to have dated over 5,000 foreign men and, for a fee, will teach other Thai women how to do the same.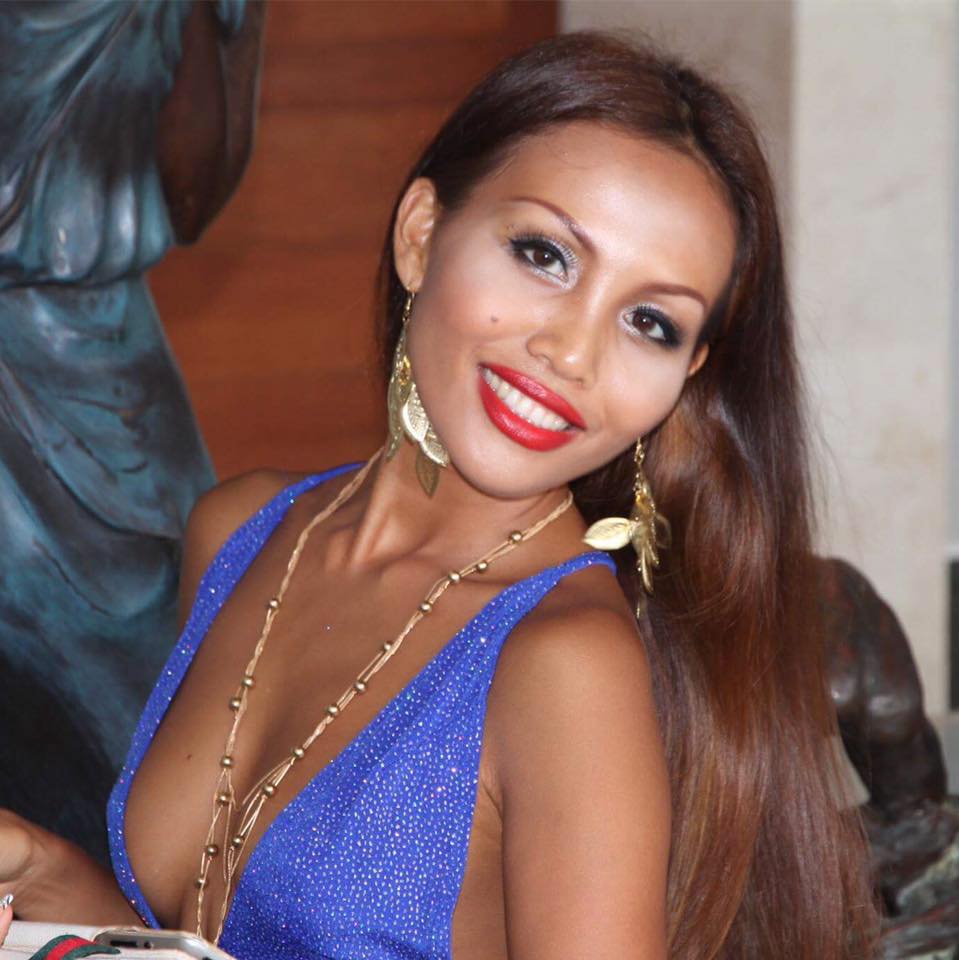 Her prices range from free (limited services) to 14,000 Baht (about $410 USD) and her services span from receiving "unlimited juicy information" to "tricks on how to ask for money from guys".
An in-depth rundown of her services can be found here: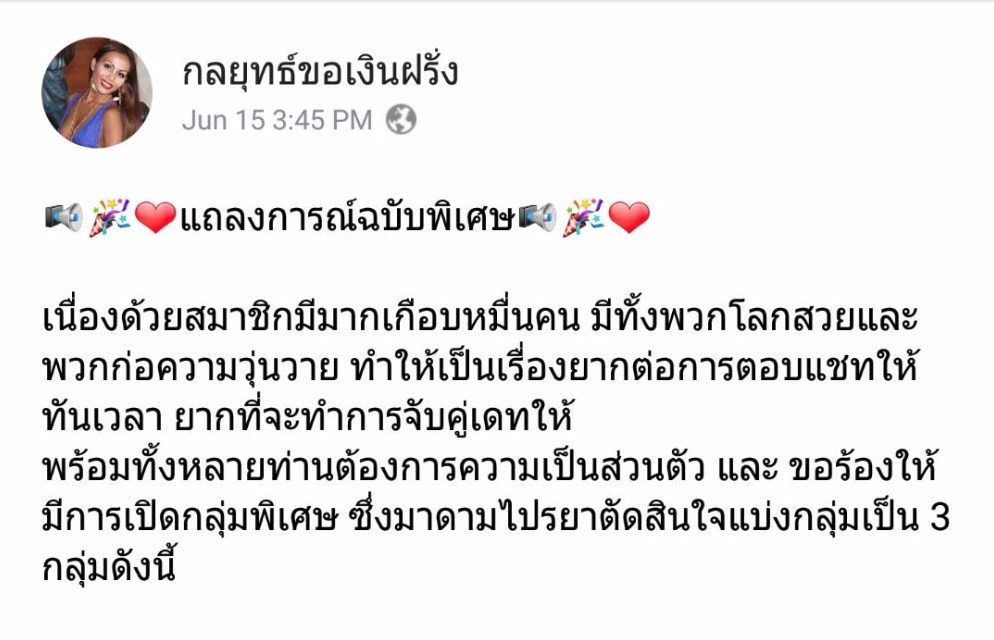 "Special news
Since there are so many memberships, nearly 10,000, there are those who view the world beautifully and troublemakers, it has been difficult in responding in a timely manner and matchmaking. Many of you want privacy and been asking for me to open a special group, therefore I've decided to separate into 3 groups."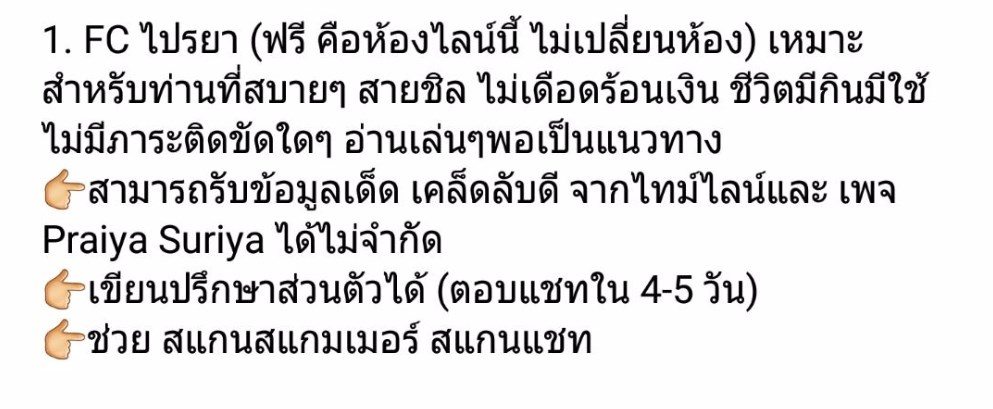 "1. FC Praiya (Free, here in this line chat will not change) for those who are comfortable, chill, and not in need of money. Life is stable and no dependents. Just read for fun and knowledge.
Receive unlimited juicy information and secret from timeline and Praiya Suriya page
Respond to personal issues (respond in 4-5 days)
Help scan scammers and scan chats."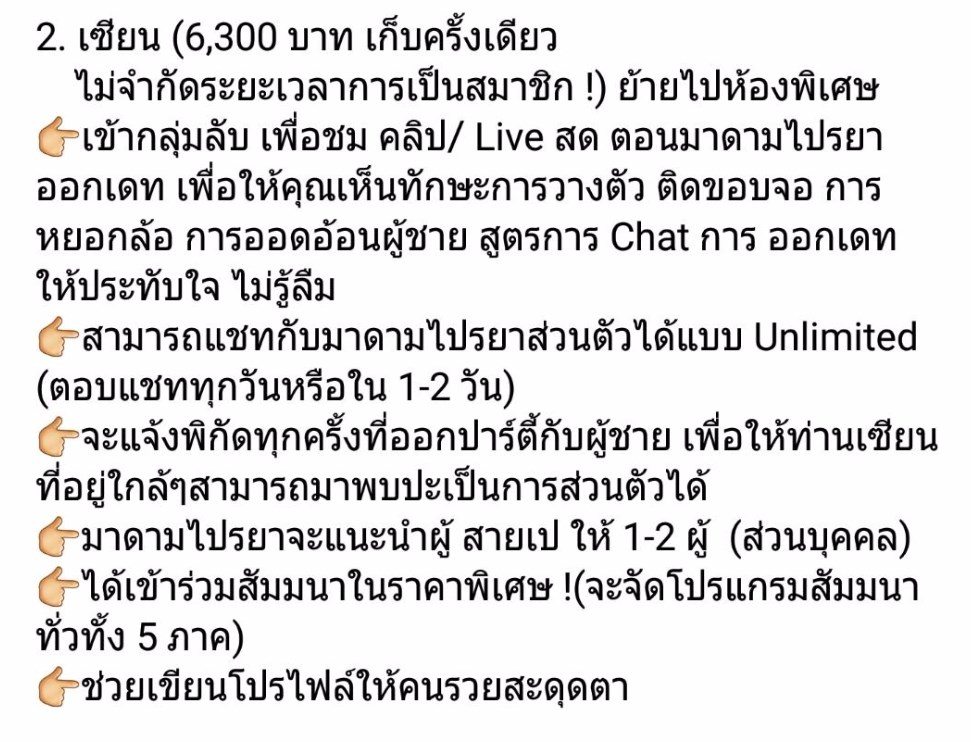 "2. Master (6,300 Baht one time fee, no time frame for membership!) A different Chat room.
Join in the secret group to view clips/live of Madame Praiya on dates to see how I behave, right next to the screen. You'll also learn how to joke around, be cute, chat, and go on a date for a satisfied and unforgettable date.
Unlimited personal chat (respond everyday or 1-2 days)
Will inform when I go to parties with guys just in case you are nearby and can meet me personally
Will introduce 1-2 Sai Pay (a guy who is willing to pay) (personal)
Special price on seminar! (Will setup seminar program in all 5 regions)
Will help write a profile to be catchy for the rich"

"3. Guru (14,000 Baht one time fee!) Limited spots. Will close once max amount is reached because rich Caucasian and Arab that's Madame business friends also have a limited amount. Will receive all the benefits as the Master membership will receive and more as stated below"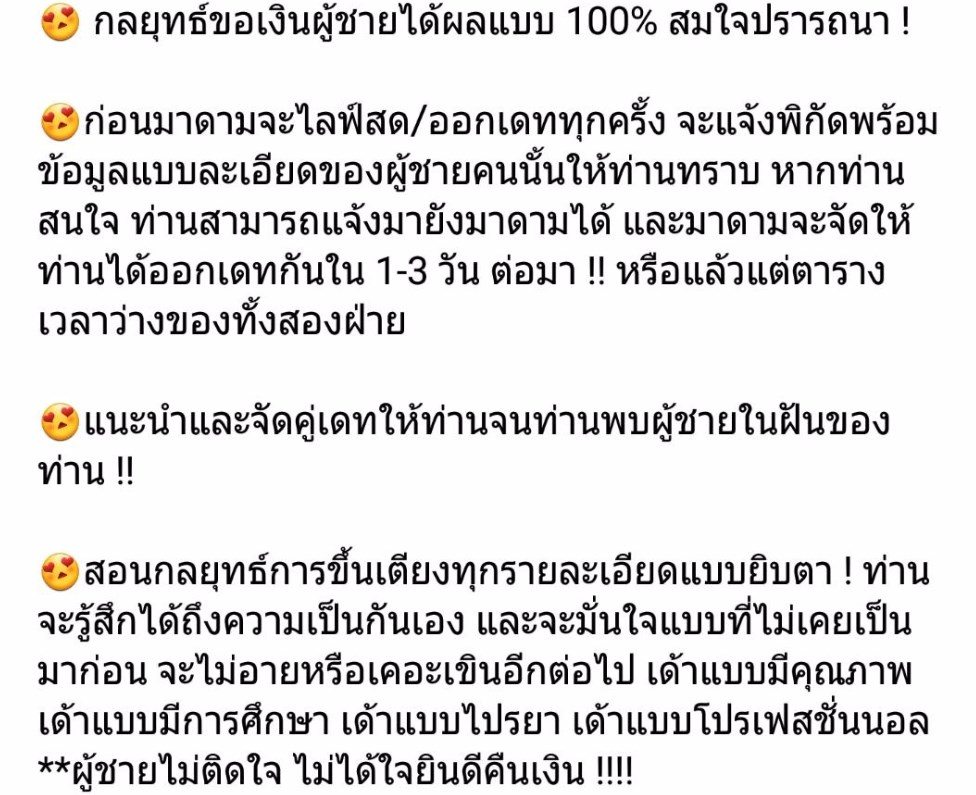 "Tricks how to ask for money from guys, result 100% as wish
Before Madame will go live on dates every time, I will provide detailed information on the guy. If you're interested, let me know and I'll setup a date in the following 1-3 days, dependent on availability of both parties.
Introduce and matchmaking until you find your dream guy
Sexy education in detail. You feel comfortable and confident like never before. You're not going to feel embarrassed or shy ever again. You going to have sex with quality, educated, like Praiya, and be professional. ** If the guy isn't satisfied, I'll gladly refund you!!!!"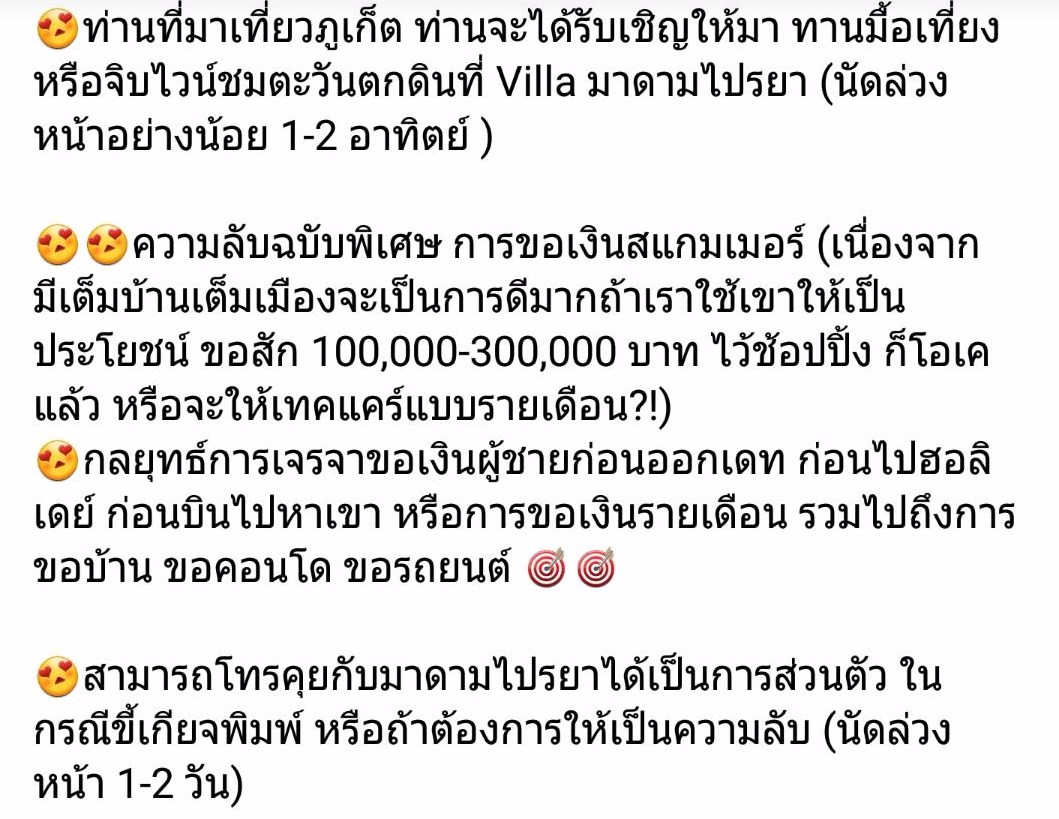 "For those of you who visit Phuket, you will be invited for a lunch or just sipping wine as the sun sets at Madame's Villa. (Make an appointment at least 1-2 weeks)
Special secret in asking scammers for money (since they are everywhere, we should make them useful. Ask for 100,000-300-000 Baht for shopping is ok or for them to take care of you monthly?!)
Skills in negotiating for money before going on a date, holidays (probably vacation), flying to see him, or for monthly allowance, including all the way to asking for a house, condo, car
You can call me personally in cases where you're too lazy to type or want it to be a secret (Make an appointment ahead 1-2 days)"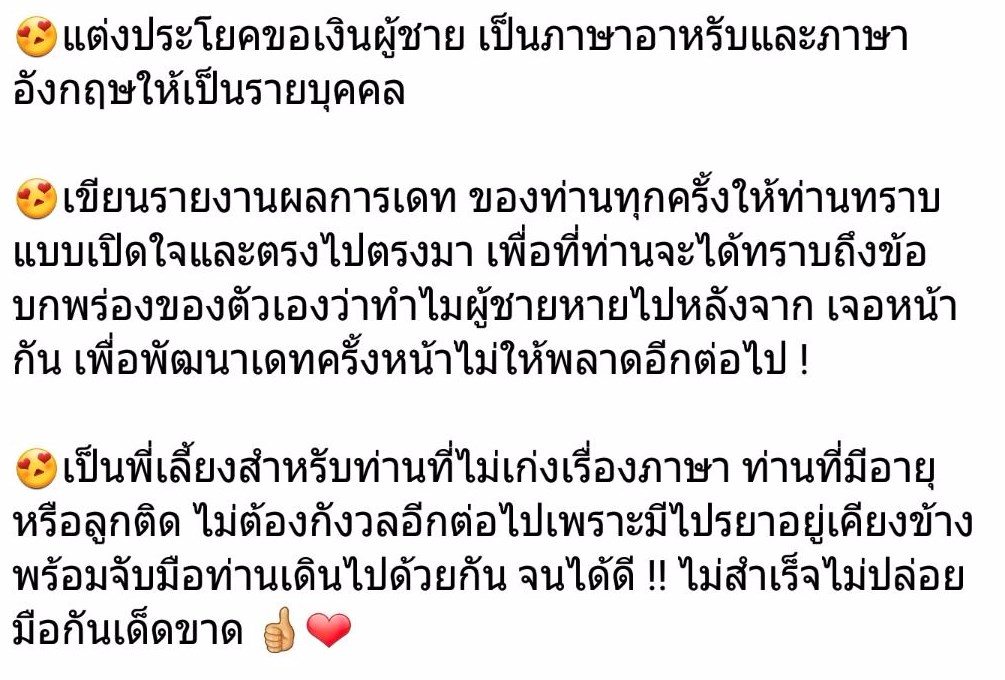 "Help with writing in asking money from guys in Arabic and English personally
Do a report on your date every time openly and truthfully, so that you can acknowledge your problem areas as to why the guy disappears after the date. Meet to improve, so you'll nail it the next time.
Be your babysitter if you're good with the language, if you're old, or have a kid. You don't have to be afraid anymore because you have me next to you, holding your hand and walking with you until you're successful!! Not successful, I won't let go of your hand."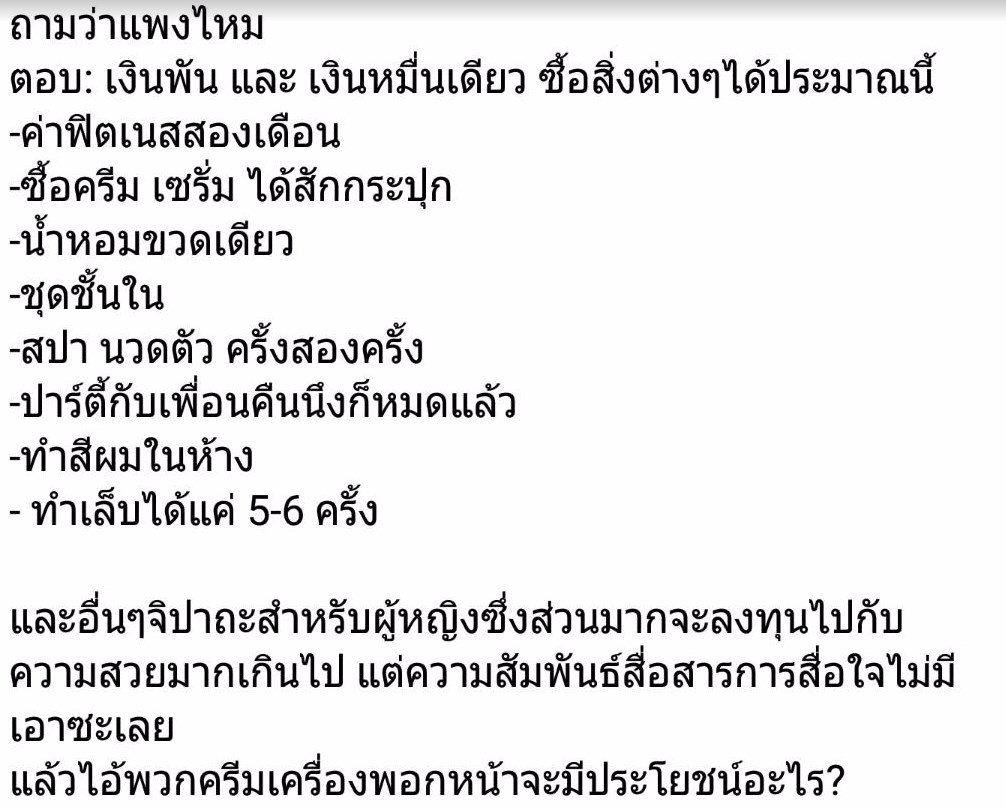 "Asking if it's expensive?
Answer: thousands or ten thousand Baht can buy many of the following things
-2 months of gym membership
-Buy 1 container of facial cream or serum
-1 bottle of perfume
-bra
-spa or massage 1-2 times
-party with your friends one night would be all gone
-dye your hair at the mall
-do you nails only 5-6 times
And more, the little things most women invest in for beauty is way too much, but don't know anything about touch, communication, and expressing feelings. And how would all those facial creams do you any good?"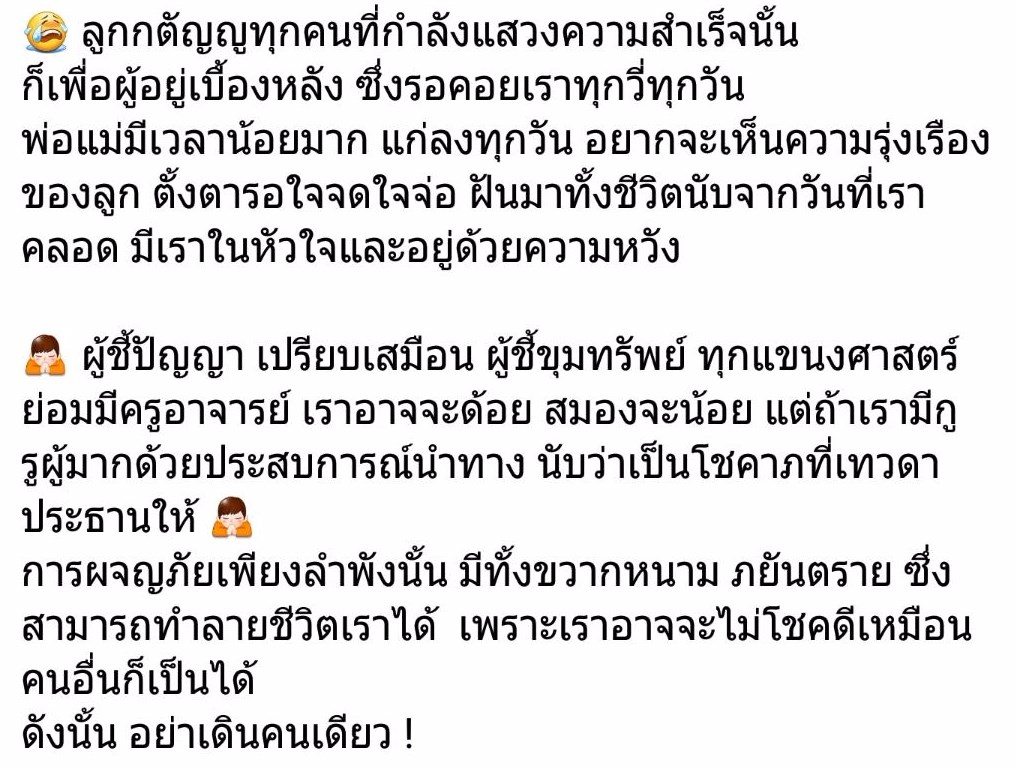 "All the good daughters that are looking for success for those in the background, which are waiting everyday. Mom and dad have little time left, everyday they are getting older and waiting to see their kid prosper. Waited diligently and dreamed all their life from the day you were born. Have you in their heart and as a hope.
Who points to knowledge is like pointing to a treasure. Every industry there always teachers. We may be unfortunate and not smart, but as long as you have a guru, who is full of experience to guide, that would be equivalent to a fortune the heaven has given you. To venture alone, there's thorn and danger that can destroy our lives because we might not be lucky like others. Therefore, don't walk alone!"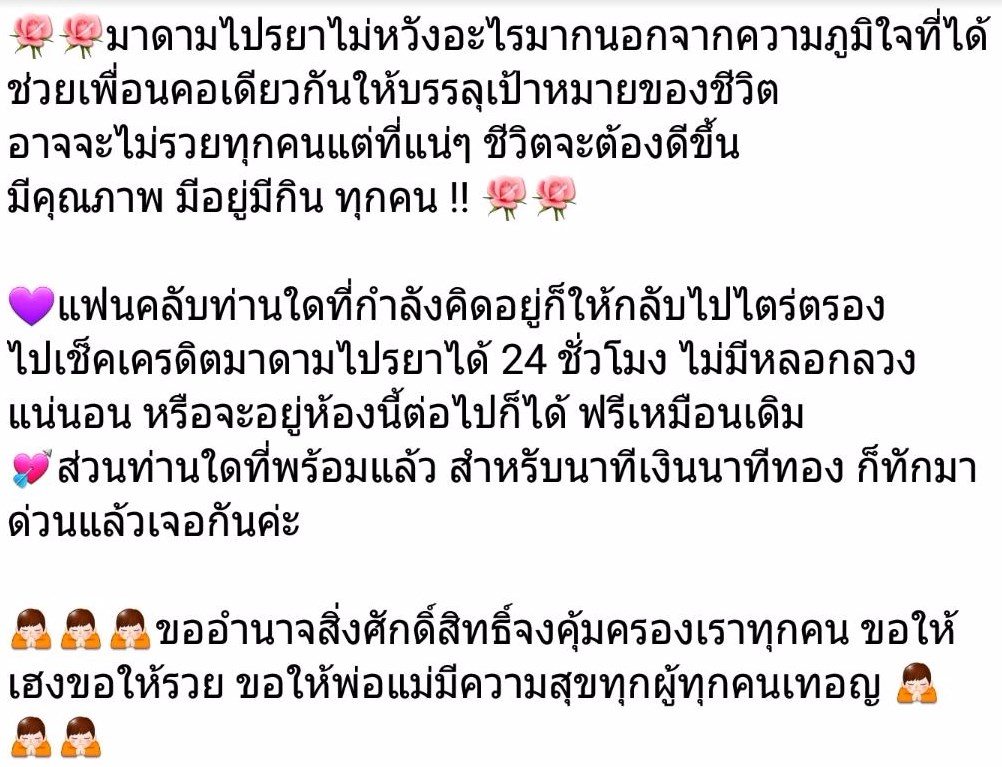 "I don't wish for anything, but the proud essential I would have for helping a fellow friend to reach their life goal. Everyone might not get rich, but it should be better. Everyone would have standard, a place to live, and eat!
Any fanclub who is considering, please go and think it through and check my credit 24 hr. Not a scam for sure or if you can stay in the free status. For those of you who are ready for money time, message me quick and we'll meet.
Hope that heaven will take care of all of us. Wish everyone fortune and prosperity! Wish everyone's parents happiness, amen."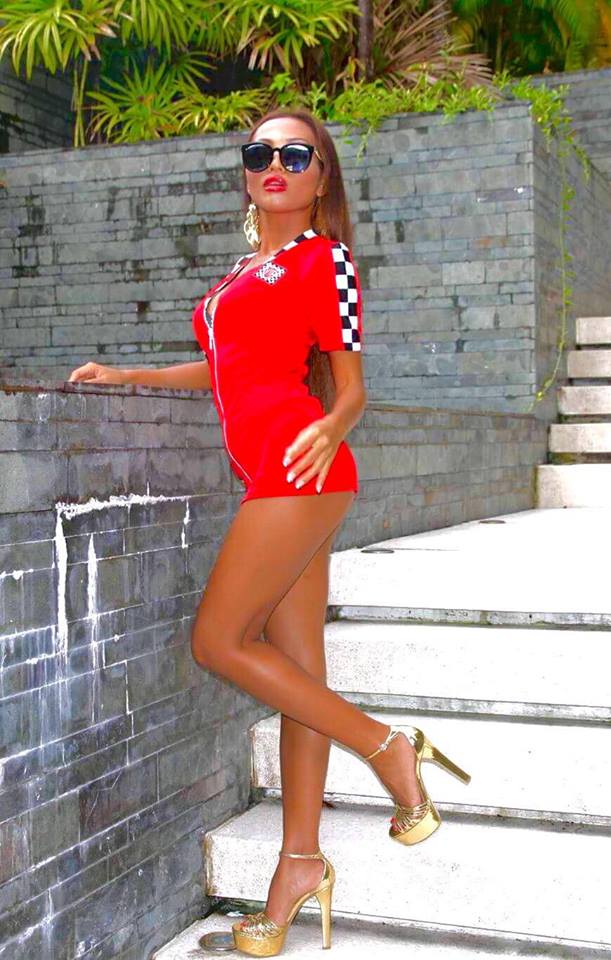 Praiya's FaceBook page reveals 40,000 women who are interested in learning her secrets and who regularly ask her questions. Priaya often responds that she is a very busy woman and will get to them when she can, but recommends they pay for VIP services for faster responses.
In a seventeen minute video, Praiya explains that she is not interested in working with just anyone – only those willing to do what it takes to become wealthy.
"Some of you are mental. I don't wanna hook you up no matter how much you pay. I wanna select members who are serious about this—getting rich."
So…does it work?
The Madame refused to give any real-life accounts of her successes, as her former clients were "happily married so she would not intrude into their privacy."
Interested parties can scan her QR code to get started. She invites more girls between the ages of 30 -50.