New details of the harrowing cave rescue of the now-famous Thai soccer team and their coach last year have emerged in a new book, revealing the use of d‌r‌ug‌s and han‌dcu‌ffs to swim the boys to safety.
"The Cave," written by ABC Australia Southeast Asia correspondent Liam Cochrane, details the more specific measures that rescuers took to save the 12 members of the Wild Boars soccer team during an exhausting 3-day rescue, notably the use of ketamine to s‌ed‌ate the boys before the rescue journey and handcuffs to prevent them from removing their masks in a pa‌ni‌c, according to The New York Post.
Cochrane writes:
"To calm nerves, the parents were told the boys were being taught how to dive and the media reported that each of them would be tethered to an air hose and then swim out with one rescue diver in front and another behind.
"This was untrue.
"The only hope was to sedate them, put oxygen-fed masks with silicone seals over their faces and let the expert cave divers carry them out.
"But it was crucial that the masks fitted tightly, otherwise they might drown."
According to Cochrane, the first boy to be rescued, a 14-year-old named Note, was given an oral sed‌ative and had ketamine, a prescription general anesthetic, injected in each leg by Australian cave diver and anesthetist Dr. Richard Harris.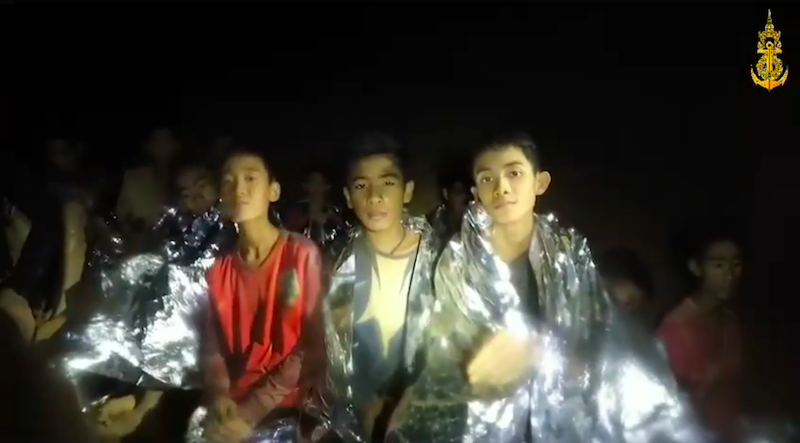 Once uncon‌scio‌us, Note was then placed in a diving suit, strapped with an air tank on his chest, and fitted with a face mask. Note was then handcuffed with cables behind his back.
He was then harnessed to an expert diver and escorted through the cave chambers, receiving a medical check at the first chamber.
"This was to ensure that if he did wake up from his ketamine slumber, he wouldn't try to rip off his face mask, endangering both his life and that of his rescuer," Cochrane wrote.
He continued to explain:
"The two biggest dangers underwater were the boy waking up and panicking, or his mask leaking and turning that plastic and silicone bubble of life over his face into a death trap.
"Preventing the mask from becoming dislodged was a constant concern."
Cochrane revealed that similar procedures were employed for the remaining members of the soccer team.
After the successful rescue of the team, Thai Prime Minister Prayuth Chan-ocha revealed the boys were given anxiolytic, an anti-anxiety medication, to help cope with the dramatic turn of events.
While all the boys and the coach were rescued, volunteer diver and former Thai Navy SEAL Saman Kunan, 38, di‌e‌d due to a lack of o‌xy‌g‌en while placing oxygen tanks in the cave.
The Tham Luang Nang Non cave system will become a living museum to commemorate the heroic rescue, according to Fox News.