A cab driver from Thailand was recently publicly shamed on social media for allegedly attempting to overcharge a popular expat English teacher.

Now the driver, identified as Thongkam Srakaew, is saying that his life has been destroyed by the viral rant.

Vlogger Daniel Lee McGee AKA "Danny Mac," who has a significant following on social media, accused the driver of trying to overcharge him with a flat rate of 500 Thailand baht ($16).

"Usually I like to give tips to people who help me out," McGee said in Thai in the video he uploaded on his Easy English Thai page. "But he kept asking for more money, so it made me not want to give it to him."

He said he convinced the driver to turn the meter on for the trip that would take him from Suvarnabhumi Airport to his condo in Muang Thong Thani on Tuesday

However, McGee claimed that the driver refused to give him his change upon arrival, noting that the Thai cabbie used the derogatory term "farang kheenok", which means "trashy foreigner."

The video has since accumulated over two million views on Facebook.

According to the Bangkok Post, the 50-year-old cabbie was summoned by local officials for his alleged rudeness to the popular "farang." 

Srakaew was reportedly fined 1,000 Thai baht ($32) based on the expat's accusations and has been banned from picking up passengers at Suvarnabhumi Airport.

The decision to bar him from the airport brought him to tears during an interview with reporters.

"Throughout my career as a taxi driver, my record is flawless," Srakaew was quoted as saying. "I've only got people praising me. I do volunteer work to help society, but after this incident, I feel disheartened. The rent for my taxi costs a lot. I have a wife…and a kid whom I've sent to college by driving a taxi. I love my job, but this is so disheartening."

In the interview, Thongkam explained that it was the foreigner who asked him if he charged a flat rate or used the meter from the beginning. He claimed that he agreed when the farang preferred to use the meter.

Thongkam denied McGee's claims and insisted he only asked for 100 baht for the expressway fees, but McGee handed him 200 baht ($6.50) instead. McGee 

had earlier claimed that the driver asked for 300 baht ($9.50), but he only gave him 200 baht because the fees should not have exceeded that amount. 

Thongkam, however, admitted to calling McGee 

"ngee ngao," a deregetory term for foolish,

 but said it was merely a slip of the tongue.

"I was stressed out that he would not pay 50 baht for the airport surcharge. So it slipped out. After that, I continued to drive other passengers without any issue. I thought this was over until I learned about the clip."

In tears, he exclaimed, "I guess it's my fault. It's always the taxi driver's fault! Aren't we taxi drivers people too?"

Despite the driver's explanations on what transpired that day, most Thai netizens who gave their opinion were more convinced of McGee's version.

"Well-mannered, my ass. In the clip, we can see you speaking like a dog. In this case, I believe the farang," a netizen was quoted by Khaosod as saying. "Let the world know. If you come to Thailand and you haven't been conned with a meter, [been told it's] broken, or you haven't had to pay a flat fee or been refused a fare, then you haven't come to Thailand."

In a bid to patch things up between the two, both men were later invited to appear with the head of the Transport Ministry on television where they shook each other's hands.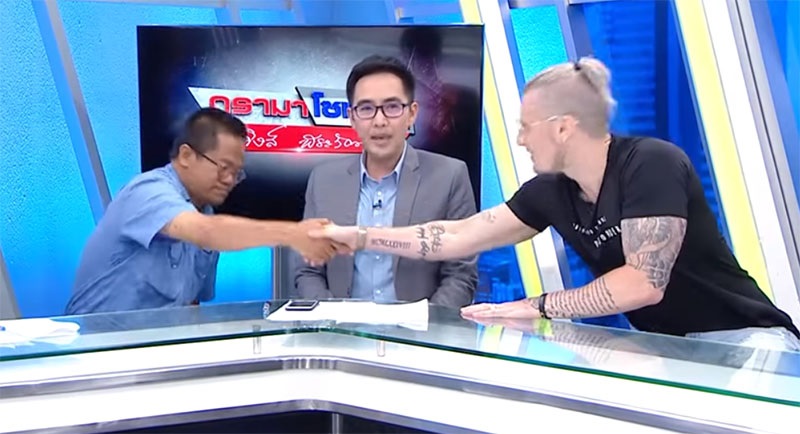 Feature Image via Facebook / WorkPointNews (left) | EasyEglishThai (right)