Chinese billionaire, Jack Ma has been unseated from his throne as China's richest man, based on Forbes' real time ranking of the richest people in the world.
The elite title is now being held by Tencent founder Ma Huateng, AKA Pony Ma, who currently has an estimated net worth of $37.4 billion. He just edged out the Alibaba CEO, who now has $36.2 billion, by over $1 billion.
Earlier in March, Forbes listed Jack Ma's net worth to be around just $28.3 billion while Pony Ma's had $24.9 billion. Both were then behind Dalian Wanda Group CEO Wang Jianlin with $31.3 billion.
On the global list real time ranking, Huateng and Ma are now head-to-head vying for the 18th place, while the embattled real estate/entertainment mogul, now lags behind at 26th place.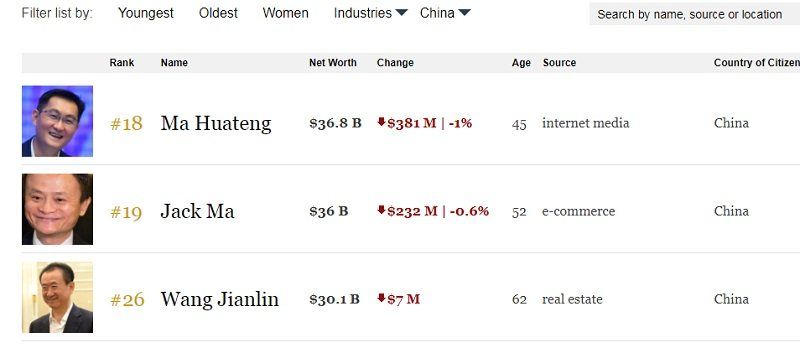 In the last couple of years, Jianlin and Jack Ma have been trading the "China's richest man" title, but recent woes hounding Dalian Wanda Group may have caused a great deal of negative impact on his current economic standing. Observers have noted that while the tech tycoons have stayed on the government's good side, Jianlin's ventures have been rumored to clash with the ruling party's policies as of late.
Tencent has made tremendous growth recently, elevating itself into becoming the 10th biggest company in the world earlier this year, although Alibaba eventually surpassed the company shortly after.
Like Jack Ma's Alibaba, Huateng's Tencent has achieved continued success by developing technologies and being at the forefront of digital innovation. Not only does it dominate the industry with its highly successful social media platform, WeChat, it also has a revolutionary payment system and owns one of the largest online gaming company in the world.