A well-loved Vietnamese restaurant Tank Noodle in Chicago sparked outrage after photos of the owners traveling to attend the Washington D.C. riots surfaced online.
How it started: On Jan. 5, the owners of Tank Noodle, also known as Pho Xe Tang, flew to Washington, D.C. for the riot that occurred on Jan. 6, according to Eater Chicago.
The Lys, the family who owns Tank Noodle, which opened in 2000, took photos while on an airplane headed for D.C.
Tank Noodle's associate manager, Thien Ly, posted an image of him sitting beside another man. Ly also posted a screenshot of a United Airlines boarding pass and wrote "Jan#6 Get Wild! #fightfortrump" as the caption for his Facebook post.
On the night of Jan. 6, various social media users tweeted Ly's images, criticizing the owners.
Owner of Northside Chicago restaurant Tank Noodle, Thien Ly, took a trip to DC to take part in the riots.

Check their Yelp page to see the negative reviews flood in. pic.twitter.com/mQQToV7OmG

— AntiFashVelma (@AntiFashVelma) January 7, 2021
The aftermath: After Ly's photos were shared publicly, staff members at Tank Noodle started receiving death threats by phone.
After opening the restaurant at 11 a.m., one employee allegedly encountered 15 threatening phone calls in half an hour.
"We're afraid for our lives right now, we're just trying to work and provide for our family," the employee told

Eater Chicago

. "[Staff] all have children, now they're scared they won't have a job."
In addition to the phone calls, angry social media users took to Twitter to criticize the Lys for supporting Trump and flying to D.C. during the current pandemic.
Hello Chicago, friendly reminder that the owners of Insight Tattoos (Noble Square) and Tank Noodle (Uptown) are racist bootlickers that dont want your business anymore.

Dont forget to leave a "nice" review on their Google page 🙂 pic.twitter.com/zAHbt5aoZx

— ya'll got a mic? (@VinceMici) January 7, 2021
please dont let this fall through the cracks. don't support tank noodle. here are screenshots of the owners at DC on 1.6.21 in support of trump. the owners are pro trump, racists, with a history of not paying their employees correctly pic.twitter.com/8T2o9YBA40

— ln (@lthuyvyn) January 7, 2021
On Yelp, users left so many one-star reviews of Tank Noodle that the website had to temporarily disable the restaurant's page.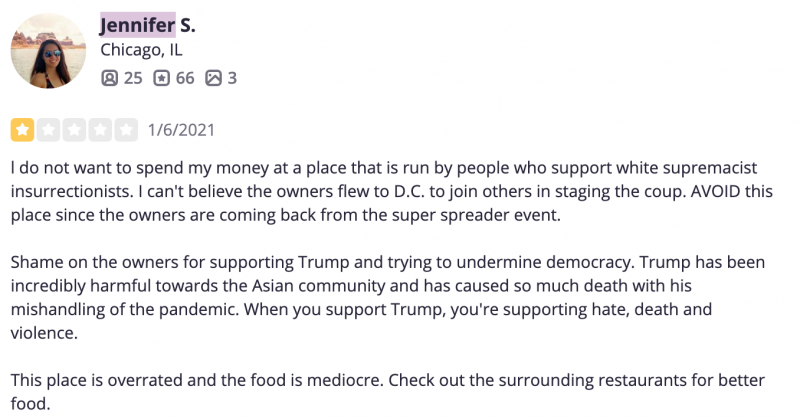 "The business owner went to DC riot attack on US Capital, on Jan 6, 2021! Will not be supporting terrorists trying to overthrow people's government," one of the reviews said.
The Ly family released a statement on Tank Noodle's Facebook page, writing that they were "deeply shocked, saddened, and offended" by the riots that took place last week.
They also claimed that none of their family members were involved in the insurrection.
Feature Image via WGN News