A job ad
from a popular private kindergarten in Taiwan is making the rounds on social media for its controversial content indicating that it would not hire "black or dark-skinned" English teachers.
According to the post, the prestigious private school is looking to hire substitute teachers to teach children between the ages of four to five for eight-hour shifts in Xindian District of New Taipei City. 
The job is set to start in early July at a rate to be negotiated based on experience and certifications.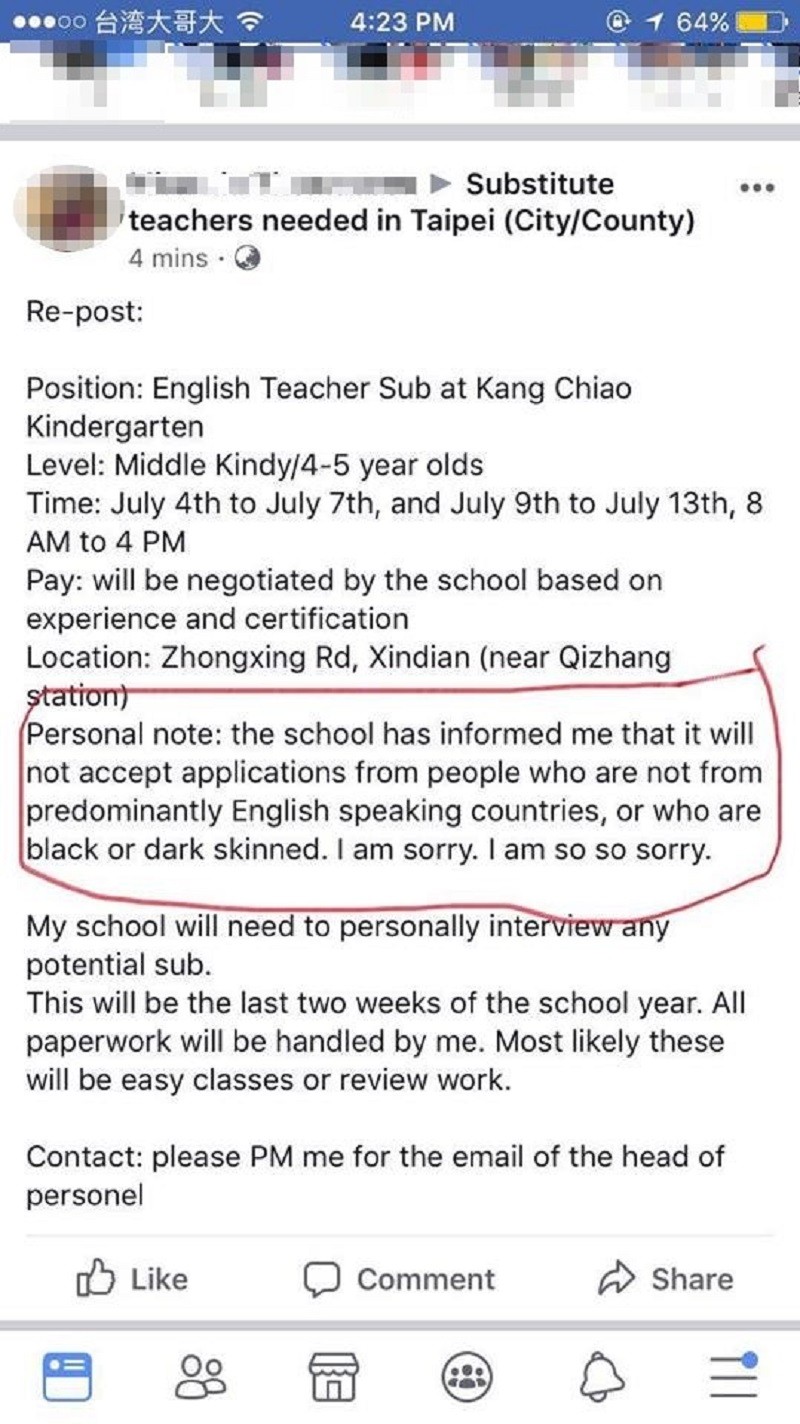 Taiwan News reports that the job poster also added a section which stated the controversial job requirement which enraged the expat community in Taiwan after it went viral.
The post read:
"The school has informed me that it will not accept applications from people who are not from predominantly English speaking countries, or who are black or dark-skinned. I am sorry. I am so so sorry."
Subscribe to
NextShark's Newsletter
A daily dose of Asian America's essential stories, in under 5 minutes.
Get our collection of Asian America's most essential stories to your inbox daily for free.
Unsure? Check out our Newsletter Archive.
While the kindergarten employee immediately took the advertisement down after the backlash, an image of the ad has been reposted by netizen Williams Kaboré. 
Criticizing the ad for its racist undertones, the 21-year-old sales manager and student at Tamkang University wrote in a later post:
"Writing such a racist statement in social media is very disrespectful for our whole race which also contributed to many economic, social, scientific and other fields advancements those make our life easier today."
According to Kaboré, the teacher who posted the ad is as guilty as the school.
"If you repeat your boss's racist statements, you are no different than your boss," Kaboré noted.
He further stated that while he understood that Taiwanese schools and parents may have been acting out of ignorance due to a lack of interaction with black people, he felt the ad was just a bit too far:


"They just don't know much about us but what I don't condone is posting this kind of racist statements on social media. It just makes it look normal and hence worsen the problem."
Kaboré's post ignited reactions from other netizens who agree that racism still exists in Taiwan.
"We in the black community in Taiwan are really irritated about that and want to show everyone how racist some people in Taiwan are, especially about jobs here in Taiwan,"
a
27-year-old 
Haitian 
software engineering major at Tamkang University wrote. 
"I do know that is the norm in Taiwan. We have seen those posts off and on, but this is the most ridiculous we have all seen, which explains this uproar this is literally all over my timeline,"
lamented a
28-year-old English teacher from Saint Lucia. 
The school has since issued its official statement in response to the controversy, denying that they
"discriminate on the basis of race, creed, color, ethnicity, national origin, religion, or sexual orientation."
Stating that the school is

"strongly opposed to discriminatory employment practices,"

it claimed

 

that the appointment of its teachers is:

"based on their educational qualifications and related academic experience."

Under Article 5 of Taiwan's Employment Service Act, employers are prohibited from discriminating against a job applicant or employee on the basis of
"race, class, language, thought, religion, political party, place of origin, place of birth, gender, gender orientation, age, marital status, appearance, facial features, disability, or past membership in any labor union."