A customer at a Taco Bell restaurant in Pennsylvania had an infuriating encounter with a cashier who berated him with a racial slur.
The customer, In Young Lee, a first-year Ph.D. student at Penn Medicine, went to a Taco Bell on 1037 Chestnut St., Philadelphia, on Saturday at around 1:30 a.m. after a night out with his friends.
According to Lee, he gave the cashier the fake name "Steve" to save them both the trouble of having to spell out his actual name. However, he was shocked to discover later that the cashier referred to him as "Steve Chink" in the printed receipt.
"Our interaction was very ordinary and cordial even until I saw my name on the receipt that read 'STEVE CHINK,'" Lee wrote in a Facebook post. "I was so infuriated that I couldn't help but to confront the cashier. When I confronted him, he said that there are three Steve's in the restaurant so he needed to differentiate. It made me even more upset that he was protecting his case rather than apologizing so I lashed out and told him that it is extremely disrespectful to use such a derogatory slur." 
When he confronted the cashier about the receipt, he decided to let it pass after hearing his explanation and apology. However, he overheard a conversation between the cashier and other restaurant workers making fun of him.
"This is when I snapped and stormed to the counter and started yelling at him," Lee added. "This is when the manager approached me to calm me down. He said that what the cashier did to me was wrong and that he is sorry." 
While the manager of the Taco Bell initially apologized, he also faulted Lee for being "disrespectful" and snatching the food out of the cashier's hands after being called a "chink."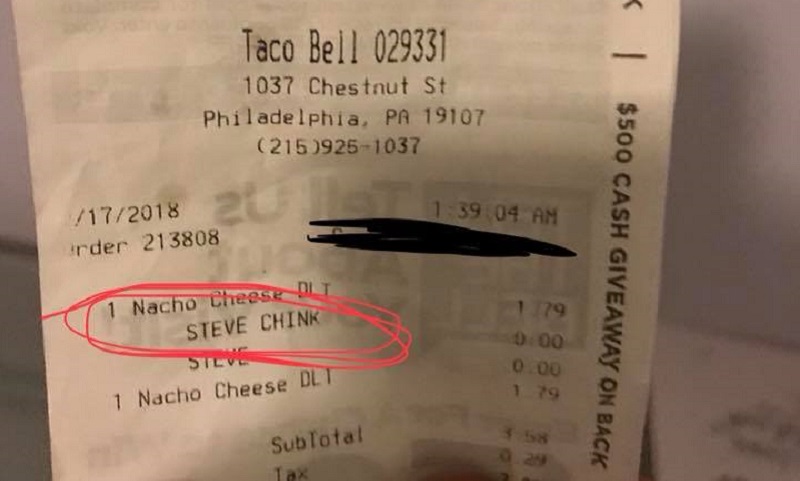 "How does he expect me to be polite to the cashier when he deliberately took his time to spell out the word 'CHINK' to describe me? When he attempted to condemn me, people in the restaurant started to berate both the manager and the cashier, which led him to apologize and finally admit that they were in the wrong."
Although Lee posted the photo of the receipt on Facebook, he chose to hide the name of the cashier so as not to humiliate him, according to The Daily Pennsylvanian.
"I thought incidents like this only happen in the news and never expected it to happen to me but I guess it really does happen in the real world. Normally I would let things like this go but under the current political climate I find it very important to address such issues and voice them loudly and clearly."
Feature image via Facebook/livinyounglee