A school district in Washington has sparked controversy after excluding Asians from a category that denoted "students of color" in a performance report.
North Thurston Public Schools (NTPS), which oversees 22 schools and some 16,000 students, instead lumped Asian and White students together, hoping that it would boost the growth rate of underperforming groups.
"One of our district's Strategic Plan goals is 'Continuous Growth — All Students, All Subjects,'" NTPS officials said in a statement. "One of the outcomes we are working towards in this goal is to have an 'increased growth rate of underperforming groups eliminating achievement and opportunity gaps.
"For this reason, in one of our online documents from 2019, titled 'Monitoring Student Growth,' we evaluated the achievement data by 'Students of Color' and 'Students of Poverty.' In the document we grouped White and Asian students together."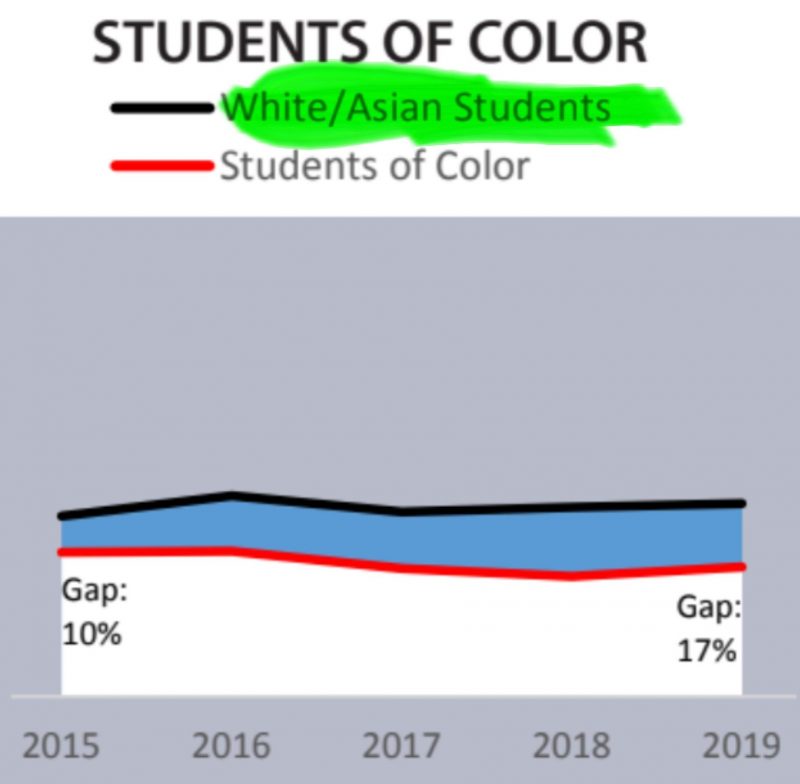 The "Students of Color" category reportedly included Black, Latinx, Native American, Pacific Islander and multi-racial students who have experienced "persistent opportunity gaps."
Most indicators in the report show that the achievement gap between Asian and White students are "fairly narrow," and might even be narrower if Asian students were categorized as students of color, according to libertarian publication Reason.com.
A Washington state school district is engaged in some racecraft here https://t.co/aZjg6Pvjyt pic.twitter.com/iPhO9JreFk

— Zaid Jilani (@ZaidJilani) November 16, 2020
The fact that NTPS used race to divide students in the first place did not sit well among critics. Zaid Jilani, a Georgia-based journalist, slammed the move as "racecraft" and speculated what could happen if Asian and White students were separated.
"Your 'color' is defined by the average performance of your group in school?" Jilani questioned. "If they broke out Asians from White students, it would probably necessitate creating endless conversations about Asian privilege or some such thing, it seems like this is the only move they could make to avoid changing the narrative."
Asian users also started "identifying" with the new category, mocking the school district's approach to race.
"Hello my fellow Whites," wrote Human Events managing editor Ian Miles Cheong.
Hello my fellow Whites. https://t.co/SxlYff8HpF

— Ian Miles Cheong (@stillgray) November 16, 2020
We finally assimilated though. Cause to celebrate.

— Akash Shetye (@AkashShetye) November 16, 2020
I'm white now y'all. Anyone want to go to Gap? https://t.co/Bc1pbWi5cK

— Vishal Ganesan (@vjgtweets) November 16, 2020
Meanwhile, White Twitter users took the opportunity to welcome Asian users to the "privilege club."
Welcome to the privilege club!

— Tom Norman (@ThomasWNorman) November 16, 2020
Welcome to the majority.
Be ready to apologize for everything.

— President Elect – Ohio Guy. (@thekinner) November 16, 2020
Welcome to the deplorables!

— Οὖτις 🟧🇺🇸 I AM DEPLORABLE (@Call_Me_Outis) November 16, 2020
In response to the backlash, NTPS officials vowed to change their way of observing achievement data, apologized for the report's "negative impact" and removed it from their website. However, they also explained the categorization as an equity-based decision.
"We feel it is important to continue the practice of disaggregating data, so we make equity-based decisions. When we reviewed our disaggregated data it showed that our district is systemically meeting the instructional needs of both our Asian and White students and not meeting the instructional needs for our Black, Indigenous, Multi-racial, Pacific Islander and Latinx students," the officials said.
"The intent was never to ignore Asian students as 'students of color' or ignore any systemic disadvantages they too have faced. We continue to learn and grow in our work with equity as a public-school system and we will ensure that we learn from this and do better in the future."
Racial classification in education has been a subject of intense debate in recent years. In the latest election, California voted against affirmative action (57% vs. 43%) despite the endorsement of Democrats, Fox News noted.
Feature Image via Getty (Representation Only), Zaid Jilani (@ZaidJilani) (Overlay)