On Thursday, the massive protest against a controversial proposed bill in Indonesia that has become increasingly violent in the last few days has claimed its first life.
A 21-year-old student died as thousands of Indonesians hit the streets nationwide to oppose a bill that changes dozens of laws, including amendments that make it illegal to insult the president and criminalize pre-marital sex.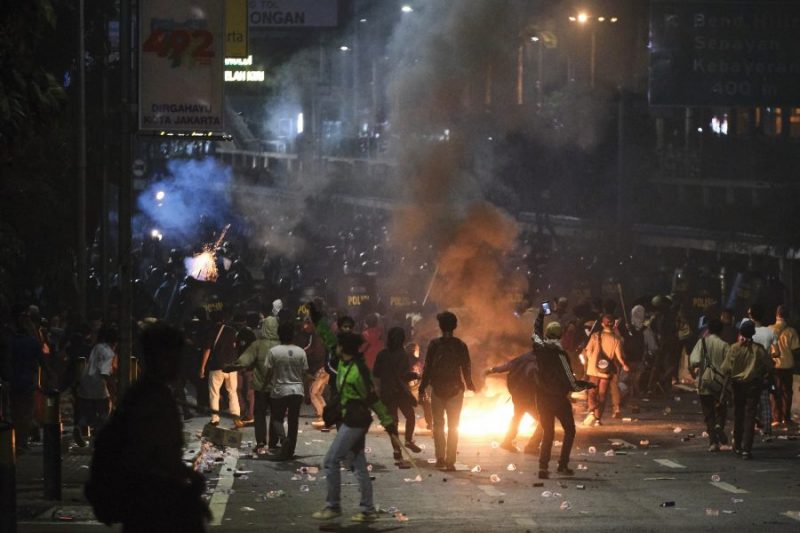 The victim sustained a chest wound from the riots that erupted in Kendari on Sulawesi island where the local parliament was reportedly torched. He was rushed to the hospital but died after succumbing to his injuries, reports Agence France-Presse.
On local social media, some users have claimed that the student was shot and blamed the local authorities for his death. While the police have since publicly denied this, they have yet to state what kind of injury killed the student.
"There was an injured student among the crowd. He was taken to the hospital and declared dead as doctors tried to save him. He had a wound on his right chest, but I cannot confirm what kind of injury it was," Southeast Sulawesi police representative Harry Golden Hart was quoted as saying. 
"None of our officers carried live bullets … or even rubber bullets."
His death is the first fatality in days of violent clashes between protesters and anti-riot police across the country.
According to CNN, the widespread protests resulted from the proposed bill that would criminalize pre-marital sex, make it illegal to insult the president, and impose a possible jail sentence for anyone who helped a woman terminate her pregnancy.
A prison term for black magic would also be introduced as well as six months behind bars for living together out of wedlock, according to News18. The proposed bill also includes bans on broadcasting or promoting contraception methods to minors.
Rights groups have dubbed the unpopular bill as a violation of basic human rights and democratic freedoms, with Human Rights Watch describing it as "disastrous not only for women and religious and gender minorities, but for all Indonesians."
Protesters are also pushing to repeal a controversial new law passed last week that many view can weaken the independence of Indonesia's main anti-corruption agency, the Corruption Eradication Commission. Under the new law, the anti-graft body will no longer be independent and will instead operate under the government.
Mass demonstrations calling for the withdrawal of the draft code began in the Indonesian capital of Jakarta on Monday and have grown since. On Tuesday, large crowds of young protesters gathered outside the Parliament Building in Jakarta, carrying banners and setting bonfires on the street.
According to state media, around 18,000 police were dispatched that day to guard the Parliament Building. In a bid to disperse the demonstrators, police fired tear gas and deployed water cannons. Similar protests were staged by university students across the country. In the province of South Sulawesi, the riot police not only used tear gas but also reportedly used clubs to beat the students.
Amnesty International has since urged the government to investigate what it described as "massive police violence" against protesters.
In response to the growing unrest, President Joko Widodo made a statement on Thursday, noting that he would consider revising the anti-corruption agency law.
"There was a lot of feedback given to me" about the law, Widodo said during a press conference.
"Of course I'll consider (a revision) and after making a decision, I will announce it."
Meanwhile, the proposed new criminal code, reintroduced by Minister of Law and Human Rights Yasonna Laoly in 2015, will likely be delayed until the next Parliament session as the Indonesian Parliament has decided to postpone its passing on Tuesday, according to the Speaker of the House Bambang Soesatyo.
If passed, the controversial changes is expected to affect millions of Indonesians, including gay and heterosexual couples who will be at risk of facing jail for having sex outside wedlock.
Featured image via YouTube/VOA News