Workers at a Starbucks branch inside the Virgin River Casino in Mesquite, Nevada recalled encounters they've had with the Las Vegas shooter Stephen Paddock and his Filipina girlfriend Marilou Danley, who is now cleared by the police as a person of interest.
Before the tragic shooting that left 59 dead and 527 injured, workers behind the counter would often make a face whenever the 64-year-old gambler entered the Starbucks and humiliate his 62-year-old girlfriend in public, according to the Los Angeles Times.
Paddock's nasty habit would come out whenever Danley asked him if he would pay for drinks using his casino card, which acts as an electronic wallet with credits earned from playing on gambling machines. It can be used to buy things from the casino souvenir shop or food served at the hotel.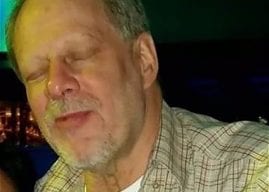 "He would glare down at her and say — with a mean attitude — 'You don't need my casino card for this. I'm paying for your drink, just like I'm paying for you.' Then she would softly say, 'OK' and step back behind him. He was so rude to her in front of us," Starbucks branch supervisor, Esperanza Mendoza, told LA Times on Tuesday.
The couple always placed the same order whenever they visit the local Starbucks — venti mocha cappuccino for Paddock and medium caramel macchiato for Danley.
Many workers at the Starbucks branch were shocked after the news broke out about the shooting at the Route 91 Harvest Festival — especially after Paddock's photo was revealed on the television.
"That's because of what he'd done and because we have been face to face with this man so many times," Mendoza said.
Meanwhile, Paddock reportedly wired $100,000 to Danley a few days before the grim October 1 attack. It is still unclear why he made the transfer to his girlfriend, who was in the Philippines when the shooting happened.
Image via Twitter / LVMPD