L.A. based French
Korean artist Spill tab put on an electrifying performance to kick off Day 2 of the Austin City Limits (ACL) Music Festival, thrilling longtime fans and enticing festival stragglers hypnotized by the sound of her blissful bedroom pop.
Spill tab's EPs "Oatmilk" (2020) and "Bonnie" (2021) made their way into my playlist as I joined her over 750,000 monthly Spotify listeners in the weeks leading up to ACL. Having just completed her "Big Juicy" tour the day before, Spill tab — who was born Claire Chicha — was scheduled to perform early that Saturday, gracing the Miller Lite Stage just an hour after the festival had opened. I made my way over about half an hour early and found a small crowd of Spill tab fans already there, willingly bearing the sweltering heat of a high-noon Texas sun to be on the rail and watch her conduct sound checks.
Spill tab's performance was, personally, ACL's most memorable one. In comparison to those of the larger acts and headliners, hers felt both energetic and intimate, firing up the crowd with songs like "Grade A" and "Sunburn" and slowing things down with a humorous ukulele cover of Usher's "Yeah!" complete with bass player Caleb Buchanan performing Lil Jon's famous ad libs. The two regularly stopped to talk with the audience during the set, with Spill tab revealing the name of her first album was inspired by her severe lactose intolerance — "But f*ck it, I'm just here to eat cheese!" — and Buchanan reminding everyone that "it's OK to not be OK."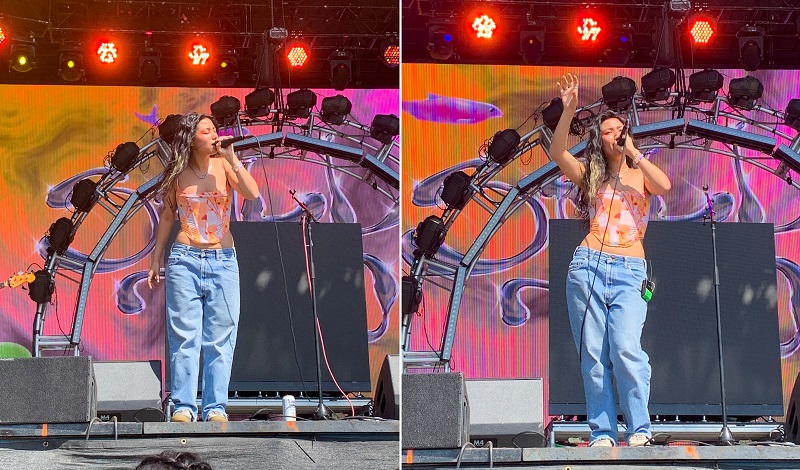 Spill tab's music gradually drew in an audience, quickly turning what began as a small gathering of fans into a large crowd by the end of the set. It was entertaining to watch University of Texas at Austin fans wander over from watching the Texas Longhorns vs. the Oklahoma Sooners game at Barton Springs Beer Hall next door and to hear the excited conversations of audience members after the show.
I spoke with a Spill tab fan named Wyatt Beere (they/them) afterwards to get their opinion of the show:
"Absolutely phenomenal. They're all great performers — her in particular, I'm obsessed with her. She's an incredible singer, the writing of her songs is phenomenal, and everything about the execution of their performance to the ideology behind it is all exceptional," they gushed. 
"I saw them for the first time when they were opening for Wallows back in July of 2022 and was immediately obsessed. I listened to all their songs, know most of them by heart, and have been so thrilled waiting for ACL to come so I could come see them again. 'Velcro' is a personal favorite, which is the one they closed with, and they hit that sh*t hard."
The interview
Subscribe to
NextShark's Newsletter
A daily dose of Asian America's essential stories, in under 5 minutes.
Get our collection of Asian America's most essential stories to your inbox daily for free.
Unsure? Check out our Newsletter Archive.
Spill tab sat down with me a few hours after her show to talk about her life growing up in Thailand, France and the U.S., as well as her experiences as a budding artist growing steadily in popularity and the story behind her unique moniker.
Claire definitely carries the same energy she presents onstage – greeting me as openly as she might an old friend – and was just as easy to carry a conversation with. When asked whether she prefers "Spill tab" or "Claire," or if they are even the same persona, she said she has no issue being addressed either way.
"I'd say they're probably one and the same. Especially right now, I have no qualms with people calling me Claire, or 'Ms. Tab.' 'Madame Tab' is preferred. I think I'm just a 25-year-old gal vibing, touring, trying to make the best music that I possibly can."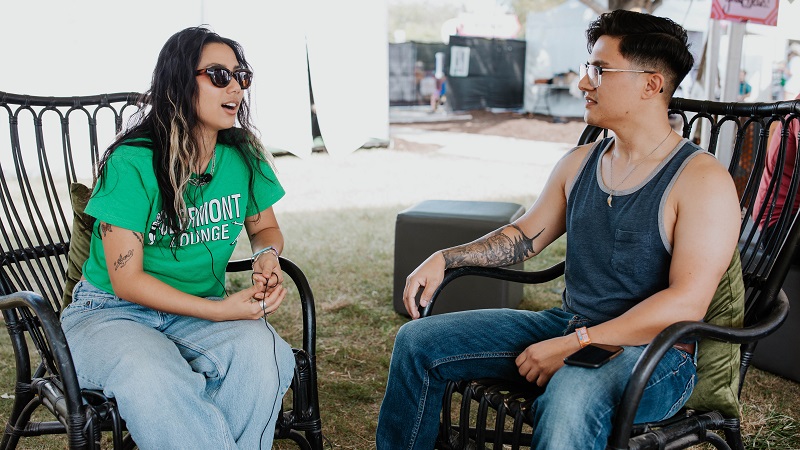 As for the origins of the name Spill tab, she says it came to her the summer she started making music.
"It's a bartending term! It's basically when you spill your drink at a bar when you're f*cked up, your bartender gives you a free drink and they just put it on the spill tab. It's also heavily used to just give your friends free drinks when you're a bartender, which I thought was really sweet. I was just drinking a lot of alcohol the summer I started making this kind of project, so it just felt fitting that I commemorate it."
Born in Bangkok to a French jazz composer and saxophonist father and a Korean pianist and harpist mother, Claire says her music is heavily influenced by the multitude of spaces she explored as part of a family that didn't stay in one place for too long.
"I think just in general the concept of adapting and acclimating to new spaces made me more open to things that I'm not familiar with. You kind of have to just end up just being that way when you move a lot. I think it just gave me an appreciation of music that I maybe don't understand but can eventually come to understand. Traditional music especially, like living in Thailand there's a lot of… I mean, it's a really noisy city and there's a lot of really traditional music that occurs whether you're at, like, a boxing match or stuff like that. I think it gave me the chance to be more open-minded, and it makes me really interested by music that I might not be familiar with yet."
A multilingual artist, Spill tab has released multiple songs that are entirely in French, including her first song to be playlisted, "Calvaire," and "en quatre," off of her most recent album. She surprised unfamiliar audience members with the switch, which had one girl to my right whispering to her friend, "Is that French, or did I start drinking too early?" For Claire, keeping in touch with her French roots through her music is vital.
"I grew up with a lot of French family members. My dad's side, they're pretty much all from North Africa and immigrated to France. They're all French-speaking, so it's definitely a huge part of my identity and it was just a way to keep that as a part of the project, and also a way for me to have a reason to go to France, you know, and keep the language going in my day-to-day life."
As for maintaining the excitement for making music and the intimacy of her sets, she says working with friends has been the key to her success.
"Sophia, my tour manager, I've known her for like, six years. We went to college together. Caleb is kind of from the L.A. scene that my good friend David is also a part of. I think really what it is is that touring is hard, you know? It's a blessing and it's so much fun, but it can be really tough, so to be around people that you are on the same emotional wave as means the world to me 'cause it just means I can be myself and we can support each other when sh*t is hard."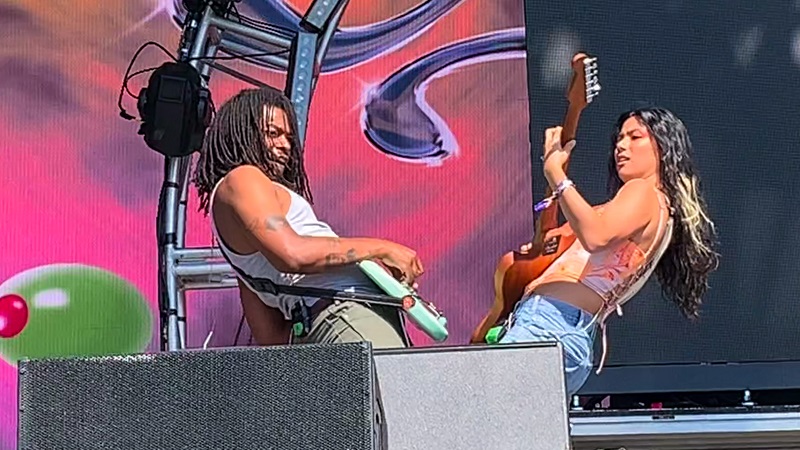 "And when sh*t is good, we have a good time together!" she adds. "I'm just lucky that they're really good at what they do. Like Gabe, our drummer, is an incredible drummer but also an incredible person, so it just makes my life really easy. I think the banter most of the time, there's really nothing prepped so we're just shooting the sh*t onstage and also just communicating with each other, talking to each other. It's definitely very casual and I like it that way."
I asked Claire if there's a question she's always wanted to be asked during an interview, to which she responded: "What's your ideal meal, like appetizer, entree, dessert?"
"I think appetizer, probably pop off on some, you know, sashimi, some salmon, some type of sushi or Japanese-type situation," she shares. "I think a good entree… hmm… I'm craving a truffle mac and cheese right now. It will ruin me physically, but I'm here to eat cheese! And the dessert, probably a warmed up pecan pie with ice cream on top."
Finally, what's next for Spill tab? According to Claire, "More music, more touring, hopefully I get to spend some time every month or two. But yeah, more music, more good times ahead."
ACL-goers interested in seeing Spill tab perform during Weekend Two can catch her show on Saturday, Oct. 15 at the Miller Lite Stage. She will also be performing with Benee at Scoot Inn at 7 p.m. for ACL Fest Nights.