After the U.S.,
the world's largest consumer of Spam is South Korea. But how did a simple processed meat product turn into a popular luxury item in an East Asian country?
With its pale pink hue and spongy texture, Spam has been called "disgusting" and "inedible" in the U.S since the late 1930s. Hormel Foods Corporation states that their product contains just
 six ingredients, but the canned good has received a reputation for being "mystery meat,"
prompting Hormel to create campaigns such as "Don't Knock It 'Til You've Fried It."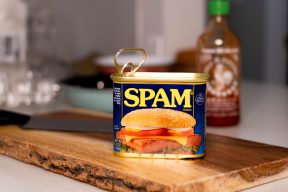 Throughout the decades, however, this soft block of processed pork has become a kitchen staple and comfort food to people around the world. It is now the star of different snacks and meals, such as Spam musubi from Hawaii, goya champuru from Japan and Spamsilog from the Philippines.
In South Korea, this tinned treat is a popular ingredient in several dishes, including kimchi fried rice, budae jjigae and kimbap. While its packaging might scream kitsch to consumers in the U.S., Spam is considered a gourmet item across Asia, something you can even include in a present for Chinese New Year.
But to become a status symbol outside of the U.S., this canned product needed to travel thousands of miles while the world was at war.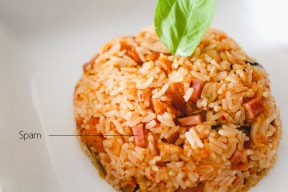 Finding a New Home in Asia
Subscribe to
NextShark's Newsletter
A daily dose of Asian America's essential stories, in under 5 minutes.
Get our collection of Asian America's most essential stories to your inbox daily for free.
Unsure? Check out our Newsletter Archive.
Years later, it
served as an affordable source of protein in the U.S. during World War II. As U.S. troops moved to different countries throughout Asia and the Pacific, they brought Spam with them. Countless people
lacked access to fresh meat
after the war finally ended, making Spam a popular item in places where U.S. soldiers were stationed, including the Philippines, Japan and Guam. In South Korea, it even became a form of currency for soldiers and citizens who sought after
"everything from dental care to building supplies to tactical information."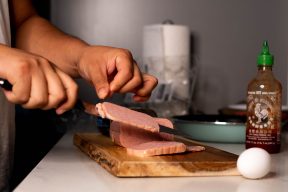 With dishes such as budae jiggae, every sip and bite is an act of consuming history. In the years following
World War II, South Koreans needed to create meals with manufactured, affordable ingredients such as instant noodles and canned goods. Budae jiggae, which roughly translates to "army stew," is a

spicy soup

that is typically made with beans, kimchi, instant noodles and processed meat.
To make budae jiggae after World War II, South Koreans would toss in U.S. Army rations which were "
sometimes smuggled off military bases or donated by soldiers." Although it isn't the healthiest dish out there, budae jiggae with Spam has fed thousands upon thousands of hungry mouths over the decades, becoming an iconic dish in South Korean history.
According to Robert
Ji-Song
Ku, the author of "Dubious Gastronomy: The Cultural Politics of Eating Asian in the USA," Spam turned into "
a symbol of American generosity in helping feed the people" after World War II.
Koo Se-woong, a former lecturer of Korean Studies at Yale University's MacMillan Center for International and Area Studies, echoed a similar sentiment, telling the
New York Times
that "[due to] Spam's introduction to South Korea through the U.S. military, it enjoyed an association with prosperity and nutritiousness during an earlier era."
Decades before unwanted emails were
labeled as "spam"
in the U.S., countless East Asians were already considering the processed product as "prosperous," a type of food worthy of hoarding even after post-war poverty.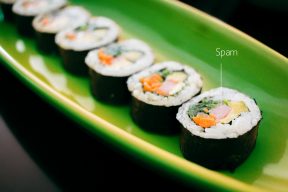 Spam's Rise to Fame
As more South Koreans added Spam to their everyday meals, the more it rose in popularity. According to a 2000 article in
The Journal of Popular Culture
by George H. Lewis, a professor in the Sociology department at the University of the Pacific, Spam outranked both KFC and Coca-Cola in status, becoming a present given "on occasions of importance when one wishes to pay special honor and proper respect." It is now seen by many consumers as a luxury item that deserves a premium gift box and a fancy bow. For more than a decade, it has been a go-to gift option for the lunar thanksgiving holiday,
Chuseok
, which in turn has significantly helped in promoting its sales. In fact, "nearly 20,000 tons, worth $235 million" of Spam were sold in 2013, according to New York Times.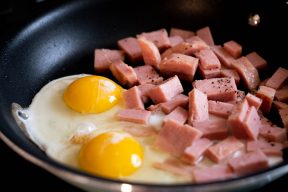 From hungry schoolchildren to pregnant women craving a snack, Spam has been consumed and enjoyed by people all over South Korea. Whether served as a side dish or paired with kimchi, rice and fried eggs, this luxury item brings about not just convenience, but also years of history packaged in a classic blue and gold tin.