A chocolate-covered biscuit brand bearing the name "Filipinos" has caught the attention of an official in the Philippines after it was discovered that it is now being sold locally in the Philippines.
The snack from Spain, labeled with the caption "chocolate negro," has sparked controversy in the past for having the same name as the people of the Philippines.
LOOK: A membership-shopping club sells "chocolate negro" snack labeled "Filipinos." Sec. Ramon Lopez tells @gmanews, @DtiPhilippines will investigate as it is "not allowed (in PH) to use country or nationality in a brand." pic.twitter.com/fl0EUSXhud

— Cedric Castillo (@cedric_castillo) February 17, 2019
It was recently discovered being sold at a membership shopping club in Manila by GMA reporter Cedric Castillo.
According to the Department of Trade and Industry (DTI) Secretary Ramon Lopez, the brand should not be allowed to be sold in the Philippines.

"It is not allowed to use a country or nationality‌ in a brand. It may be allowed in their country or nakalusot, but not allowed here," Lopez was quoted as saying.

Lopez, however, noted that the racist connotation of the "chocolate negro" caption may have been lost in translation, and that it may simply mean "dark chocolate."
Filipinos, the snack, come in several varieties and are usually coated in either milk chocolate, dark chocolate, or white chocolate.
Milk or dark chocolate versions feature a lightly-colored biscuit while the white chocolate versions feature a dark brown biscuit. The dark and white chocolate versions are also available in the Filipinos GoPack or a smaller packet called, Mini Filipinos.
The snack brand has been sold on the market for over 40 years and has been under different company ownership over the years.
Before the snack was bought by Nabisco, there were claims that the snack was named as an analogy for Filipinos being dark on the outside, yet striving to be more "white" on the inside.
In 1999, the government of the Philippines filed a diplomatic protest with the government of Spain, the European Commission and the then manufacturer, Nabisco Iberia.
The protest, which objected to the use of the name "Filipinos" for the snack, demanded that Nabisco stop selling the product until the brand name was changed.
A resolution filed by then Philippine Congressman Heherson Alvarez stated: "These food items could be appropriately called by any other label, but the manufacturers have chosen our racial identity, and they are now making money out of these food items."
Then Philippine president Joseph Estrada also called the brand "an insult."
The online reaction from netizens is split, with some Filipinos (the people) finding the reaction absurd while others think that the manufacturers should be rightfully called out.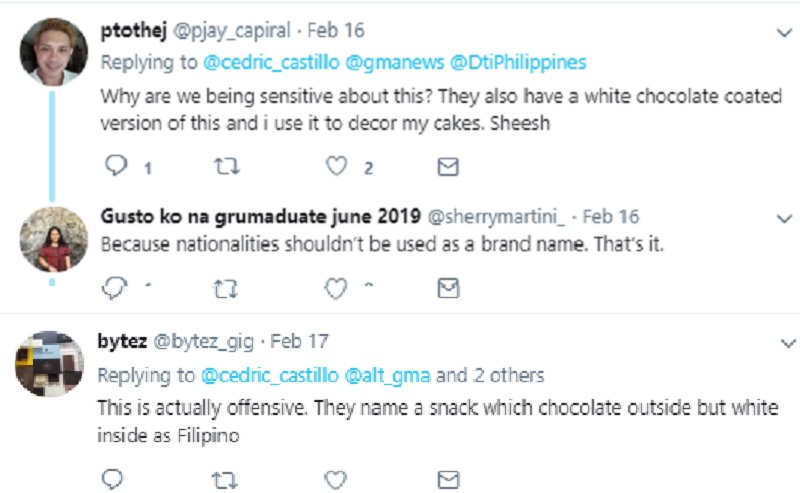 According to Castillo, Sec. Lopez has stated that the DTI will look into the matter.
Featured image via Wikimedia Commons/Editore Editore (CC BY-SA 2.5)