Singer and songwriter Jeremy Manongdo, also known as "Passion," took to Facebook to ask his followers about the striking similarities between Daniel Caesar's "Best Part feat. H.E.R" and one of his original songs.
The Filipino American artist was still a teenager when he became an overnight online music sensation back in 2003 after uploading a song called "Lemonade" on music streaming site SoundClick. 
It recently came to his attention that the song, which became a hit among many Fil-Ams and teens in the United States, may have, in some way, inspired Daniel Caesar's 2017 hit.
In a Facebook post on Tuesday, he made a short comparison between the two songs, writing: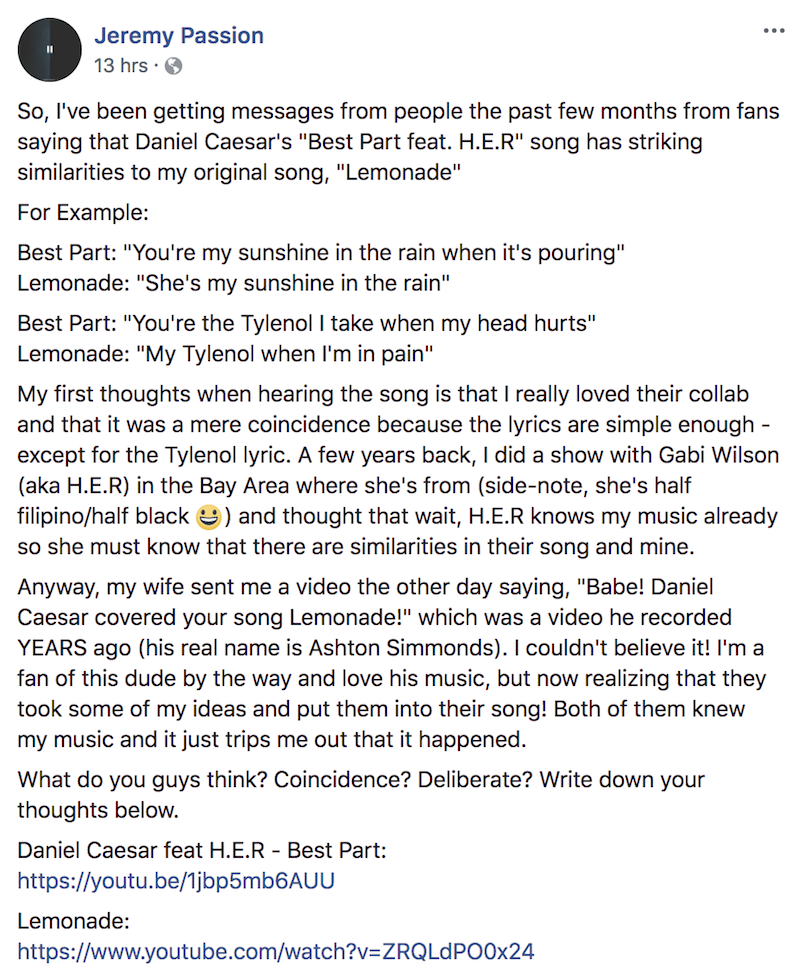 "So, I've been getting messages from people the past few months from fans saying that Daniel Caesar's 'Best Part feat. H.E.R' song has striking similarities to my original song, 'Lemonade'
For Example:
Best Part: 'You're my sunshine in the rain when it's pouring'
Lemonade: 'She's my sunshine in the rain'
Best Part: 'You're the Tylenol I take when my head hurts'
Lemonade: 'My Tylenol when I'm in pain'"
He noted that he initially dismissed the similarities as coincidence:
"My first thoughts when hearing the song is that I really loved their collab and that it was a mere coincidence because the lyrics are simple enough – except for the Tylenol lyric. A few years back, I did a show with Gabi Wilson (aka H.E.R) in the Bay Area where she's from (side-note, she's half Filipino/half Black :D) and thought that wait, H.E.R knows my music already so she must know that there are similarities in their song and mine."
But then, he realized there were indications that Caesar may indeed have taken portions of "Lemonade" for his song, albeit leaving Passion uncredited:
"Anyway, my wife sent me a video the other day saying, 'Babe! Daniel Caesar covered your song Lemonade!' which was a video he recorded YEARS ago (his real name is Ashton Simmonds). I couldn't believe it! I'm a fan of this dude by the way and love his music, but now realizing that they took some of my ideas and put them into their song! Both of them knew my music and it just trips me out that it happened.
"What do you guys think? Coincidence? Deliberate? Write down your thoughts below."
His followers shared their opinion on the issue, mostly agreeing that the two songs indeed sound similar: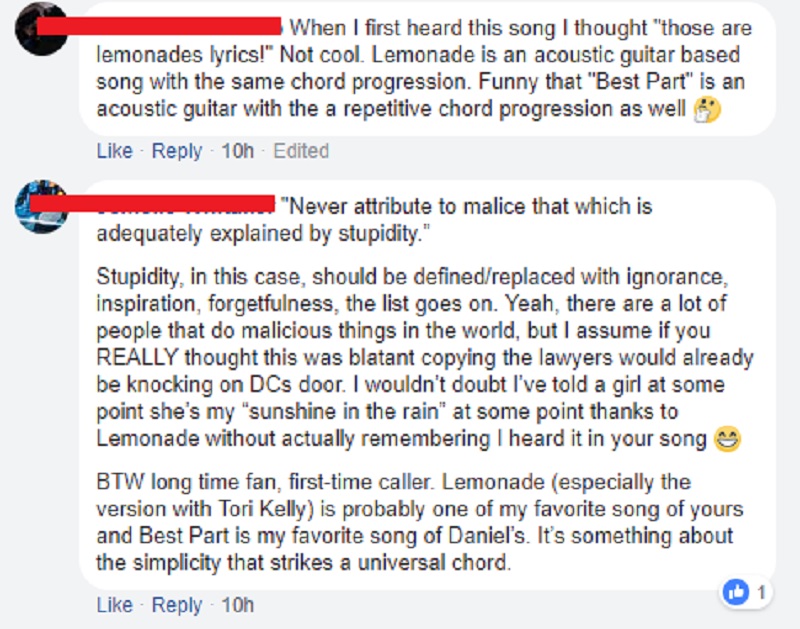 Some of the comments pointed out that a coincidence is a reasonable explanation:

However, most netizens felt Passion needs to take legal action: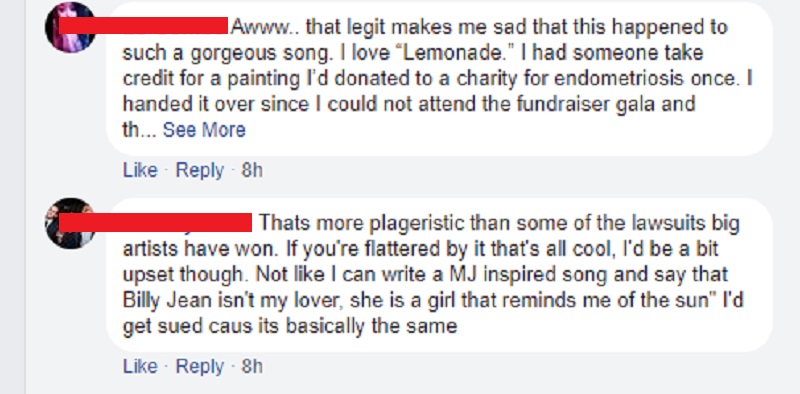 Passion, whose popularity further exploded after joining YouTube in 2006, has since generated a combined total of 61.4 million views on his channel which currently has over 300,000 subscribers.
Feature Image via Instagram / jeremypassion