Before you read:
Singaporean photographer claims artist 'ripped off' her work, 'mansplained' copyright to her
Luxembourg art exhibit issues response to photographer Jingna Zhang's accusations of plagiarism

---
A Luxembourg district court ruled on Wednesday that Jeff Dieschburg, the artist accused of copying Singaporean photographer Jingna Zhang's work, did not commit plagiarism.
According to Zhang, the basis of the ruling was that "the model's pose in my photo is not unique."
Zhang had accused Dieschburg of plagiarism in June, posting a side-by-side comparison of her original photo, which was taken from her cover shoot for Harper's Bazaar Vietnam in 2017, and his painting on Instagram.
View this post on Instagram
Dieschburg's painting had been exhibited at the Commune de Strassen in Luxembourg and displayed for sale with a 6,500-euro (approximately $6,829) price tag.
"Some guy really ripped off my photo, won a €1,500 prize, exhibited in a biennale supported by the Luxembourg government, then tried to mansplain copyright infringement to me," Zhang wrote in a Twitter post. "Where can I find a Luxembourgish speaker to help? Unbelievable."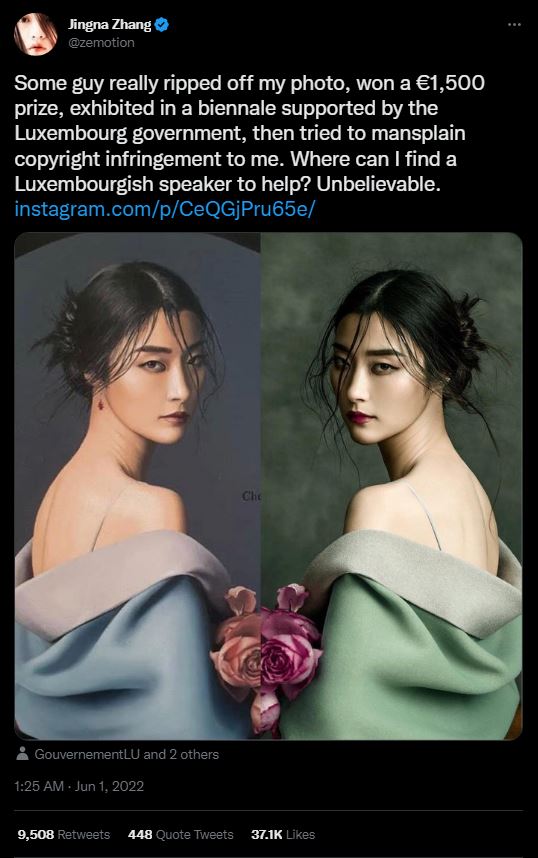 Organizers of the exhibition responded to Zhang's post, claiming they were not aware of her work prior to featuring Dieschburg's painting.
However, Dieschburg denied the photographer's accusations, arguing that as a figure painter he was simply using a reference.
"It is a production carried out within the framework of my studies," Dieschburg told L'essentiel. "A painter can appropriate a material and transpose it into another context. I defend the principle of mimicry. It's a common artistic strategy. I am still a student. I need references to transcribe the world around me."
"I can't stand an exceptional talent being persecuted for nonsense," said Dieschburg's lawyer, Gaston Vogel. "You can't accuse him of plagiarism. In the story, artists inspire each other. Those who accuse him are wrong."
Other artists also came forward with accusations of plagiarism against the painter, in which his paintings are shown to be near identical replicas of their work with minor elements added to his paintings, such as tattoos or accessories.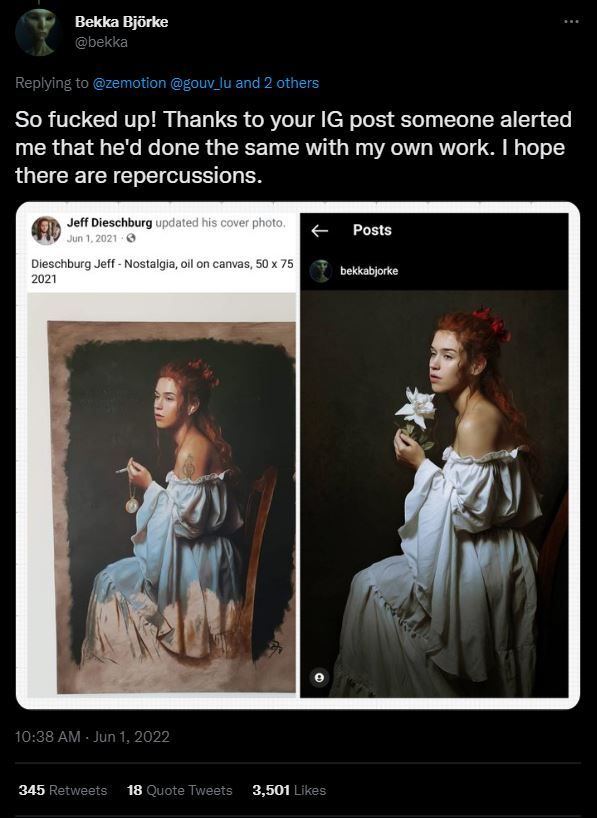 Zhang posted her reaction to the ruling on Twitter, stating that she plans to appeal the court's decision.
"I am devastated by the copyright ruling in Luxembourg today, which stated that my work lacks originality and therefore will not receive copyright protection in Luxembourg," Zhang wrote in her thread. "If having a unique pose is the premise for copyright protection of an image, then nearly all portrait works in the world will not have copyright protection."
"The fact that my work has been copied by others countless times is a testament to its originality and style—including in this particular case, where it's been exploited by the violator for a painting that won an award, exhibited, and was offered for sale for €6,500. This ruling effectively allows anyone in Luxembourg to freely exploit, sell, license, and use my work without permission or respect for my rights, despite recognizing me as the copyright holder of my work. This simply goes against the very principles of copyright law."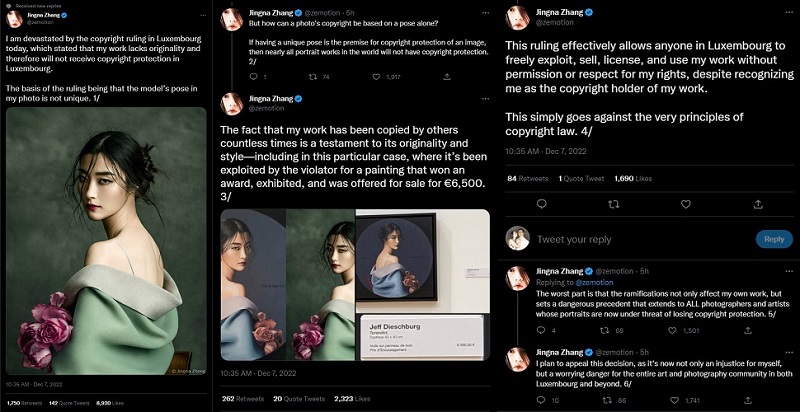 Zhang's lawyer, Vincent Wellens, confirmed their intention to appeal, calling the ruling "absurd" and "incomprehensible, given that in the past, copyright was recognised for advertisements for a hairdresser."