Months after the release of the documentary "The Problem With Apu", "The Simpsons" finally broke its silence via a weak joke that simply dismissed its criticisms while poking fun at the film's creator, Hari Kondabolu.  
Kondabolu's work, which was aired on TruTV in November of last year, criticized the long-running cartoon series for its problematic portrayal of the Indian character named Apu Nahasapeemapetilon.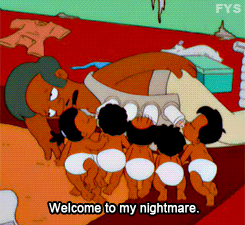 In the documentary, Kondabolu expressed how he despised Apu, a stereotyped Indian character, despite his appearance in a show he loved dearly.
Kondabolu had earlier described Apu's voice at the "Totally Biased With Kamau Bell" as,
"A White guy doing an impression of a White guy making fun of my father."
The creators and showrunners for "The Simpsons" have generally remained mum on the controversy.
The closest to a response Kondabolu received was from an interview of Hank Azaria, the voice behind the character with a thick Indian accent.
"I think the documentary made some really interesting points and gave us a lot of things to think about and we really are thinking about it,"
Azaria told TMZ back in December, noting that he found the situation
"upsetting."
In a recent episode, characters Marge and Lisa broke the fourth wall and made a reference to Kondabolu's documentary, apparently dismissing it as pointless simply because the character was able to get away with being offensive for decades.  
Subscribe to
NextShark's Newsletter
A daily dose of Asian America's essential stories, in under 5 minutes.
Get our collection of Asian America's most essential stories to your inbox daily for free.
Unsure? Check out our Newsletter Archive.
During the scene, Lisa spoke directly at the camera, saying, "It's hard to say. Something that started decades and was applauded and inoffensive is now politically incorrect. What can you do?"
The camera then focuses on a portrait of Apu, which the words "Don't have a cow, man!" scribbled on it.
"Some things will be addressed at a later date,"
Marge replies.
"If at all," Liza then adds.
Kondabolu took to Twitter to address the show's lame response to his movie:
"In 'The Problem with Apu,' I used Apu & The Simpsons as an entry point into a larger conversation about the representation of marginalized groups & why this is important. The Simpsons response tonight is not a jab at me, but at what many of us consider progress."
Meanwhile, "The Simpsons" showrunner Al Jean retweeted a tweet saying,
"Loved how you guys handled this non-issue. People just want to cry about everything nowadays b/c it makes them feel like they're doing something. … Oh, and I'm Indian and according to Twitter my opinion matters more on this topic."
Other Twitter users, however, have pointed out the episode's worst crime of all: using Lisa, the show's voice of reason, to deliver its dismissal of the documentary's critique.
It remains to be seen how the problem with Apu will be handled — or, as Lisa disappointingly put it, "if at all".