In South Korea, where more than half of Korean men are reported to have paid for sex at least once in their life, prostitution remains rampant.
Sexual services are openly offered in brothels, massage parlors or room salons in places like Miari, one of the largest red-light districts in Seoul.
This is where writer and director Jason Y. Lee, and his brother, producer Edward Lee, speak to young women who offer a glimpse at the shadowy underbelly of South Korea's sex trade in their documentary "Save My Seoul".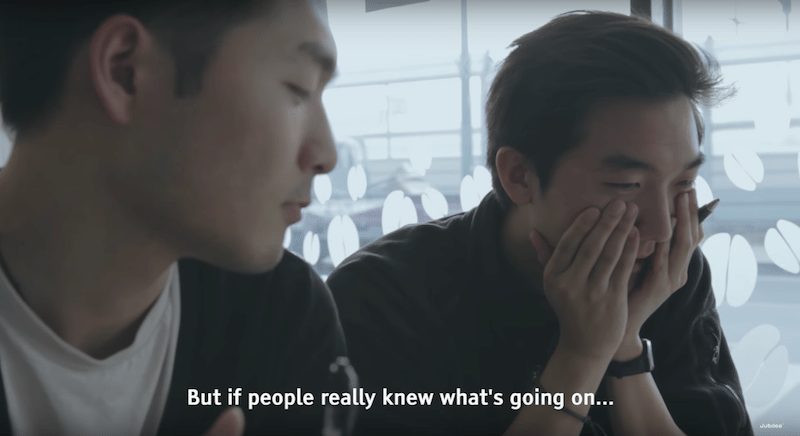 After watching "Back to Innocence", a short film by Lee and his crew at the Jubilee Media, Korea-based pastor Eddie Byun invited them to travel to Seoul to create a documentary exposing prostitution and sex trafficking.
Lee told NextShark there was a little bit of confusion and hesitation at first.
But once the 29-year-old filmmaker and his team arrived in South Korea's capital, their perspective changed and they learned that this was indeed a real issue that he described as "very deep and very systemic".
"We [at Jubilee Media] want to tell stories about human experiences, human condition, human questions, and at the core of it we want to tell stories that are really compelling," said Lee.
"Save My Seoul" reached #6 on the iTunes documentary category when it was released on July 4.
Check out the trailer for the film below:
Here's the official synopsis for "Save My Seoul":
"Eddie and Jason, two Korean-American brothers get in over their heads when they are called to Korea to make a short film on prostitution and sex-trafficking. Things get complicated when they meet Crystal and Esther, two prostitutes who reveal just how deep the problem goes and set off on a dangerous mission to capture the truth.
"With the use of hidden cameras and access to pimps, johns, and sex-workers, the filmmakers explore and unravel the complexity of the sex trade in Seoul. They learn that this problem is rooted in issues far deeper than exploited girls and lustful men. Instead, it's a consequence of a culture and government that turns a blind eye to and condones the biggest human injustice of our time."
We chatted with Lee further about "Save My Seoul" and his plans for the future of the feature length documentary.
Q: It was hard for you guys to find sex workers who were willing to talk at first. How did you get Crystal and Esther to finally open up?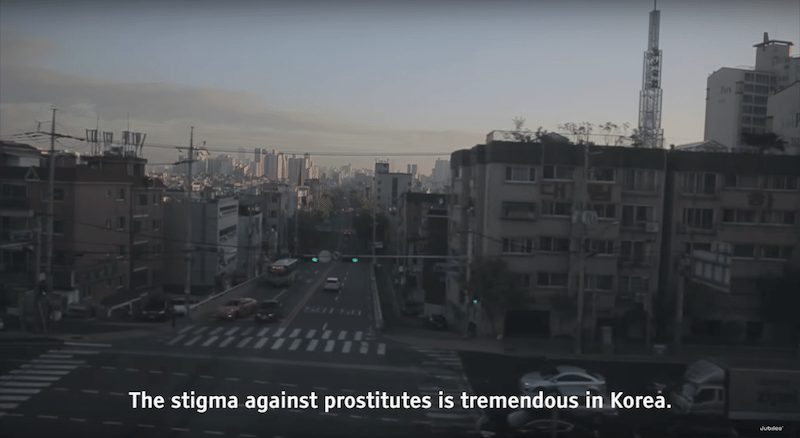 "I think that at first they were really special girls. And I think it's really clear when you watch the film.
"I think they're really courageous and really brave in a lot of ways. Despite having gone through such terrible experience, they still had this like willingness and openness to want to help others, too. While initially they were very hesitant, once they recognized why we wanted to do this and that maybe in some way that their story would help other girls, that's what convinced them to be a part of it."
Q: A lot of these cases involve women who have gone through rough childhoods. What might be another reason someone would go into prostitution?
"A major reason why a lot of these women go into it is because of yeah, like you mentioned, childhood problems, whether it's abuse, physical or sexual, or mental neglect.
"There's all these teenagers that run away from home every year. It's a huge problem and the system isn't really set up for them to find great opportunities for work or even shelter or anything like that. One of the common misconceptions in Korea is this idea that these girls are doing this because they are like greedy and wanting a lot of money. These women aren't like that at all. If they had a choice they wouldn't be doing it."
Q: Were you and your crew ever scared for your life while filming in any of the areas?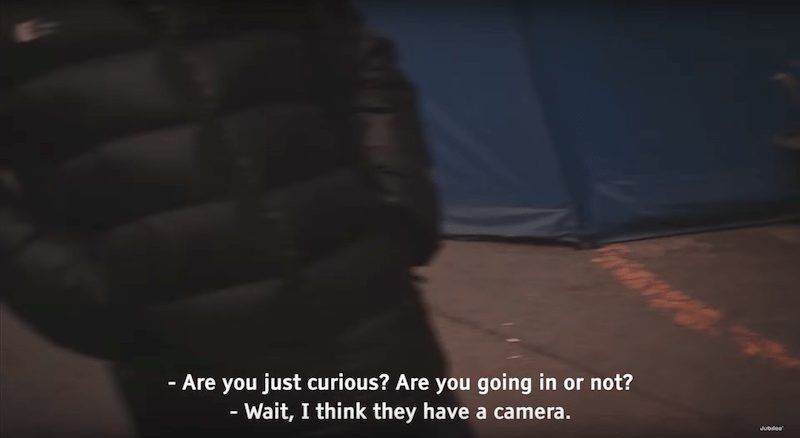 "All of the instances that you saw were very real. Now that we know a little bit more about the issue and the danger, I'm not sure if we would have done all the things we did because it's really really dangerous and scary to be in that kind of situation.
"That being said, we knew what everyone would say if we didn't get footage like that. We knew that people would say 'no but this is not a really big issue' or 'not all these men do'. But we knew that if we got real footage that showed the women, the men, and show honest perspectives, it would be something that you couldn't rebut."
Q: How many of the brothels in total did you end up going to for footage?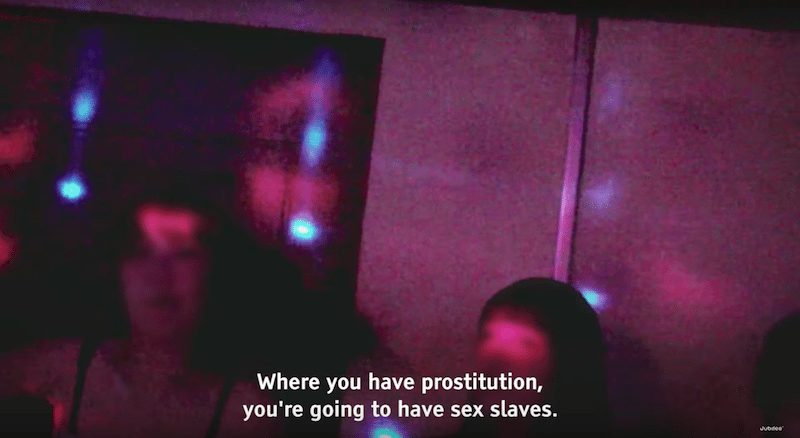 "Oh my gosh, in the final scene when we were in Miari, we probably visited at least 15 or 20 brothels. And each of them had anywhere between five to 15 women. So we were seeing literally hundreds of girls and it was just really heartbreaking."
Q: The documentary mentioned that sex workers have a difficult time trusting men in relationships. Do they ever overcome or deal with trust issues later on?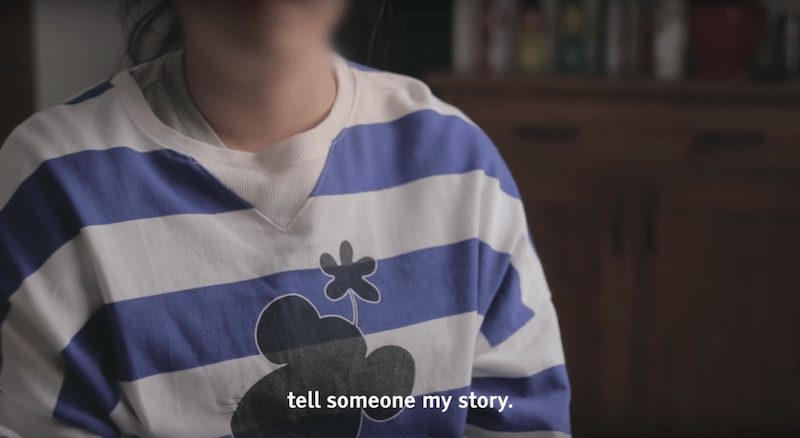 "It's a bit of a process where I think that slowly they're learning how to create relationships and trust men again. Like, I know Esther, for instance, is dating someone and that's a good sign.
"I don't know if you have heard about the news of what happened with Crystal.
"We haven't really shared that much about the details and frankly because we don't have all the details either.
"But one of the reasons why production took so long is after we finished the film, we learned in the fall of 2016 that Crystal actually passed away, and we believe it's because she committed suicide.
"And that was really tough because I think for us they represented a lot of hope still, and I think it just reinforces and reminds us how critical this issue is and how we have to prevent any girls from going in the first place.
"I think Crystal was really battling a lot of her own demons in the past. But Esther is doing really well, she's in college now and she wants to be an activist.
"For a while we weren't sure what we would do with the film because we weren't sure if we should change it or take [Crystal] out. But now that the film is out, it's really dedicated to her and her courage and her love, her joy which hopefully you got a little glimpse of that during the film.
Q: "Save My Seoul" centers around young women in South Korea. Do you know if there were any male prostitution going on?
"Yeah, there is male prostitution that occurs in Korea as well. To be honest, I'm not as familiar with why or how it happens, but we definitely heard about whether it's bars or places where you can go and find male prostitutes."
Q: Was there anything you got on film that you wish could have made it into the final cut or just didn't have time to put in?
"The one thing that we weren't able to make into the film, which was really powerful was Eddie actually goes undercover to a john school, which is like a rehabilitation school for men who are caught with underage sex workers.
"When you're going into one of these classes, instead of people being really regretful or ashamed or apologetic, they're kind of more indignant and they feel like 'why are we here when everyone is doing this?'"
Q: You've reached your initial goal on Kickstarter. So what would be the next step for "Save My Seoul"?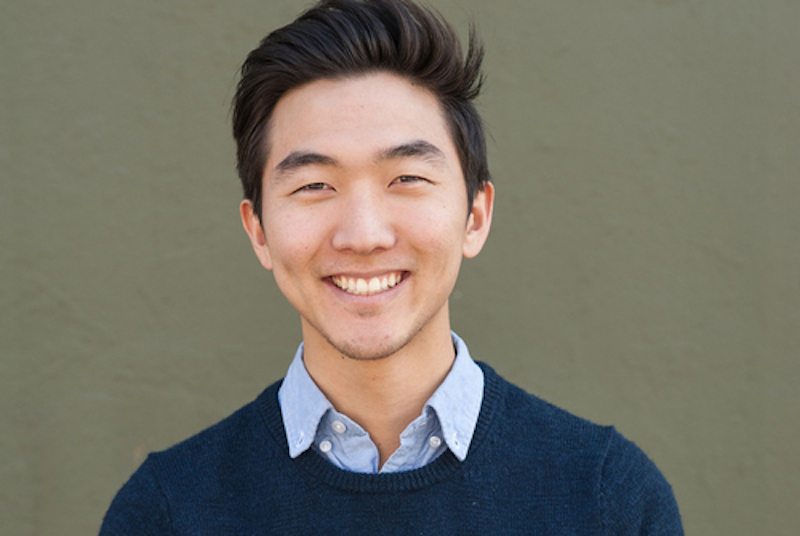 "Our goal is that we want to do as well as possible on iTunes. It kind of shows platforms like Netflix or Hulu or Amazon that there's a lot of demand. I'm really proud to say that we premiered at number six on iTunes under documentary and more than anything we just want as many people to be able to see this film."