Miss Universe Malaysia 2017 Samantha Katie James has apologized for her controversial comments about the Black Lives Movement after facing a massive backlash that led to a petition seeking the removal of her crown.
In a series of Instagram Stories on Monday, James, 25, asked the Black community to relax and take the current situation as a "challenge" because it "makes you stronger."
The beauty queen claimed that African American people actually "chose" to be born colored — and that they did so to "learn a lesson."
"Accept it as it is, till now hunger and poverty still exists. It is what it is. It's inevitable. Best you can do is remain calm, protect heart, don't allow it to crumble," she added. "That's your responsibility."
James pointed out that the matter has nothing to do with her since she does not live in America. However, she believes that those who respond in anger suggest that Whites have "won."
"That means it has power over you. They have power over you," she noted in one Story, which included a meme captioned "foolish humans."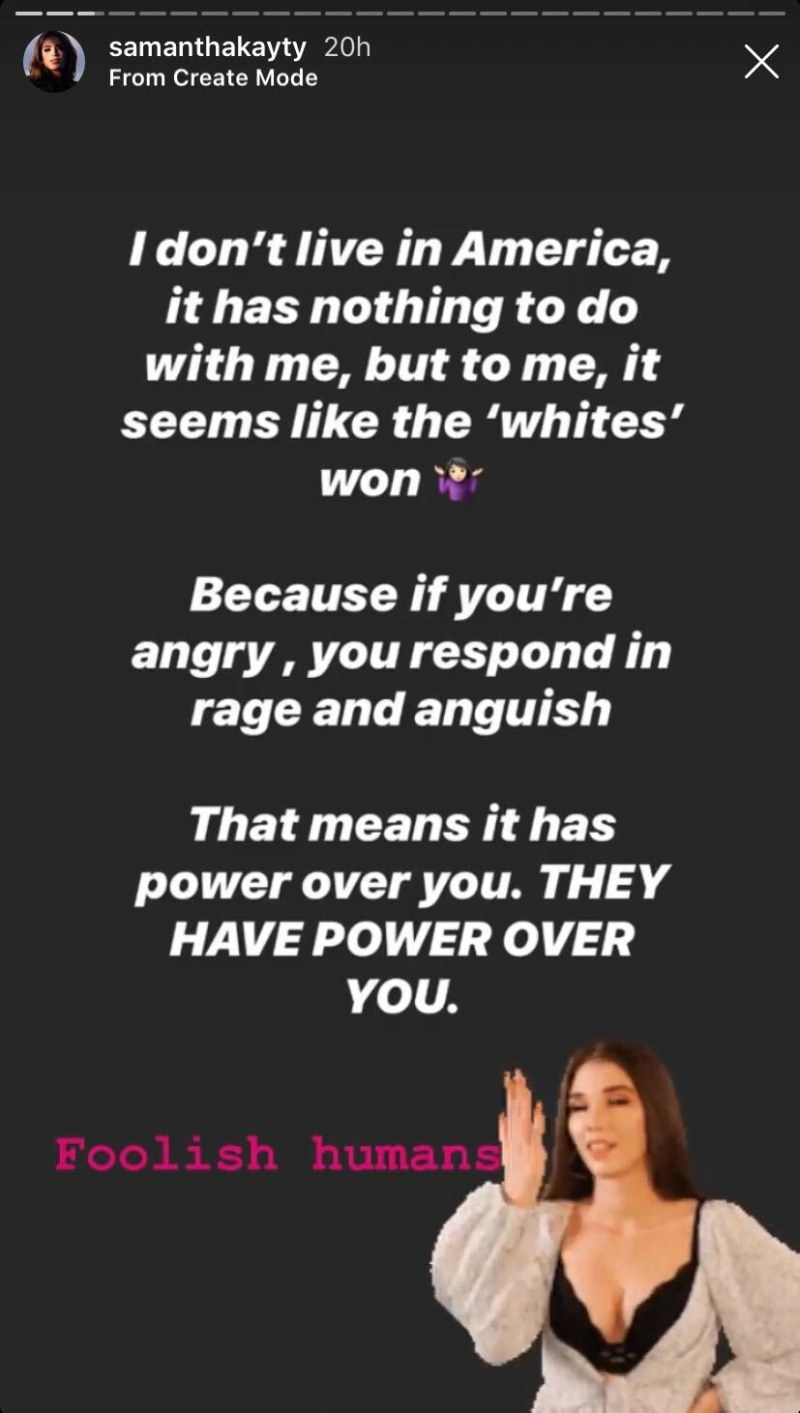 James also took a jab at people who "mindlessly follow" what everyone else does. She blamed them for creating "unnecessary anguish."
Identifying herself as a "White girl," James then shared that she herself had been insulted all her life, particularly during her time at school. The 25-year-old is a Malaysian national of Chinese and Brazilian descent.
"I've always wondered all my life why I'm born here in Malaysia with a Chinese mother and a Brazilian father and raised by an Indian family," James shared.
"So I speak from first-hand experience, not from what I read online."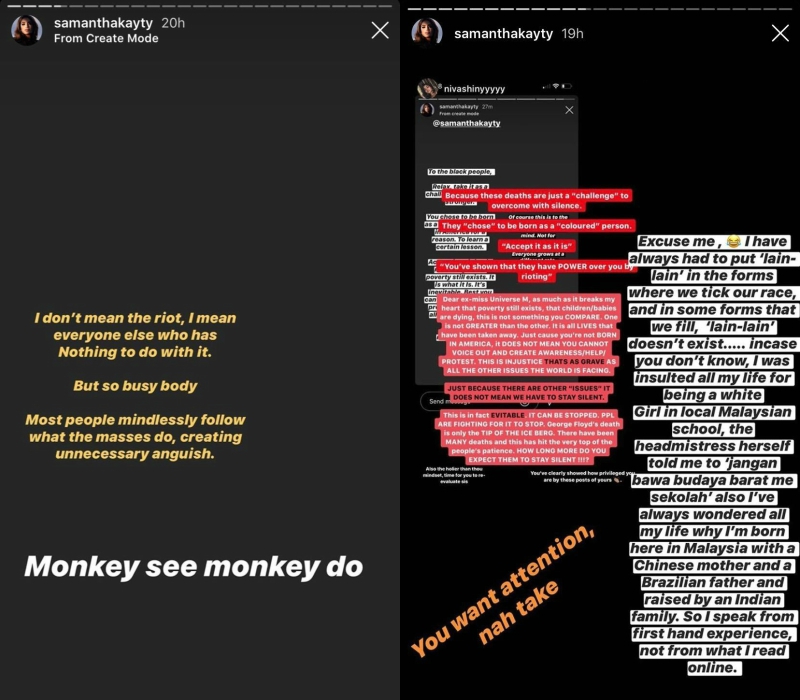 Soon after posting her Stories, James received critical comments from users who called her "stupid" and urged her to take down her remarks.
However, she retaliated by suggesting that such responses only gave her power and that she has no plans of following popular opinion.
Subscribe to
NextShark's Newsletter
A daily dose of Asian America's essential stories, in under 5 minutes.
Get our collection of Asian America's most essential stories to your inbox daily for free.
Unsure? Check out our Newsletter Archive.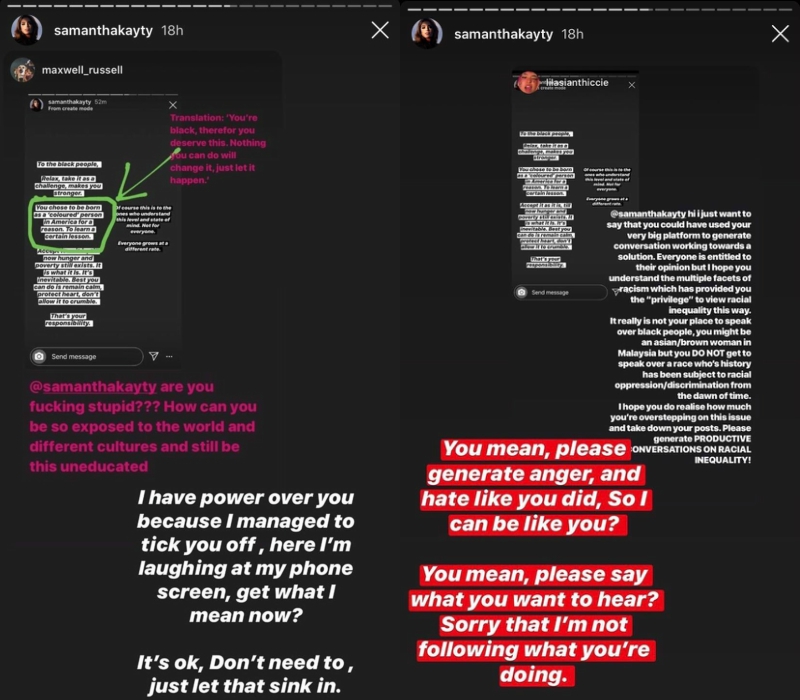 In response to one user who asked her to explain what she meant by choosing to be born colored, James cited the concept of "souls."
"Like our souls chose this life, this country, this race, this human form," she argued. "Specifically. For a reason…"
James's Stories eventually went viral, drawing further criticism from social media users. Some launched
a Change.org petition
asking Miss Universe Malaysia to revoke her title.
Among those who condemned James is "Crazy Rich Asians" star
Henry Golding
, who is also Malaysian. He called her out for spewing "racist sh*t" and described her as "ignorant" and "selfish" in his Instagram Stories.
"You have zero idea what Black people have to go through on a day-to-day bases [sic]. For you to be talking racist sh*t on a platform like yours needs to be called out.
"It is hundreds of years of oppression and injustices kept in place by money and power from people such as yourself. Ignorant, selfish people."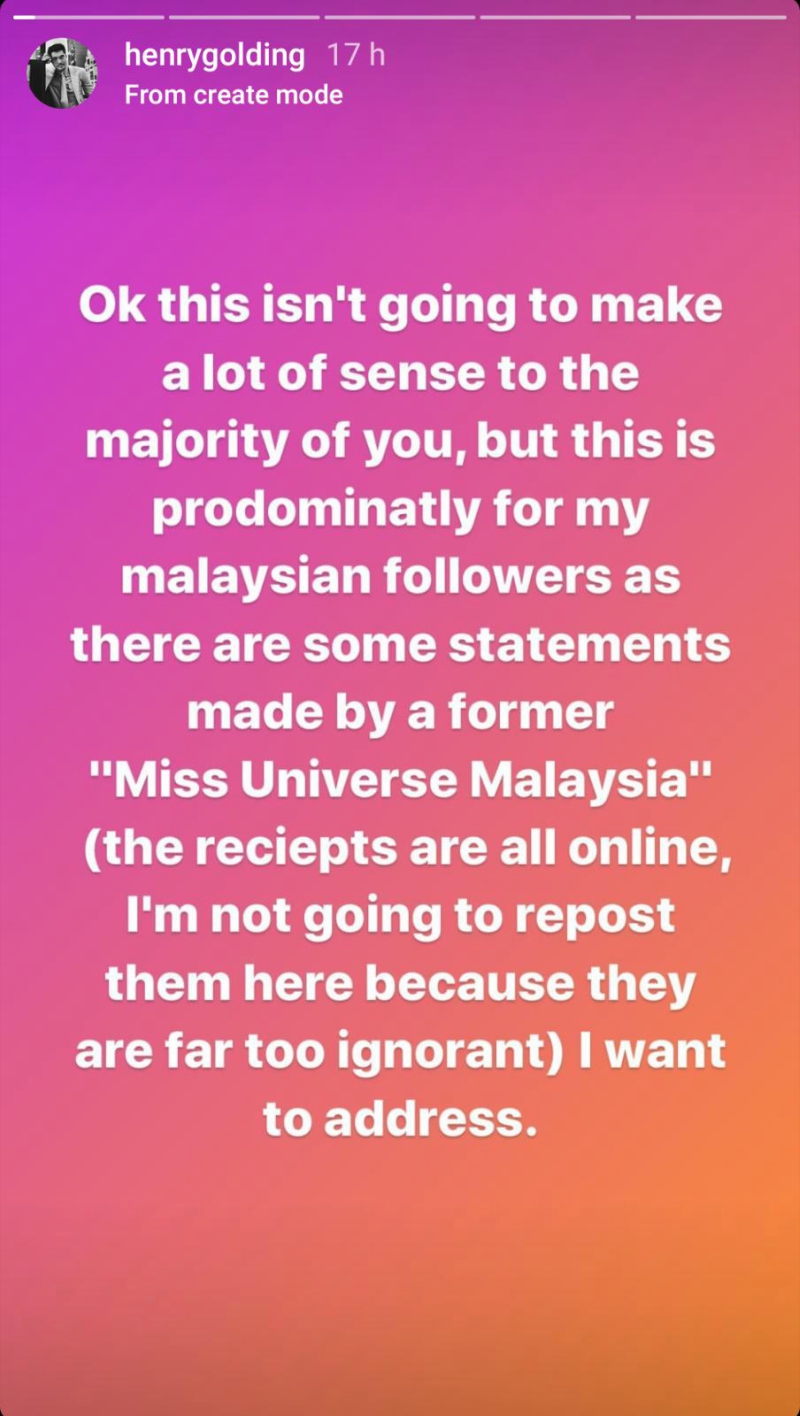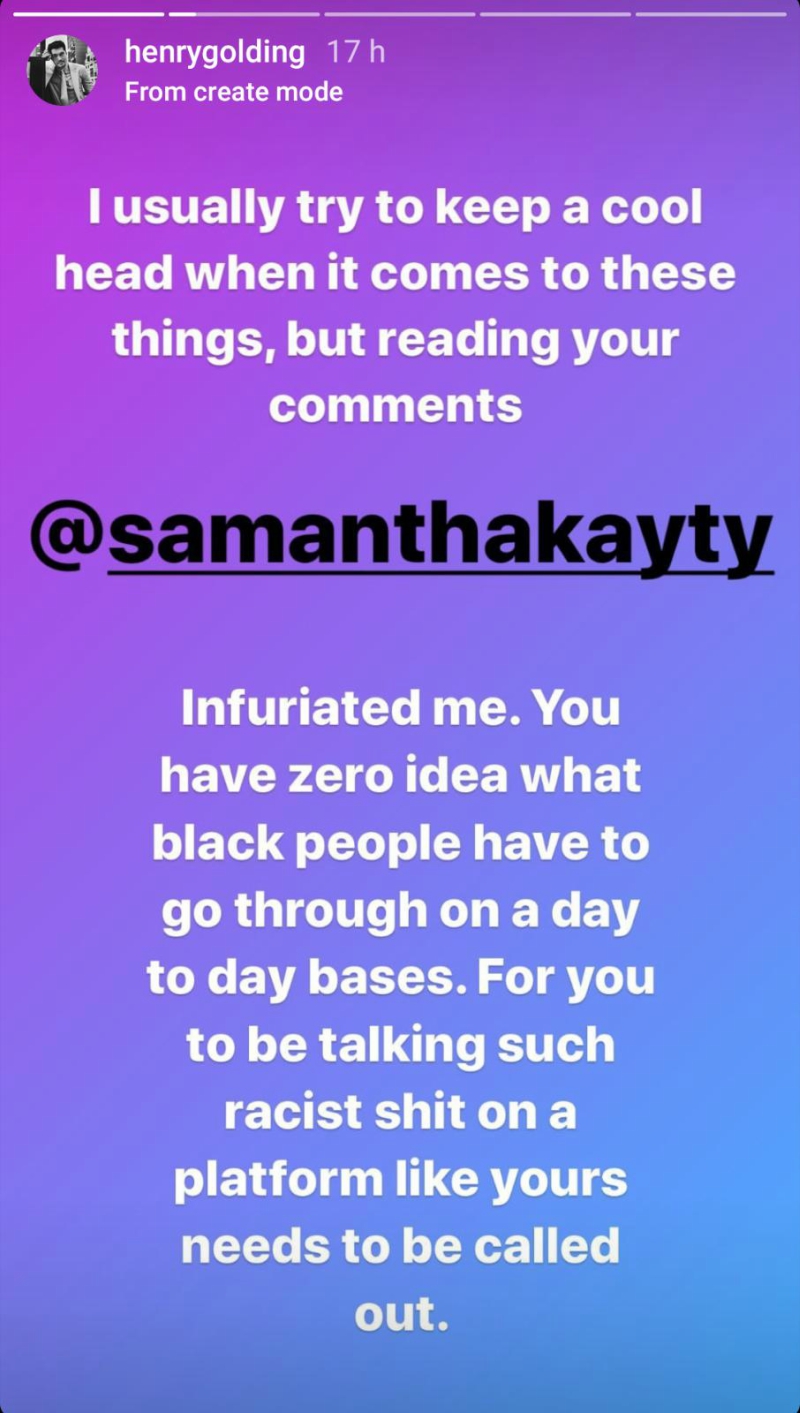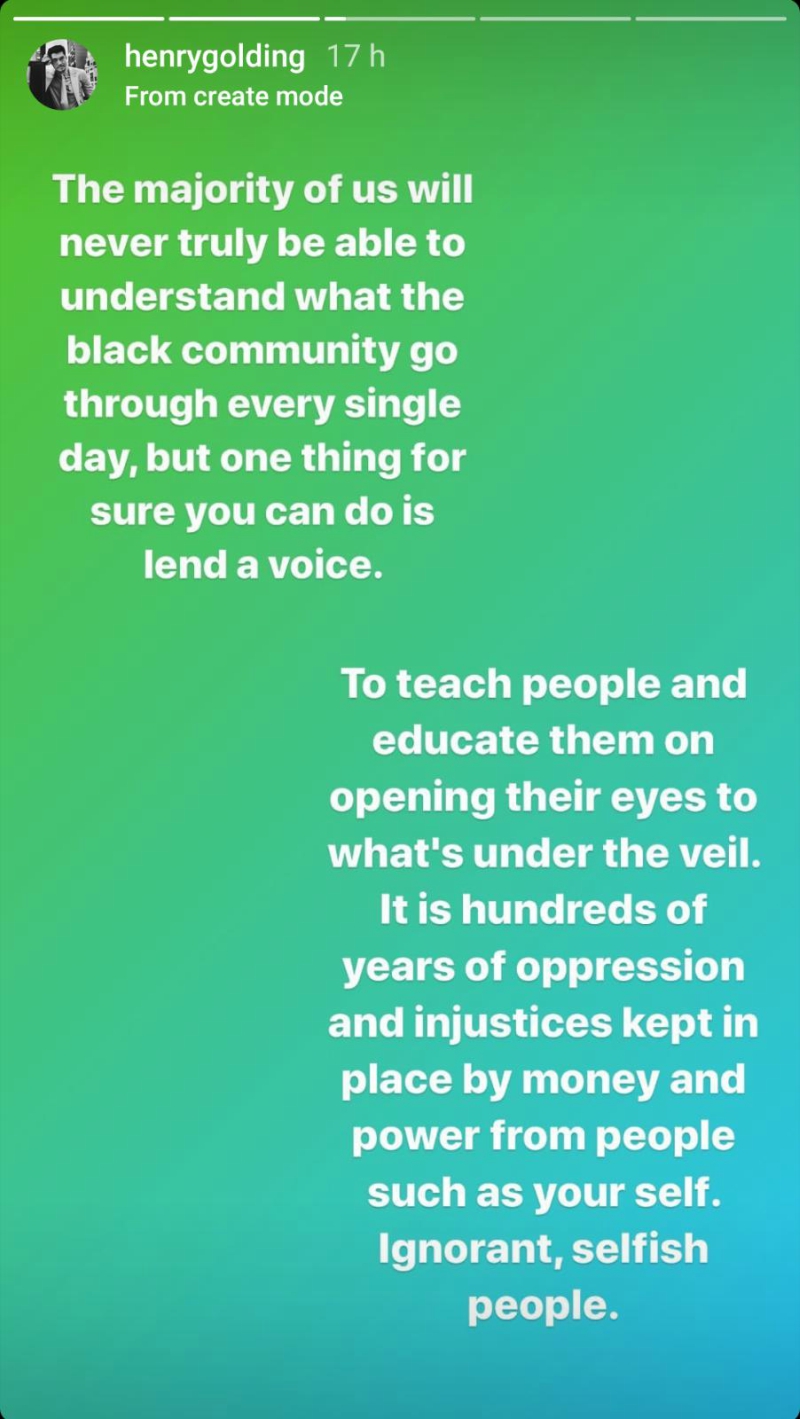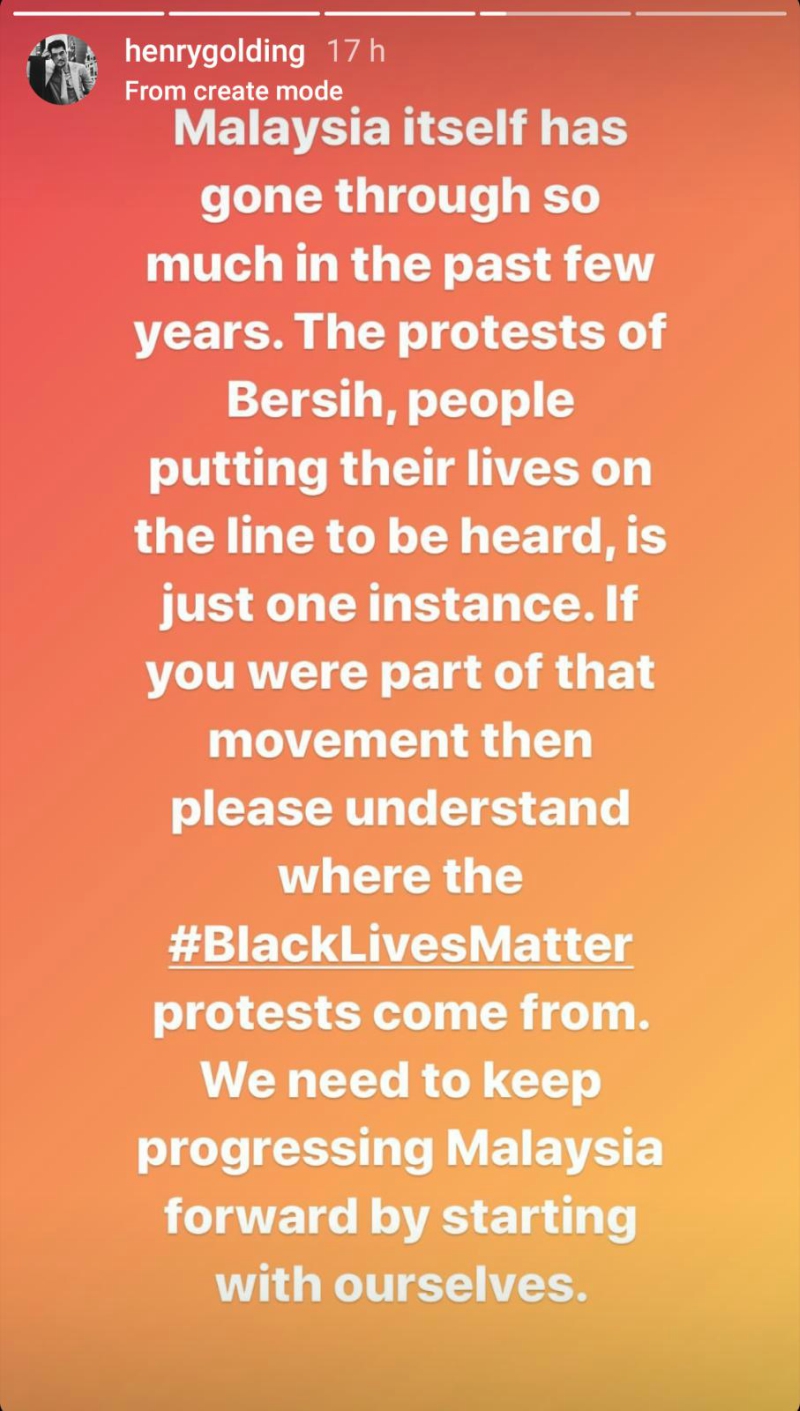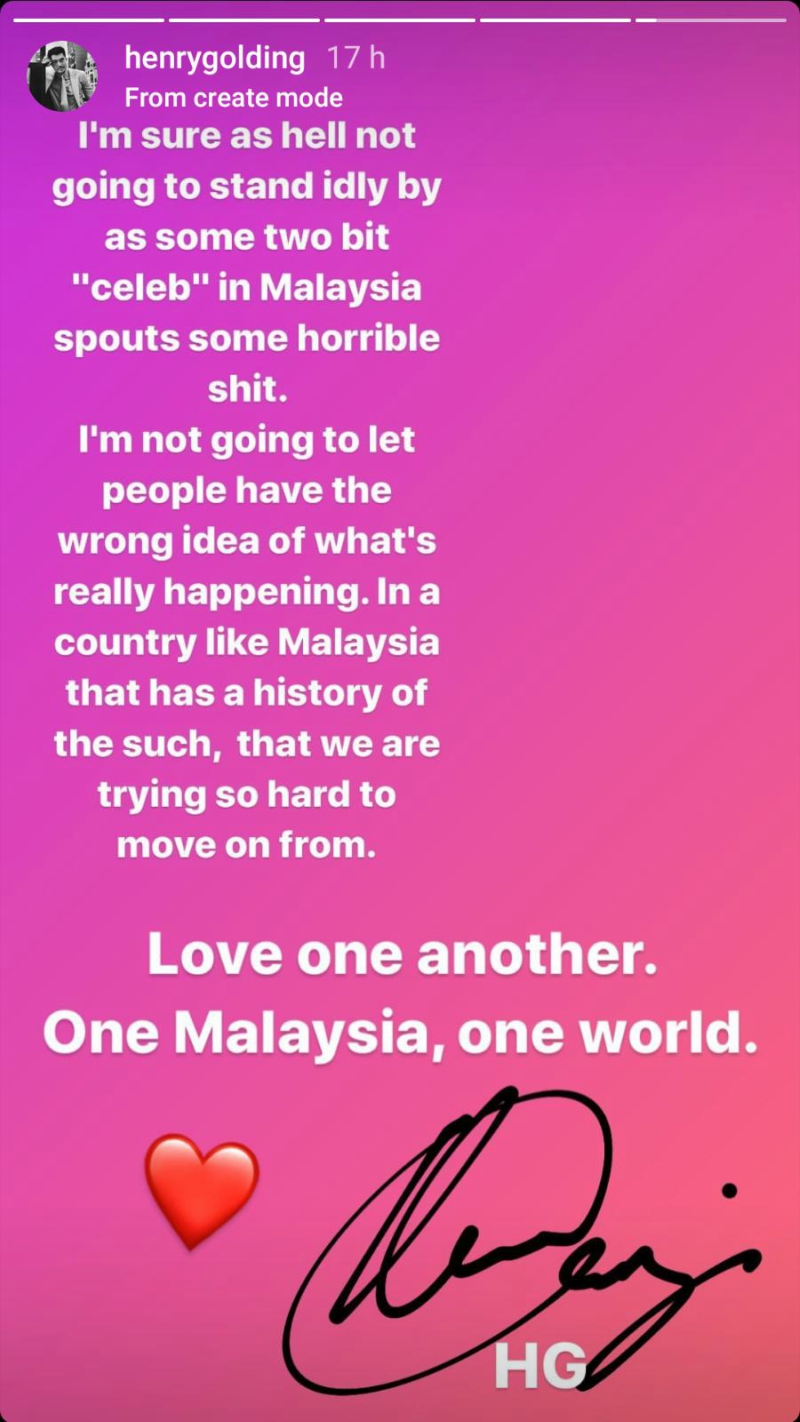 The massive backlash appears to have resulted in Instagram removing the verified badge from James's profile. On Tuesday morning, she "apologized" and acknowledged that she does not understand the issue completely.
"I do hear you, I'm sorry, I know you're hurting," she wrote. "I know it's unfair. I'm not in your shoes to understand this fully."
She continued, however, to expound what she had meant by choosing to be colored.
"Throughout my journey, I have learned that we are more than just this temporary physical body, like an avatar, merely a tiny speck of dust in this vast universe, we tend to overlook that from time to time. In our process towards evolution as a human being, on Earth. We chose our body, our family, our place of birth, our name and our lessons from the path we take [that is] tailor-made for us."
James also claimed that she had "poorly articulated" herself and that she actually sent a "heartfelt" message. She vowed to improve her speech in the future.
"If I had been more attentive in how I wrote it, the message would off [sic] been understood as a heartfelt message to all victims of racism be it any color."
Malaysian makeup Velvet Vanity Cosmetics has since cut ties with James, condemning her tone-deaf remarks.
"Since the beginning of our journey, we are dedicated to cater to everyone albeit their skin colour so for us to support her (James') wrongdoings would be contradictory to our brand name.
"Any posts featuring (James) was made way before this case and we are not affiliated with her anymore.
"As a brand, we support #blacklivesmatter and we would never associate ourselves with racist behaviours in any way," the makeup brand wrote in a statement.