Mariarosa offers looks inspired and taken from the series, featuring seven ethereal dresses and two dapper suits, which will be available to rent in Japan.
1. Princess Serenity Model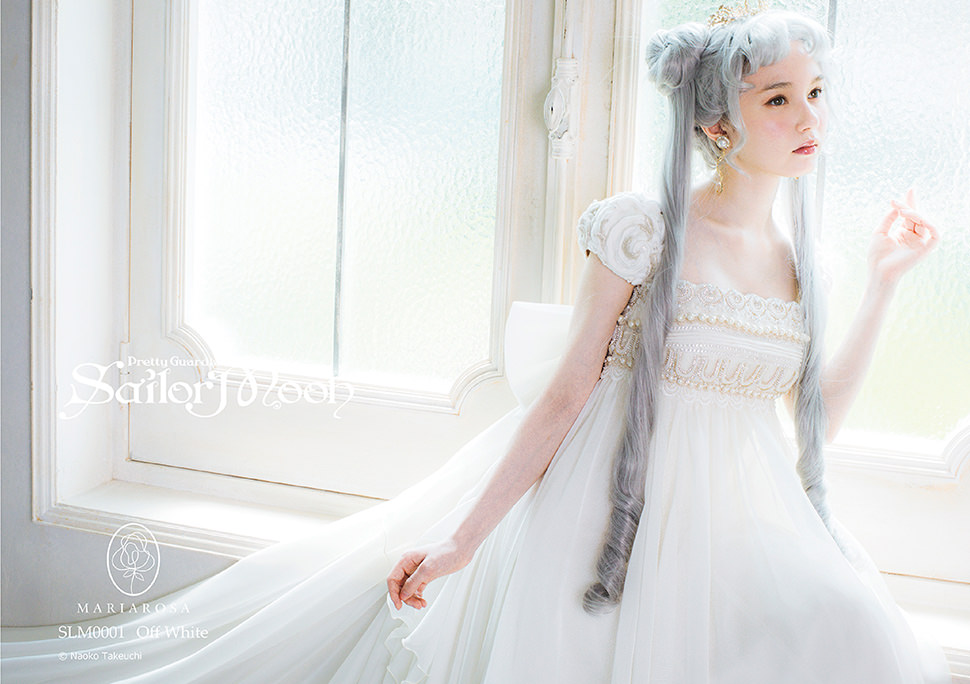 The first dress in the collection is styled after the Moon Kingdom's Princess Serenity. The empire waist and pearl beaded bodice flow down into a floor-length satin train, accompanied by a tiara and earrings. Fit for any person wanting to represent the Silver Millennium in all its glory.
2. Sailor Moon Model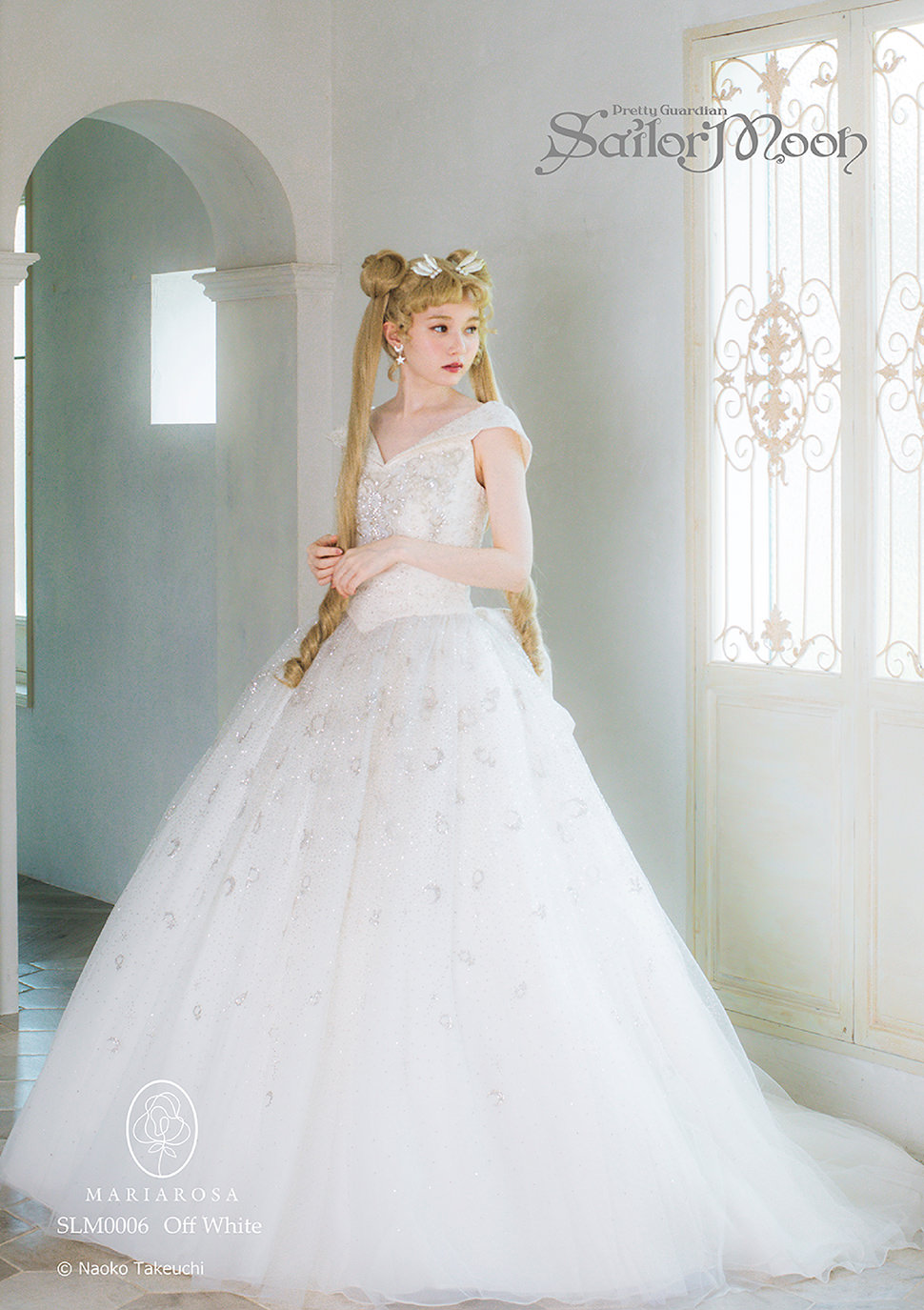 This dress follows more of a traditional princess ballgown with its poofy silhouette marked in glitter, crescent moons and the sailor guardians' marks woven throughout the skirt. The overskirt, collar and ribbon in the back can be removed for a sleeveless look.
3. Sailor Moon Model (in blue)
Similar to its version above, this variation of the ballgown dress mimics Sailor Moon's transformed outfit more closely, with the accompanying signature sailor suit accents in blue tulle, ribbons and hairclips.
4. Sailor Guardian 5 and Sailor Chibi Moon Image Dress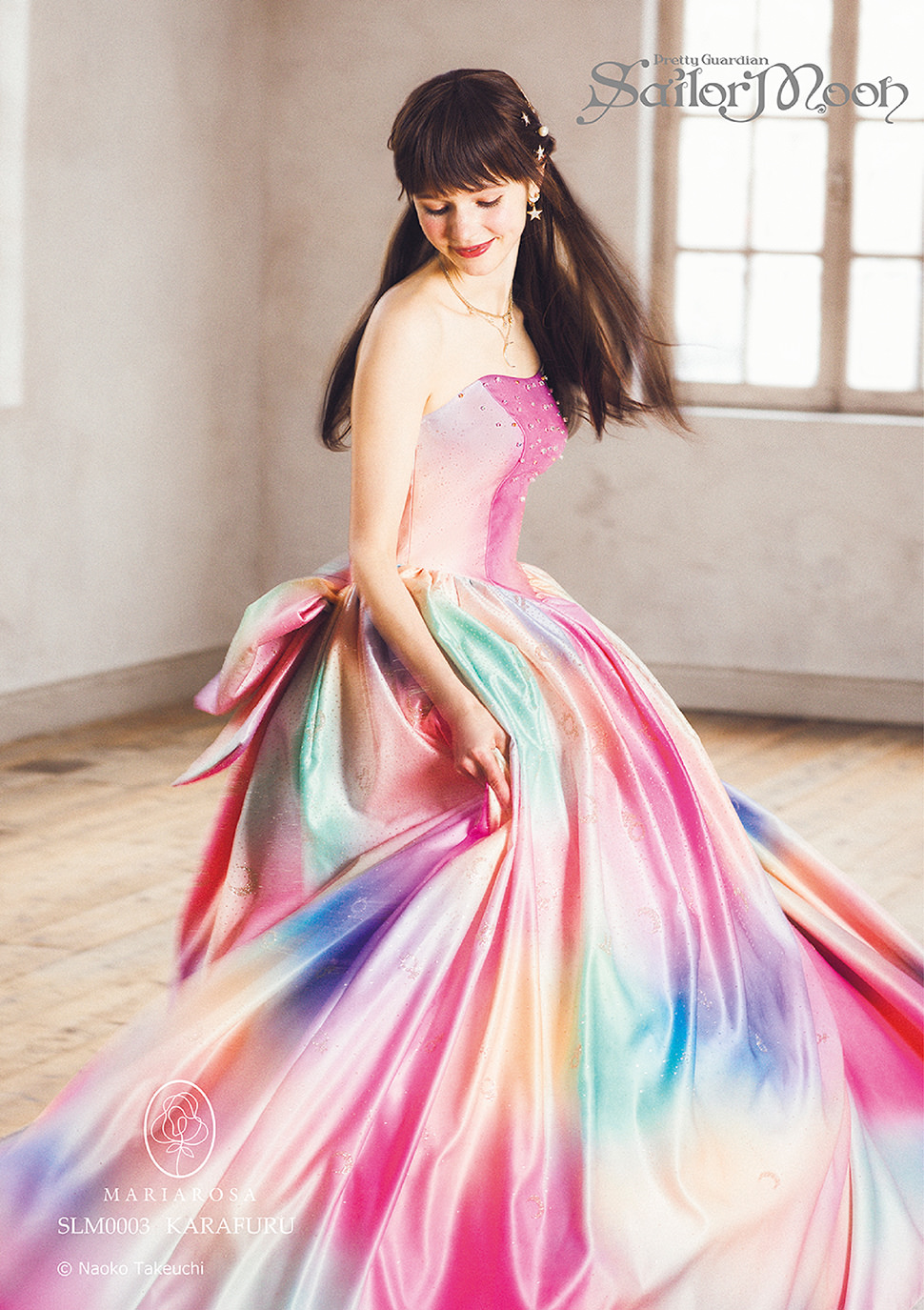 This colorful ensemble is dedicated to the Earth's five guardians: Sailor Moon, Mercury, Mars, Venus and Jupiter; including Chibi Moon. The sleeveless and simple look mixes all their colors together to form a watercolor gradation. There is also an accompanying bow in the back.
5. Outer Guardians Image Dress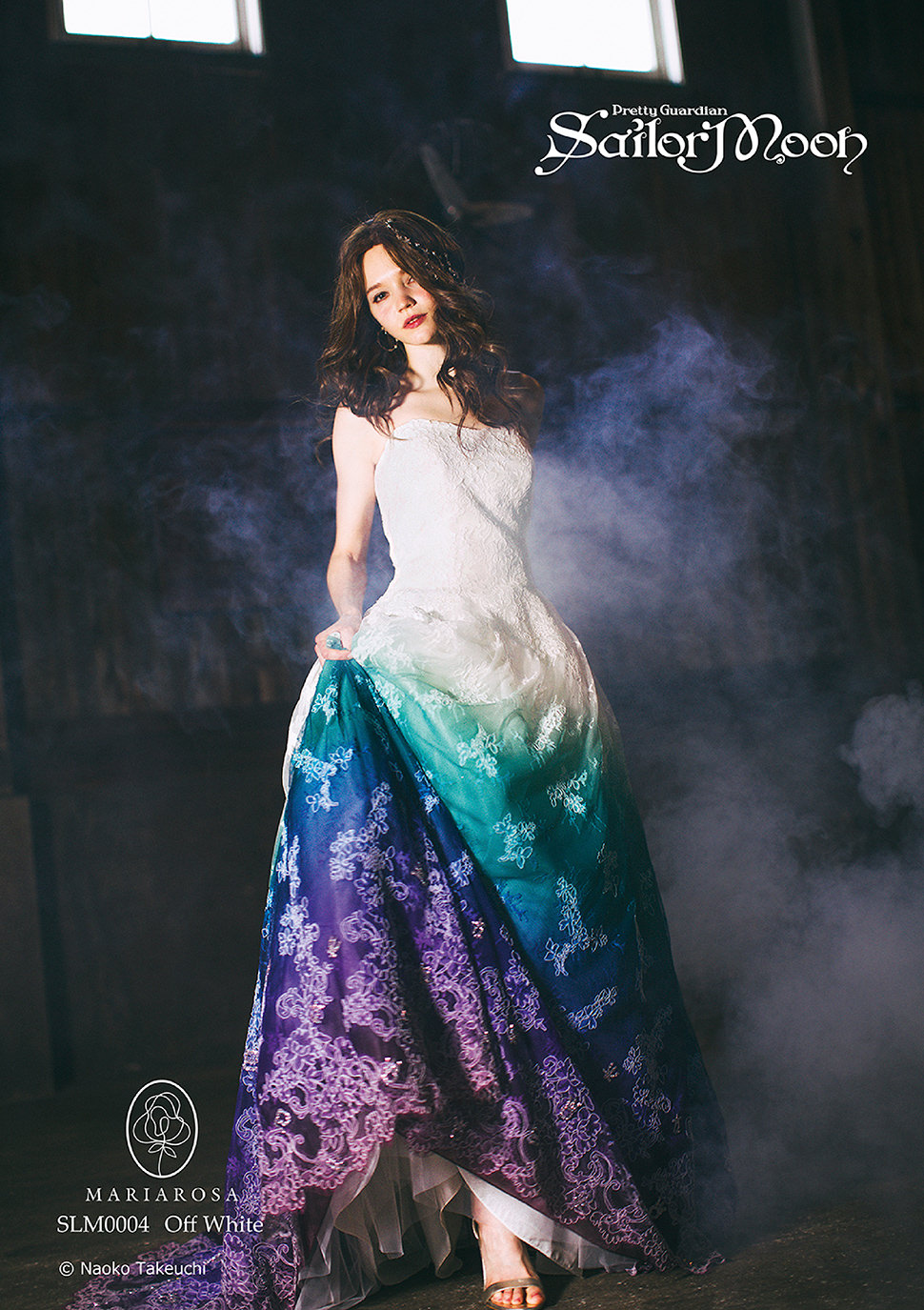 For a less ballgown-esque look, this sleeveless A-line dress dedicates itself to outer planets, featuring the colors of Sailor Pluto, Saturn, Neptune and Uranus. The lace detailing begins at the bodice and lowers to another floor-length look, and darker color gradation coming from its hem.
6. Luna ("The Lover of Princess Kaguya" Version) Image Dress
This color combination pays homage to Luna, the black cat companion and mentor to Usagi on her journey as a Sailor Guardian. Adapted from the "The Lover of Princess Kaguya" short story to come out of the Sailor Moon manga, the human version of Luna was brought to the "Sailor Moon S" movie. The yellow "three-dimensional" overskirt sits atop the asymmetrically-cut purple-black tulle underneath.
7. Usagi and Mamoru's Wedding Model
Inspired by Usagi and Mamoru's canonical wedding look from the series, the classic white silk tulle ballgown flows into a train and features an off-shoulder ensemble of roses nesting at the bust and into mini sleeves. For the groom, Mamoru's accompanying tux is also available.
8. Tuxedo Mask Model
Paying homage to the rose-throwing love interest and future husband of Sailor Moon, this three-piece look mimics Tuxedo Mask's signature black and maroon cape. The cape is optional and can also be added on to solidify the masked hero's presentation.
9. Usagi and Mamoru's Wedding Model
This one-piece tuxedo mirrors what Mamoru wore in his and Usagi's wedding. Sporting golden embroidered trim on the front of the jacket, the inside vest also has patterning throughout in light beige.
While unsure if this was planned, it is also Usagi's birthday.