Born and raised in Japan to a Beninese father and a Japanese mother, Rui Hachimura knows what it feels like to have the spotlight on him.
In a country as ethnically homogenous as Japan, a "hafu" (or biracial person) like Hachimura stood out like a sore thumb growing up. Throw in his generational basketball talent and Hachimura became instantly recognizable everywhere he went, for better or for worse. By his senior year of high school, he was regularly receiving autograph requests from fans, but also racially-charged adversity from opposing crowds around the country.
"They looked at me like a fucking animal or something," Hachimura told Bleacher Report. "It was part of the reason I wanted to come to the U.S. Everybody is different. I thought it would be good for me."
Now, even as the star player on the number one college basketball team in America, the attention Hachimura receives pales in comparison — a welcome change of pace for the 20-year-old.
"People don't know anything about me here," he said. "They just look at me as like another black person. That was so nice. I'm a little bit famous here now, but when I first got here, I really liked it."
That feeling of relative obscurity will all but disappear next June when Hachimura — who's currently projected to go as high as No. 5 in the 2019 NBA draft — will make history as Japan's first-ever NBA draft selectee, and only the third Japanese player to make it to the biggest basketball stage in the world. By then, the 6-foot-8 forward will have to get himself acquainted with the limelight once more, only this time on a global scale.
Although he's currently one of the most highly touted college prospects, things weren't always so sunny for the superstar from Japan. When Hachimura first arrived in the U.S. in 2016, fresh off of a third straight Japanese national high school championship, he barely spoke a lick of English. Amidst his communication struggles, he played sparingly his freshman year, averaging only 2.6 points in only 4.6 minutes per game.
"He always has a smile on his face, and he always nods," Mark Few, Gonzaga University's men's basketball coach, said. "And I always tell the staff, 'When he gives you that nod, what it means is he has no idea what the hell you're talking about.'"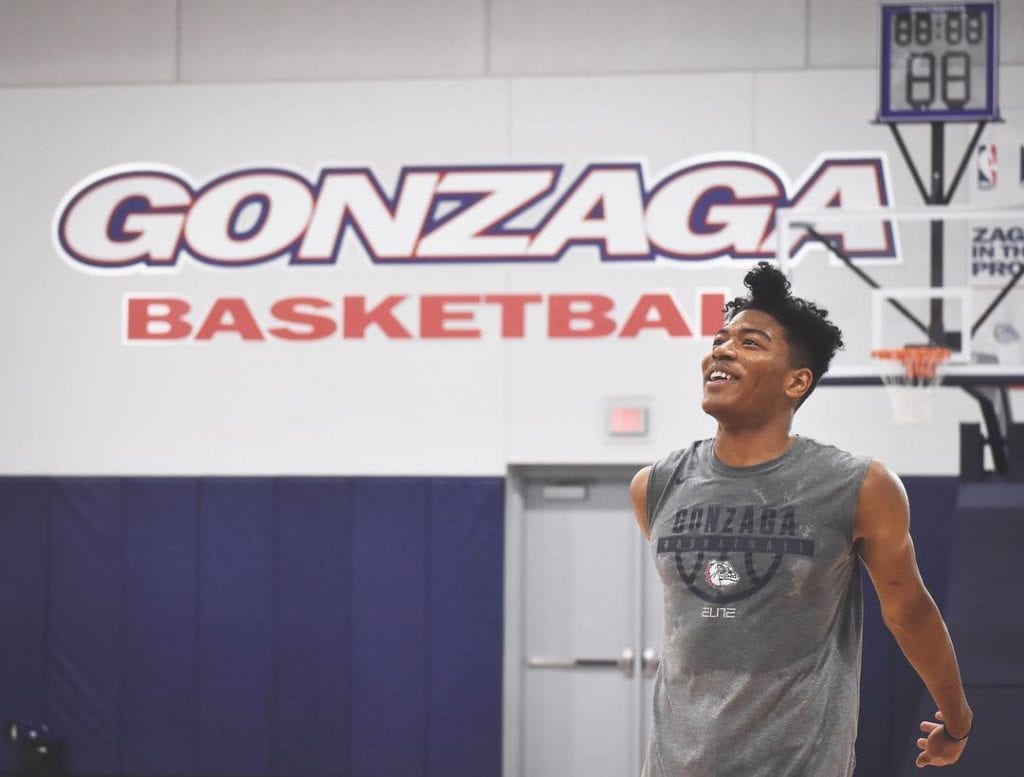 But as his English improved, so did his production. Hachimura's averages jumped to 11.6 points and 4.7 rebounds per game in his sophomore year. As of this writing, he's posting a line of 22.2 points and 6.4 rebounds per game in his junior year, leading the Bulldogs to an NCAA best 9-1 record. His athleticism and scoring ability have made him one of the premier players in the nation; against perennial powerhouse Duke, he held his own against Zion Williamson — often cited as the second coming of Lebron James — and lifted the Zags to a gutsy 89-87 victory. Versus Washington, he drained this brilliant turnaround jump shot to win the game at the buzzer:
Rui Hachimura with the GAME-WINNER to keep No. 1 Gonzaga unbeaten 👀 pic.twitter.com/qCEUdQwcb0

— ESPN (@espn) December 6, 2018
Hachimura has all the makings of a true, bonafide NBA star — a first for Japan. By this time next year, Hachimura will be attempting to realize that potential as he begins his rookie campaign.
And by 2020, when his native Japan hosts the Olympic Games, don't be surprised if he's something of a household name.