Reinhardt Kenneth is using his skills to create awareness and begin conversations through his intense, visually-gripping photographic series with themes surrounding COVID-19.
The LA-based fashion and celebrity photographer told NextShark that he was feeling a range of emotions following news coverage of the hate and harmful rhetoric targeting Asians and Asian Americans.
He was saddened and fearful, taking some of the blame on himself.
"It was like all of these emotions were bottled up inside of me and I didn't know what to do, and for all I know I wanted to speak up, I wanted to vomit my mind and scream for change, I wanted to start a riot based on compassion and kindness," he said.
Kenneth turned all of the disappointment, sadness, fear and uncertainty he felt into art.
"This photoshoot is my reaction to the flaws and errors in human behavior [during] this pandemic. I wanted to spread the message of compassion and kindness through all the negativity, ultimately to let the shadows be proof that we are standing in and fighting for the light."
https://www.instagram.com/p/B-gM3Pxj7lH/
Kenneth reached out to Michelle H. Hanabusa, founder of WEAREUPRISERS and a leader behind the #HATEISAVIRUS movement. The campaign seeks to stand in solidarity with the victims of hate crimes. The images were shared on his Instagram, @reinhardtkenneth.
"It doesn't matter how you speak up, it only matters that you do," the organizers wrote in a tweet. "Whether through art, poetry, music, selfies, dance, etc., do what you need to do to raise your voice and be heard."
They shared the goal of using art to speak out against the violence.
"As radical as the word 'Hate' was, we both were striving towards the message of compassion and kindness, and ultimately, in contradiction, we both believe that while Hate is a Virus, Love is the Cure," Kenneth said. "This obviously is translated by the contradictory apocalyptic images with empowered Asian models that we created to bring an awareness that this might be the world we will live in if we don't practice love, and no, Asian features do NOT equal to a virus, instead, they are empowered in the shots."
The images are split into four chapters, each with titles related to a specific state of the nation. The photos were shot on the day before Southern California was put into lockdown.
Chapter 1: MASS HYSTERIA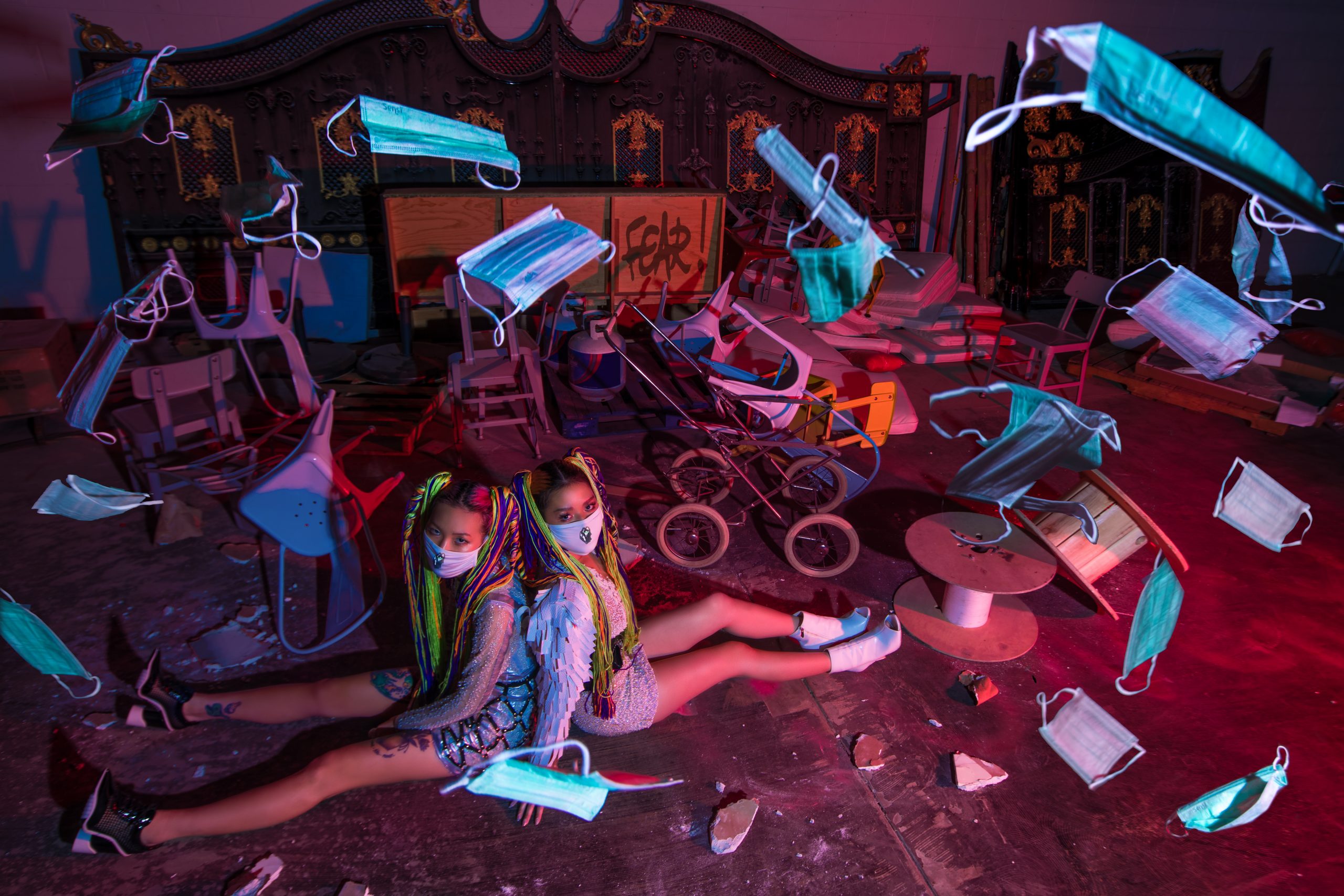 "When there is fear, there is loathing – in the midst of survival we become primal creatures of paranoia. Let's rationalize our fear and turn them into reasonable precautions but still care for one another," the caption says.
Kenneth said that he was mindful of the face masks being used in the images, taking care to use only five with the rest being edited in post-production. The inspiration came from a dystopian idea where face masks are hoarded and turned into waste instead of being prioritized for medical needs.
Chapter 2: ANTI XENOPHOBIA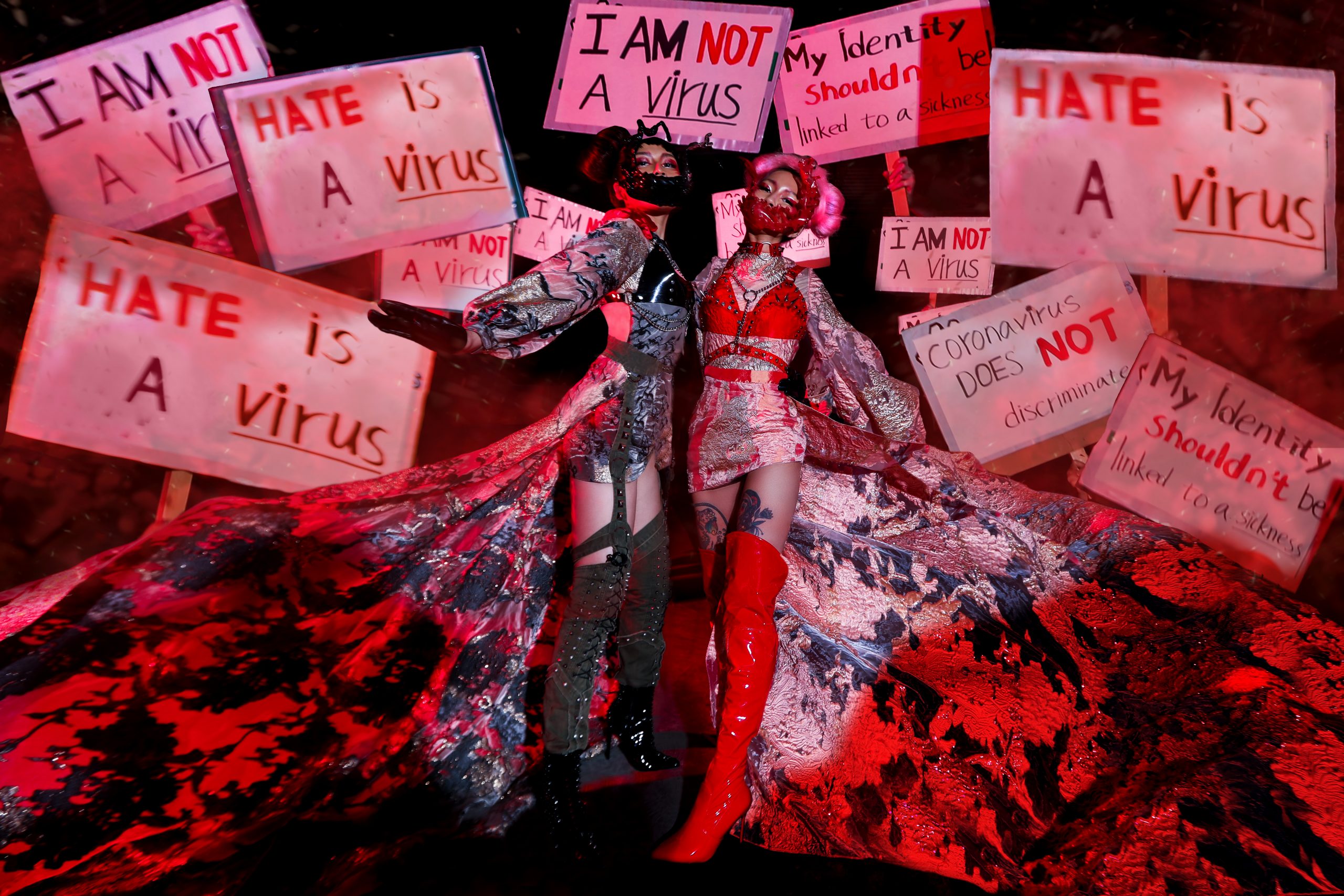 "In a world where the president refers (to) a global pandemic as the 'CHINESE VIRUS' or the 'KUNG FLU', enough is enough. Let's breed compassion & together CANCEL xenophobia," the caption reads.
The first look draws heavy inspiration from traditional Asian clothing with a modern spin. The models play Asian warriors who are "survivors" of the pandemic after having endured xenophobia and hate crime. Words of unity and love such as "I am not a Virus" are written on protest signs.
Chapter 3: PAN!C BUYING
"'In the age (of) Coronavirus', as the news stated, greed often times becomes a norm. even in survival mood, let's be a little bit more selfless & contain our fear with compassion rationally," the caption read.
Models pose in front of a "graveyard of shopping carts" representing hoarding and panic buying.
Chapter 4: Power Play Privilege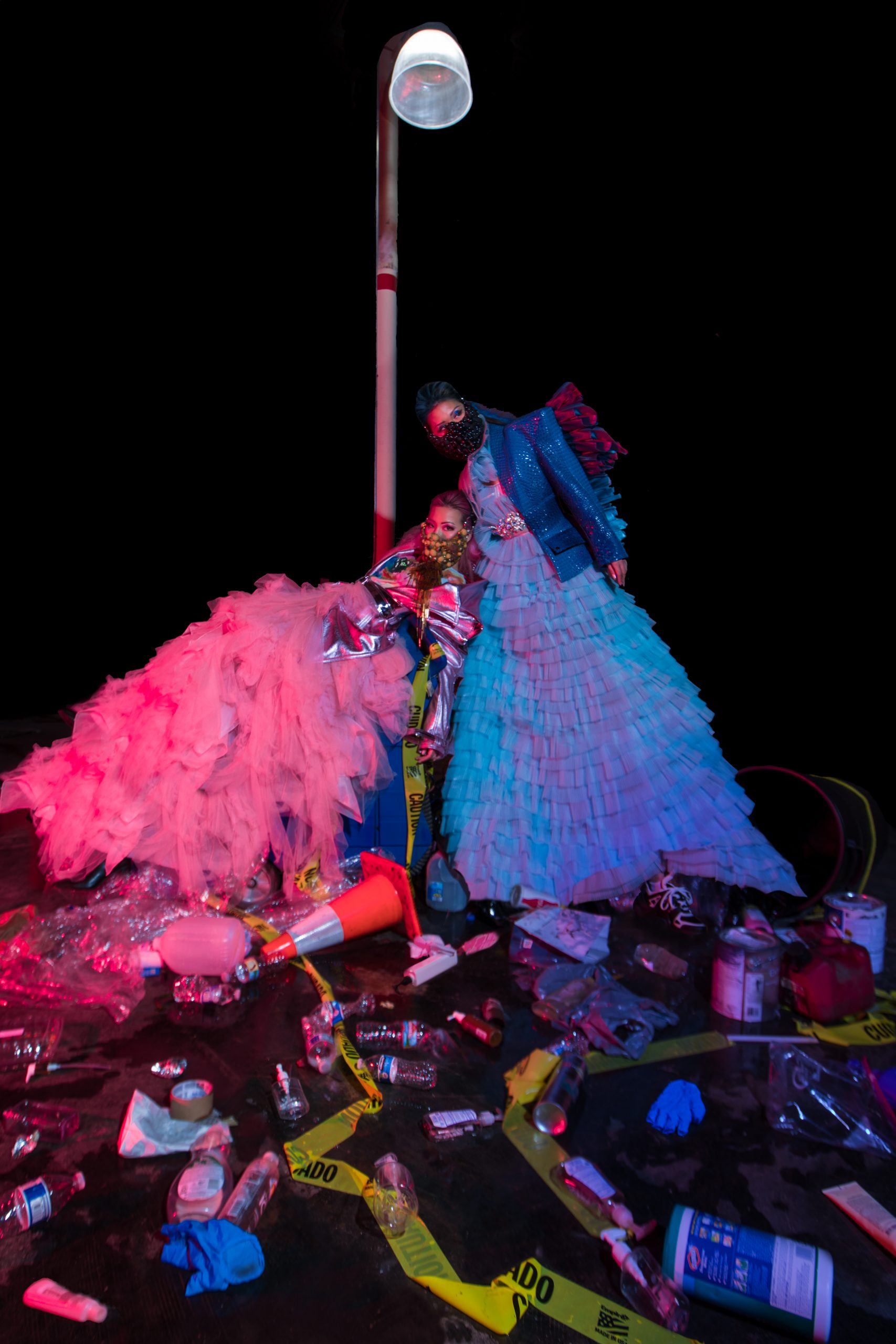 "So who are the ones who deserve to get tested ? who are able financially to hard selfishly ? [sic] It's not a matter of who, but a matter of mass hysteria causing the human nature to show it's true selfishness. in the age of mass hysteria through the media, let's be reminded to not abuse privilege and instead, use it to speak up & stand up, and help the ones in need. remember, ONLY get tested if you show real symptoms but TREAT even the mildest symptoms as If you have the virus. SELF QUARANTINE & only spread compassion & kindness," the caption read.
Most of the fashion that the models are wearing came from Asian designers including Diana Couture Tulle Ball Gowns and Michael Ngo, Kenneth said.
Kenneth wanted the images to invoke a sense of power for Asians and Asian Americans, he told NextShark.
"I want the images to, while being disastrous and gritty, be a reminder to promote love and kindness so we prevent the world portrayed," Kenneth said. "I want to stand for those who might feel voiceless, to give them [a] platform on the comment section to share their stories and be supported [by] the community."
Kenneth believes that all creatives from different racial backgrounds should come together to spread compassion and kindness.
"It is through art that we can make the biggest change, as art is a medium that tears boundaries. A visual could speak a thousand different stories, based on the audience's background, perspective, and experiences. Art is the only medium that isn't exclusive to a particular language, and can reach out to as many audiences as possible."
Images via Reinhardt Kenneth