A South Korean restaurant has come under fire for its racist name and depictions of Black people.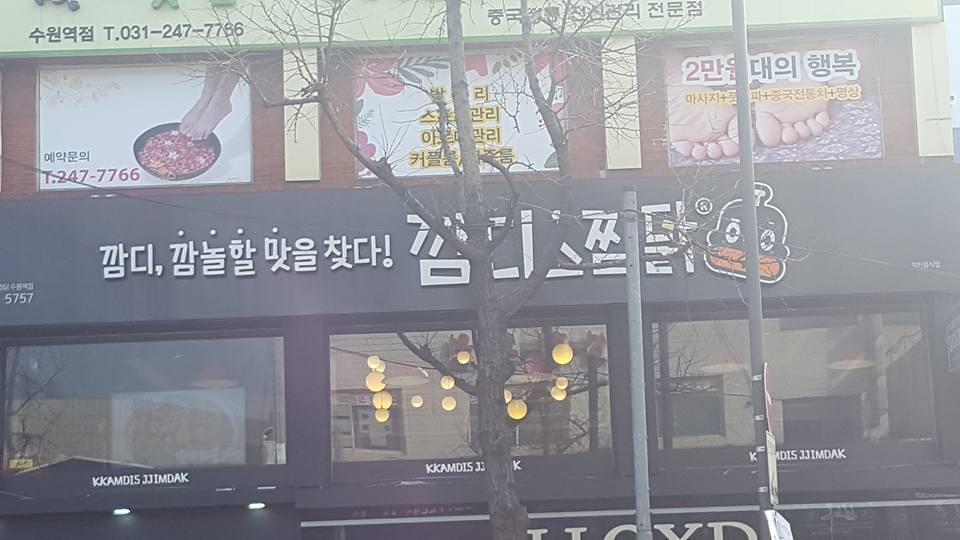 KKamdis, which translates to "Blackies", is a spicy braised chicken restaurant in Seoul, South Korea. A visitor from Louisiana noticed the establishment on December 7; shocked, he posted photos of the eatery in a FaceBook group dedicated to popular restaurants in the city. "I looked at it, read the sign and couldn't believe my eyes," he said to Korea Exposé.
Netizens reacted strongly in the forum. Many disagreed profusely with the name and caricature, both Koreans and non-Koreans alike; others, however, defended it. Some pointed out that the Korean word "kkam" doesn't necessarily refer to Black people and can also refer to dark-skinned or tanned Koreans. Others argued that kkamdis was a shortened form of the word "kkamjjak", meaning "shock" or "surprise". Overall, however, there was condemnation for the establishment and a call to change the name and branding.
The franchiser of the restaurant, Ahn Seung-soo, told Korea Exposé that his was the last of the kkamdis chain. Apologetic, he maintained that any racism was unintentional and that the character was based off a character from a Korean 80s cartoon, "Dooly". Furthermore, he stated that the eatery's mascot was a black chicken, not a Black person, and that the character's skin was that color to reflect their signature dish — chicken braised in soy sauce.
"Who would pour his entire savings into opening a restaurant just to make a racist slur?" he said. "It's regrettable that we are misunderstood because that was not our intention. We receive lots of foreigners in our restaurant."
The owner of the entire chain, who wished to remain anonymous, stated that all perceived racist slights were unintentional. "If I launched a dish called 'White Jjimdak,' all white people would throw a fit," he said to Korea Exposé in a phone interview. "People shouldn't scrutinize every little thing. Foreigners who complained have an inferiority complex."
South Korea has had a history of this kind of portrayal of Black people, and while recent steps have been taken to correct such racism, as in the case of the comedy show "Gag Concert" removing a skit featuring Blackface, there are still many instances where the depictions keep reoccurring despite backlash.
For many, they have had enough. "Too much of these insensitive establishments in Korea and it needs to stop," said one commenter on the FaceBook post. "It's 2017."
Feature Image via FaceBook / Restaurant Buzz Seoul