A promotional video for a plush doll that allegedly appeared on the online Chinese retail giant AliExpress has gone viral on social media, as viewers were shocked to see an anti-Black caricature depicted as a harmless toy. 
TikToker @auntKaren0 posted a reaction video on Sunday, playing the original promotional video in the background as she watches with confusion and disappointment. 
"Not all of China does this, but WTF!!!!!" the video's caption reads.
An upbeat sound plays from the original promotional video as a woman clutches the doll. As the camera pans in on the doll's exaggerated large lips, associated with anti-Black imagery, the description reads, "Cute red lips expression."
As it pans further down to the doll's legs, the video describes the silver rings around its ankles as "exquisite hoop accessories." Commenters were quick to point out that the "hoop accessories" appear to be shackles. 
While it is not the same listing from the video, an identical product from the website can be viewed below: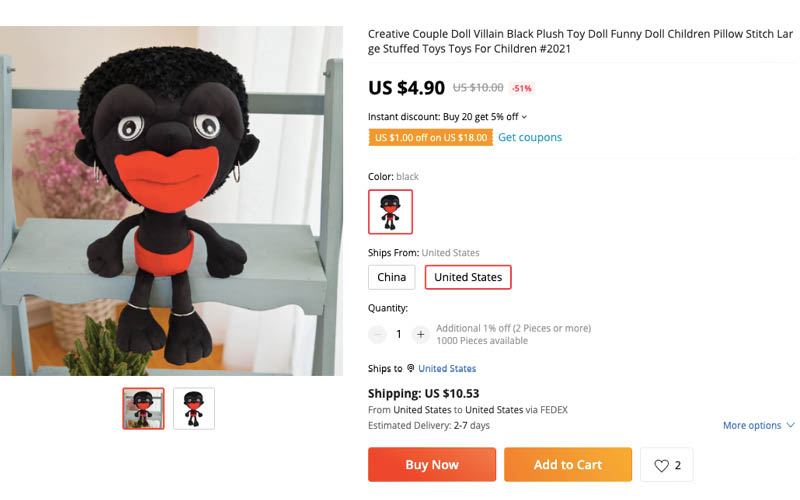 Many have tagged the AliExpress account under the TikTok video and claimed to have uninstalled the app or are refusing to shop from the company going forward. The site operates similarly to Amazon or Ebay by connecting consumers to individual sellers that showcase their merchandise on the platform. 
Although it's unclear where exactly the doll originated from, anti-Black imagery in the United States has historically come in numerous forms. The golliwog is one of many racist caricatures, often depicted with "jet black skin, large white-rimmed eyes, red or white clown lips, and wild, frizzy hair," according to the Jim Crow Museum.
Featured Image via @auntkaren0