Activist Ebony Janice Moore took to Instagram on Friday to highlight how an Asian woman used her "White privilege" in protecting a Black man from police during a courtroom meeting that erupted into a protest last week.
Moore, the womanist scholar and activist behind The Free People Project, posted a video on Instagram featuring protesters at the Sacramento City Council board meeting about the case of Stephon Clark on Tuesday night.
Last year, Clark, a 22-year-old unarmed Black man was shot and killed by Sacramento police officers Terrance Mercadal and Jared Robinet who said they mistook the cellphone he was holding for a gun.
According to Sacramento Bee, it was concluded by the city and state law enforcement last week that the officers did not commit a crime.
The decision resulted in hundreds of high school and college students from around Sacramento marching to the California state capitol building to protest.
Subscribe to
NextShark's Newsletter
A daily dose of Asian America's essential stories, in under 5 minutes.
Get our collection of Asian America's most essential stories to your inbox daily for free.
Unsure? Check out our Newsletter Archive.
Local authorities then arrested 84 activists and journalists on Monday, declaring the protest unlawful after alleged vandalism. The next day, the Sacramento City Council heard from more than 40 residents who condemned the police treatment of the Stephon Clark protesters.
As shown in Moore's video, tensions were high during the meeting with one agitated protester going over his allotted time and refusing to return to the audience.
"This video has had me emotional all morning cause I have never seen people with White privilege use their privilege in this kind of way," Moore narrated during the clip. "Notice that everywhere he moves, they move? This little Asian woman is about to hop up here in her heels and a White man in a leather coat puts his arm around him to make sure they don't touch him. Look they are never trying to touch the non-black persons."
"So if you ever try to tell me that your whiteness doesn't have any privilege or your proximity to whiteness is not a privilege, look at this,"
she added.
"This is what it looks like to be an accomplice."  
In the video caption, Moore further noted that, 
"All folks claiming to be an #ally should have to go through this kind of rigorous training to be prepared to use their privilege in this way."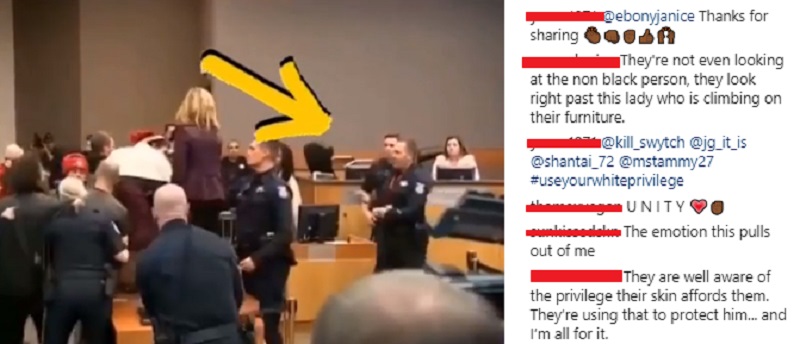 Some netizens appreciated Moore's analysis and commended the Asian woman for being the protester's "accomplice."
"Honestly, I'm speechless. You did an amazing job with this video. When we're watching the news or are in the middle of chaos it's hard to take everything in, but thank you for using your skills and platform to open eyes," a commenter noted.
"This is exactly accurate..their fear of us only lets them see us .. we are the biggest 'THREAT' and this is the case in point… the woman did exactly what he did by getting on the table .. she was invisible..🤦🏾‍♂️ this is sad and disturbing," another shared.
"This was actually beautiful terminology by @ebonyjanice," a netizen pointed out. "If you look at the true definition of Accomplice it merely means to convey a sense of cooperation. But according to definitions, it is a person who helps someone else to commit a crime or do something morally wrong. Well according to the eyes of the police/security etc, he was being disruptive and behaving morally wrong according to their standards, disrupting the ethics of this space. An accomplice will focus more on dismantling the structures that oppress that individual or group. And allies nothing more than just a helper. Someone helping another to do a particular thing for a particular reason for a particular cause. Ally work focuses on individuals who were protecting the brother. And they collectively work as a group. This was a good tactic by these individuals/group. because they anticipated the behavior of the police and they were correct that they would not be touched. That shit was chess."