Exotic pole dancing is among the most underestimated styles when it comes to pole.
For the uninitiated, the words "exotic" and "pole" used together in one sentence may conjure up images of simple body rolls. However, those familiar with the various styles and techniques already know how arm-intensive and physically demanding these sensual movements can be.
Pole dancing has recently spiked in interest, especially among women in Los Angeles, following the premiere of "Hustlers." But the glitz and glamour viewers got to see on the screen of J Lo and Constance Wu working the pole was the result of months of hard work and training.
Claudia Renée was one of these instructors — training Constance behind the scenes for months in Los Angeles and New York, helping her to prepare for her role as Destiny. Despite being an internationally-recognized pole instructor, Claudia regularly teaches students of all levels at BeSpun.
The BeSpun Hollywood studio is perfectly located on Sunset Boulevard, flaunting gorgeous views of the iconic Los Angeles palm trees outside and uplifting natural sunlight from inside the studio.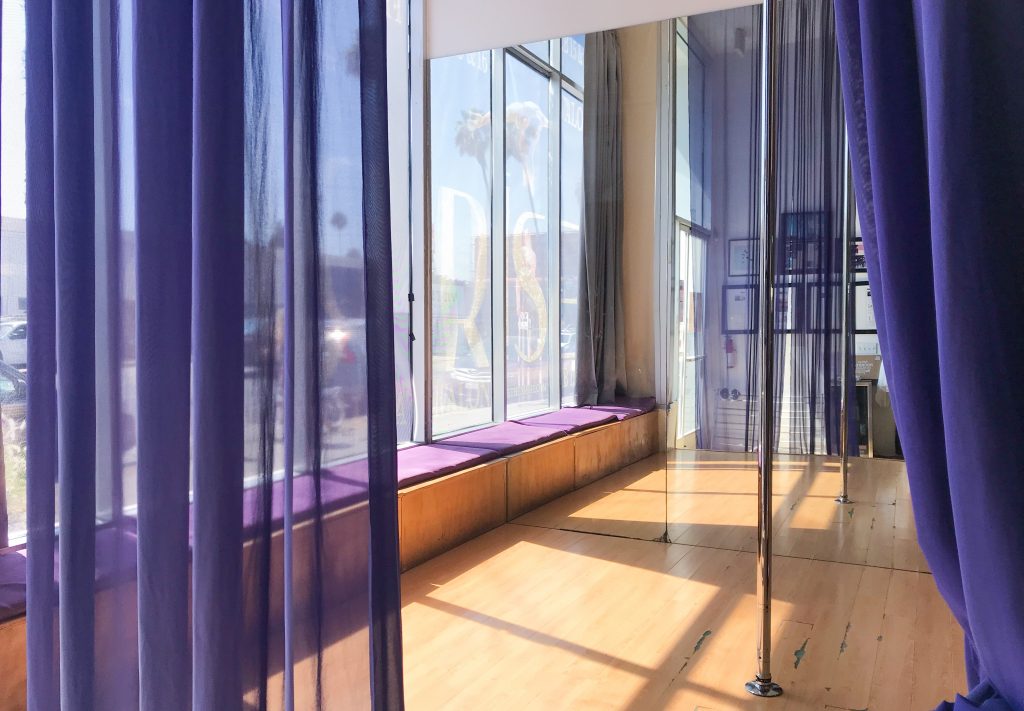 Especially when it comes to exotic pole dancing, BeSpun is considered among the most famous studios in America, and Claudia, manager and head instructor at the studio, has years of professional training under her belt.
As I walked into the gorgeous, sun-lit room with floor-to-ceiling purple curtains, I was immediately met with Claudia and her megawatt smile. Being able to take a class with the woman who had trained Victora's Secret model Bianca Balti and Constance Wu on Sunset Boulevard felt like the epitome of L.A. living.
I watched as Claudia welcomed every one of her students, both new and old, to class as I set my bag down. Even before the class began, the amount of sheer talent and skill in the room took me by surprise but what was even more shocking was how welcoming and humble everyone had been.
Soon, the women began putting on their exotic dancing shoes so I joined in by lacing up my 8-inch Pleaser boots as Claudia began leading the warm-up and conditioning for her "Exotic Polography" class.

Pole dancing often requires minimal clothing for safety reasons as dancers rely on the grip between their skin and the pole to perform different moves. For first-time pole students, this can understandably be quite uncomfortable and even intimidating to stand in front of a group of strangers in nothing but a sports bra and shorts.

However, at BeSpun, I saw how the warm-up was helping the class to build their confidence and prepare them both mentally and physically for the lessons ahead. After plenty of laughs, stretches, and conditioning, Claudia kicked off her class by demonstrating the routine she would be teaching that morning.

The choreography for the day was to MISSIO's "I Don't Give A…" and as I watched Claudia effortlessly perform the fast-paced routine, I immediately realized why the class had been labeled for intermediate to advanced students. Walking in 8-inch shoes seemed impossible enough, let alone being able to flawlessly dance in them.

Claudia apparently started pole dancing when she was 21 and immediately fell in love with how empowering the workout was. Her career as an instructor began years ago when she taught classes through college and in November she'll be celebrating her 10 year pole anniversary.

It was actually pole dancing that brought her from her home of Dallas, Texas to glamorous Los Angeles. At her very first national pole competition in L.A. in 2014, she was scouted by the judge and owner of BeSpun and eventually brought to Sunset Boulevard to teach and inspire women in Hollywood.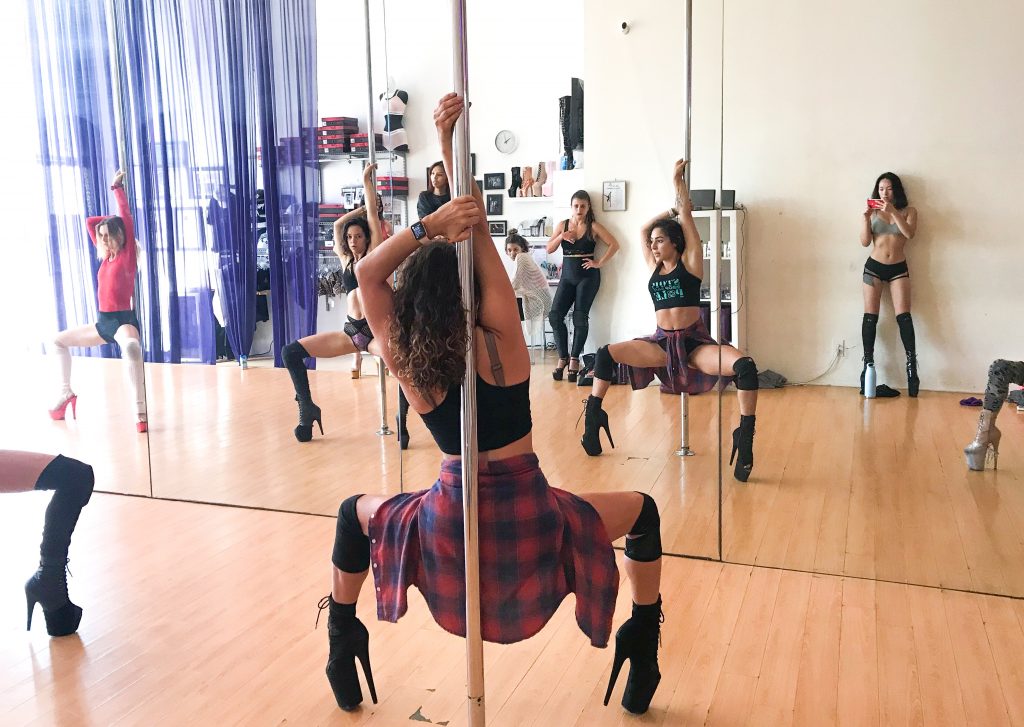 Compared to her decade of experience, I had only a couple of years of training under my belt and it very obviously showed. But as she walked me through the various moves and choreography with patience and encouragement the movements gradually became easier and more fluid.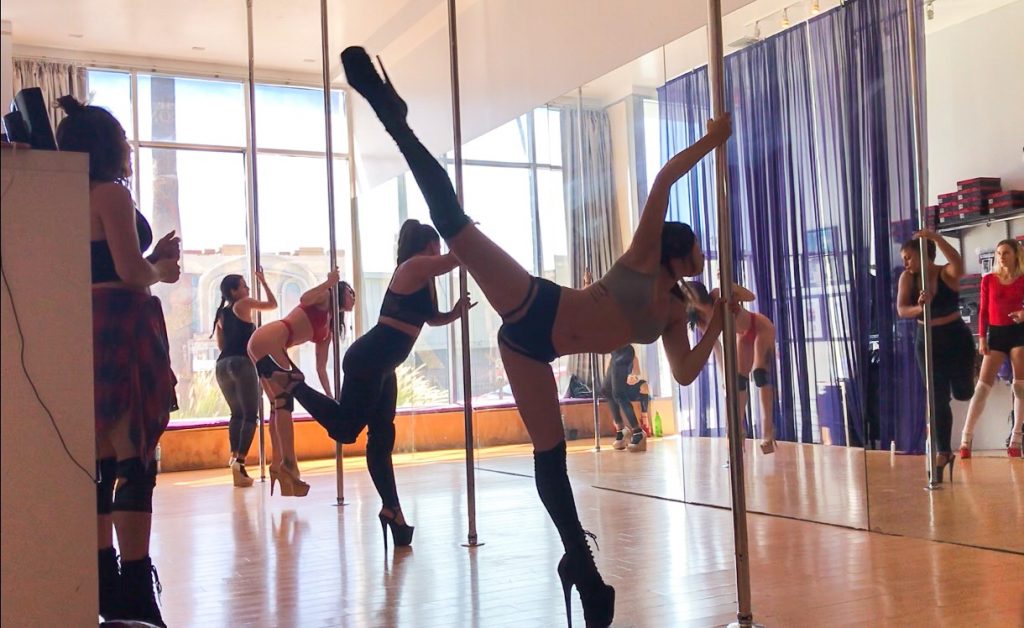 Throughout my two years of learning, I've trained with six different studios and dozens of instructors in various countries but I had never seen anything quite like Claudia's style. She incorporated classic stripper moves with upbeat music and complex choreography in such unique combinations.

After taking apart the day's routine piece by piece, we were soon practicing the choreography from beginning to end with Claudia's instruction and constant encouragement. By the end of the class, movements I had never learned before felt far more comfortable and fluid.

At this point in the hour-long class, my arms were already aching as if I had just completed a hundred push-ups. Many people underestimate just how physically demanding pole dancing can be; at the end of the day, it's a unique, high-risk sport with a high-injury rate that uses muscles many people have never exercised before.

Claudia herself has experienced her fair share fo pole-related injuries, "I have arthritis in my neck, a herniated disk in my cervical spine, I have the neck of a 50-year-old basically but it's not going to make me stop. As long as my body can keep going, I'm going to keep going because it makes me so happy and I'd rather be active and a little bit injured than inactive and unhappy," she tells me.

"Pole dancing has done a lot of damage to my body if I'm being honest and I think because it's so new we don't know the long term effects of it yet," Claudia added. "Just like any other athlete, we deal with injuries and we keep going until we can't anymore."

As more and more women are discovering every day, pole dancing is an incredible sport that can help boost self-confidence. Despite the occasional injury all dancers inevitably experience, there's also nothing quite like it, making it impossible to give up.
"It has literally changed my life — when I first started dancing, I was so shy, I couldn't even speak in front of people. I started pole dancing and it brought out this whole new side to me," Claudia continued. Every day she helps women discover this new side to themselves and hopes to encourage complete beginners to give this sport a try as well.
"Be open, be as open as you possibly can and don't give up," she says. "It's not going to be easy in the beginning, nothing about pole dancing is easy. Be patient with your body and find an instructor that works for you."
For women who are interested in trying pole dancing for the first time, it's also important to remember and respect where this art form originates from.
"I think people quickly forget, when they turn it into a sport where it came from, it can be really easy to forget.
"To justify it to people around them, they try to get rid of the stigma by saying 'oh, I'm not associated with that' and I think that's just creating a void in our industry and splitting us up into these categories of stripper and not a stripper and we are all one," Claudia says.
"Even if one is like working at night, making money on a pole and giving lap dances, we're still doing kind of the same thing."

As I walked away from Claudia's class, I felt so much stronger and more confident compared to that morning when I walked through the doors at BeSpun for the first time. I was also painfully aware of how sore and achy my arms would be the next morning but at this point, I couldn't care less.